Sleepy Hollow's second season has had growing pains (see: Pied Piper filler). In "And the Abyss Gazes Back" we smartly go back to Corbin, the sheriff who started it all, and a giant cannibal monster as per usual.
We're at the one-third mark of the season! Raise a glass, won't you?
By now I'm immune to the serious stinger that irises out into tomfoolery; some are more memorable than others and this isn't one. (For the record: "buns" and "double-jug" are both the worst.) Things I am not immune to include: the Cocker Spaniel inspiration in Mison's hair situation.
It's strange, how low my ceiling became by the end of last season for subplots related to Ichabod's life. The one-two punch of Katrina's uselessness and Henry's reveal pretty much wrapped it, and with the exception of people Katrina has pushed off cliffs, I think we've hit the market saturation for the bizarrely-still-present people Crane knows. Things directly related to Abbie's life are easier to incorporate just because they require fewer magical Macguffins to bring them into her orbit, and I will take any depth this show can give a character who, so far this season, has been a little adrift. Plus, as an early adopter of All The Corbin Stuff There Is, you can imagine how thrilled I was when this episode introduced us to Joe Corbin.
G/O Media may get a commission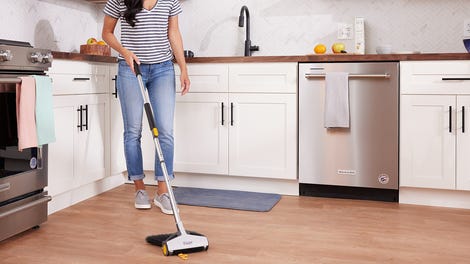 BOGO 50% Off
Flippr - BOGO 50% Off
Who's Joe Corbin? He's Sheriff Corbin's son that no one ever mentioned! You know him. The kind of guy who comes home from deployment and gets into bar fights and can't forgive Abbie for all the years Corbin spent rehabilitating her while assuming Joe would work his own problems out.
Awkward. Also awkward, perfectly: "Joey!" "Nobody calls me that." (Well done to the casting department for finding Zach Appelman, who looks startlingly like a younger Clancy Brown; well done to Appelman for making the character feel lived-in despite his sudden appearance.)
On of the advantages to a show as frenetic as this one is the same as one of its drawbacks: it introduces things and relationships as quickly as it needs to and expects you to go along for the ride. That ride's a little slower this season, which is why we're seeing more seams. But the demands of serial storytelling mean that sometimes you just have to introduce Abbie's mentor's long-lost son, who tells Abbie to steer clear of him because he's afraid of himself.
"I once waited five hours to go on a fishing trip with him. He was teaching you how to shoot and lost track of time."
It's notable how much more interesting this dynamic is than anything this show has tried to manufacture with Hawley. Not that this is supposed to be shippable—I guess it could be, but it's one of those not-too-big-but-the-wrong-time age gaps where Abbie babysat him, so it's kind of an awkward boat to climb into. But I appreciate the number of people from Abbie's past who bring their baggage and spark some of Abbie's. It suggests a nicely messy past in a small town that works really well against the supernatural swing-wides.
Here, Joe's teenage rebellion makes just enough sense to sting, though she's also barely repressing a reminder that Corbin was also the only parent she had. There's a lot less juicy conflict in Hawley following her around a library than there is in Joe telling her: "You're not my family, you're not my friend, you're some charity case my dad took on and you got him killed." (Bonus: in the latter case, Ichabod gets a chance to awkwardly try to support her via platitudes about heroism and taking Breathalyzer tests.)
Ichabod and Abbie are on parallel tracks this week, in a lot of ways. His knowledge of the wendigo comes from his time with the "Shawnee and Algonquin" nations, when Squire Boone became a wendigo and tried to eat his brother Daniel, who wore fancy hats to cover the scars, which is kind of a reach even for a show that once used severed heads as historical message lanterns. He also says Daniel Boone "settled Kentucky," which—Ichabod. Buddy.
The scene still has a great moment, though, when Crane points out that something must be up because Joe called for his dad, and dying soldiers usually call for their mothers. Abbie's skeptical, but in a great moment from Mison, Crane assures her: "It's simply what dying men do."
Speaking of dying men, Abbie's knowledge of Corbin means she can spot a coded document a mile away while going through his effects. Joe also got a letter from his dad about what he was actually doing all those years; it's a letter Abbie never got, and had to find out for herself after a headless guy with an axe attacked them and nobody else believed her.
Ouch.
After some longitude calculations, they both realize that Joe's gotten The Letter about supernatural phenomena, and that Joe's out digging around after something his dad left him for safekeeping, just in case.
(I like this shot, with Joe framed with rocks that look like a jawbone. It really helps me not ask questions about how Corbin knew Joe might have to one day fetch this condensed demon goo because the bizarrely aged-up son of a Revolutionary War veteran would send him Pied Piper flute bone powder in the mail to turn him into a monster.)
So, your sorta-brother babysittee in the Superman pajamas is a wendigo. This is a clear-cut case that calls for the full available complement of the Continentals, our finest superhero team! Starring Abbie Mills as Repressa, Ichabod Crane as I Knew Him Too Guy, Jenny Mills as Deserves Better Lass, and Nick Hawley as FetchHappen, The Man With No Purpose.
You know, everyone's doing exactly what they're supposed to do in this scene, and I dislike pretty much all of it. I particularly dislike that we've heard from Hawley about three times as much as Jenny this season, as if all her knowledge was rendered unnecessary by the arrival of a white guy—the same white guy who's being positioned between the sisters as something to pit them against each other, which just feels like a waste of so much other, better tension that at this point just a glimpse of Hawley is enough to make me miss Jenny.
The good news is, Joe's still in this episode, and he's taking care of adding back all that better tension. The first thing he says on rousing himself from wendigo to human? A dry, familiar, "Jenny."
It's a small, pointed reminder of the ease with which Jenny became a part of the Corbin family without Abbie ever knowing (and apparently having had a harder time of it in later years); great stuff.
While they wait for Henry to realize the Continentals have Joe and the demon goo, Ichabod tries to find common ground with Joe. Joe, who somehow doesn't question why Ichabod is, given age appearances, the father of a really evil preteen, is projecting like IMAX: "Do you love him? No matter what happens, tell him." Even if he does nothing all day but cackle over his evil diorama of the town and think of ways to impregnate his own mother, you tell him you love him, you hear me, Crane?
But of course, Hawley and Abbie have been doing research (why on earth would she want to be alone with Hawley given their four previous interactions, what is this), and turns out the wendigo has only four transformations. You know, like the seasons! That makes sense, right? Abbie reads, "The last is permanent." ("Uh huh," I said to my TV, in my best Fran Fine.)
But it's time to go talk to some Shawnee, as Crane "knows the Shawnee culture well" ("Uh huh"), he gets nominated as Hawley's second. So they go see Big Ash.
Hawley immediately admits he sold a thing he was given strict rules about keeping, proving that on top of a smarmy narrative redundancy he's actually just a terrible guy. So, let's just point out that instead of a white dude with a pier full of vintage radios and delusions of romantic interest, there's apparently a grumbly Shawnee biker just hanging out in town, waiting for a team of supernatural crime fighters he could begrudgingly join.
We could have had it alllllllll...
Crane deduces it's "This is a Shawnee hunting party, and the owner of this single-person automobile is your shaman." Big Ash: "That would be Frank."
Frank is my favorite.
Crane gets them to help by name-dropping Squire Boon. 1) Of course he name-dropped, it had been almost fifteen minutes since the last time. 2) Ah yes, the Shawnee legends are just full to bursting with the tale of that one white guy who turned into a monster, who obviously stuck out among all the other super-nice white guys "settling Kentucky."
Back with Abbie and Joe, they try to reconcile things a little with a flashback to young Abbie slowly warming up to Corbin.
Is it convenient? Yes. Do I care? You know I don't care, you know I would watch an entire show about the Mills sisters and the Corbin family legacy that they feel bound to carry, and now has gotten even more complicated with Joe back and just beginning to understand what his father was really working on.
Of course Henry, jealous of anyone who ever had a father ever, takes a break from furiously needlepointing I HATE YOU DAD on a pillow at the homestead to show up and take Joe and the demon goo right back.
Abbie tries to run interference. Jenny just pulls a gun. Ugh, Jenny, I miss you, sorry about Hawley.
"Always violence or order with you two," says Henry, which is a very interesting binary I feel will be important later, but there's no time to parse it, since Joe is new here and actually gives Henry what he wants and then goes with him. Abbie's appalled on every possible level.
Surely she taught him better than that! You know she was the babysitter who taught you how to pick locks and stab somebody who gave you trouble. And if not, Joe learns in a hurry, as Henry slices his arm and leaves him to die as a wendigo. Even Joe has a sort of "I should have seen this coming" air about it. (Above, we see Hawley's loaner henley, which made me laugh.)
Abbie won't leave him to die, though. And Ichabod won't leave Abbie.
This picture looks a lot more touching and heroic until you realize they both cut their hands. Don't you want your hands in prime condition for fights? Crane, you have to handle a skull AND a knife, what are you even thinking.
The skull and knife are on loan from the Shawnee. On the one hand, of course Ichabod is fluent and can do it himself with the sheer power of Romantic Lead Face connecting him to the spirit world without actually needing any Shawnee to perform this Shawnee ritual because you should feel free to just borrow rituals whenever. On the other hand, I respect the Shawnee's reaction being, "….You do it." Just wish we'd seen Frank declining. Or Big Ash declining! Or Big Ash dropping them back at the house on his motorcycle. Or Big Ash filling out magazine subscription cards. Whatever.
If you took Hawley out of this picture absolutely nothing would have changed about the outcome. The only thing it changes here is that Jenny would be asking the empty Dumpster if it was planning on staying in town a while until it got what it wanted, which would be odd but a lot less forced than how things actually fall out.
Abbie and Ichabod are, of course, successful, though there's just enough of a wait that Ichabod won't hesitate to use this later when he's trying to convince Abbie to believe that Henry has good inside him.
Joe's probably rethinking all that "tell your son you love him" stuff right about now.
All's well, though, after the dust settles. Joe wants to go to Quantico (he and Abbie sibling-nudge about it, I love it so much, come back Joe, bring Big Ash), and Ichabod's discovered video games.
ChiefWiggum49 is Headless. You can tell.
Of course, all's only well if you forget about Irving, which this show surely seems to have done. (The other aspect of Hawley I most dislike is that he's taken up the supporting-guy space that used to be Irving's.) Irving spends his thirty seconds of screen time this week trying not to kill someone just because Henry told him to, and being dragged away to further confinement for his trouble.
The only person worse off than he is: Katrina, who I thought had turned a corner last week by being a remorseless amazing murderer. This week, she gets a demon spider in the mouth as she sleeps (thanks for that one, show), and immediately clutches her womb, pregnant with Moloch courtesy of her own son. Tell us again how Henry has good inside him, won't you, Ichabod?
Tell us in the rain next time.

There was a lot of behind-the-scenes contorting to get this whole plot to work, especially within the larger season arc. I mean, this plot involves grinding the bone-flute made of a particular young girl and mailing it successfully to the son of Sheriff Corbin who would then hopefully open it himself, inhale the powder, become a wendigo, be honorably discharged, return home, look over his father's effects, dig up a box of demon goo, and hand it over to a stranger who just kind of told him to, so that it could be formed into a spider and dropped into the mouth of Henry's mom. Really, when laid out like this, it's remarkable the episode works at all. And yet it did, thanks largely to the actors, who can sell pretty much anything you give them, and to a story that suggests there's still more to tell. And they should totally tell it! Instead, I suspect we're in for a demon pregnancy. Again. Until then, I'll look back on the good times we shared this episode.