The Gadget: The Cool-er, a lower (compared to the Kindle) priced eBook reader that lacks built-in wireless functionality and a hardware keyboard, but adds music, an SD card slot and PDF/MP3 support. But of course, the lower price is the big draw.
The Price: $250
The Verdict: Cheap in every sense of the word, but usable. The Cool-er has the same 6-inch screen as the Kindle 2, but renders text with a proprietary computer-screen-esque font face instead of the more "print"-like Kindle 2 typeface. It is, of course, size-adjustable. You can also flip it 90 degrees to read in landscape mode.
As if it wasn't obvious enough from its appearance, the Cool-er is designed to be the iPod of eBook readers. It succeeds in looking like an iPod and being available in a lot of colors, but fails in usability and design. The only thing going for it is that it works as an eBook reader if reading is the most important part of the package (which it is, to many people). Also, it's quite a bit lighter than the Kindle 2, so you can easily hold it with one hand while you're brushing your teeth, lying in bed, or using the bathroom.
G/O Media may get a commission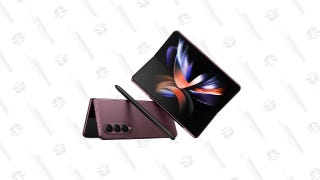 Save Up to $300
Galaxy Z Fold4
The problem comes from the interface—it feels very much like a Chinese knockoff. The giant iPod design, with the D-Pad scrollwheel acting as both a menu selector and a page turner, isn't the best way to read a book. Meaning, you can only turn pages with either your right or left hand (if it's in landscape mode), making reading slightly more awkward. The onscreen UI is also indicative of it being made by a smaller company; it works, but you have to conform to the interface rather than the other way around.
Being able to play audiobooks in MP3 format off the SD card is better than straining to understand text-to-speech with the Kindle 2's robotic voice. And listening to music while reading is good, but you have no playback controls unless you get out of your book and into the file. It's really mostly intended for audiobooks, I believe. And it's more half-baked than anything.
You load eBooks onto the player via mini USB or onto the SD card, but it's not quite compatible with Macs. Transferring files via OS X will get you four blank folders (the metadata files that Macs deposit on external drives) that you can't seem to ever get rid of. Also, the battery meter is somewhat finicky and fluctuates up or down depending on its mood. There's also no great auto-sleep mode like the Kindle has.
Where They Get You: The books. The Host, by tween vampire novelist Stephenie Meyer, costs $20.79 on coolerbooks.com, but only $9.99 for Amazon's Kindle. Other, older and less popular novels, are more on par between the two stores. You do get 25% off of the list price if you own a Cool-er reader.
The coolerbooks selection is also smaller than Amazon's, housing none of Ian Fleming's Bond books, one of which I've found used in the photos anyway. (Amazon has them all for $9.99 each.)
Good For Piracy: But the upside is that the Cool-er supports native PDF format documents, like the Kindle DX, so you can load on downloaded and torrented eBooks with ease. But if you really wanted to pirate books onto the Kindle 2, it's just a matter of using calibre to transcode the books into a compatible format beforehand, so it's not that huge of a benefit.
Versus Other Players: It's not as capable as say, a Kindle 2 or the touch-capable Sony PRS-700 reader, and it's not as cheap as this lousy Ectaco jetBook reader at $170, so it's kinda just right there in the middle.
If it were $199, we'd recommend this to people who just want to read, and don't care about all that extra stuff like touchscreen or downloading books directly to the device before your plane takes off. But it's $250, which is only $50 cheaper than the Sony. If that $50 is very important to you, go with the Cool-er, otherwise we'd recommend either the Sony or the Kindle 2.
I really, really wish this reader were $199, because it's not a bad reader, it's just not as good as what's out there now. [Cooler]
$50 to $100 cheaper than more popular eBook readers

UI is only so-so, and page controls are slightly awkward

Feels plasticky, lighter build means easier reading

Not as polished as Kindle 2 or Sony's PRS-700, which may be worth the extra $50 to $100