The world's sixth largest economy is making giant leaps to bolster their launch capabilities and joining with several countries to aid in their space efforts. Let's take a look at Brazil's recent space endeavors, joint projects, plans for the future, and a nice little boost in store for those launching a rocket from a secluded area of Brazil.
First off, there's Brazil's Alcântara Launch Center, which was built in 1983 and is interesting for a couple of reasons. The launch center is sequestered from the surrounding cities and only accessible by air or boat. The Alcântara site lies a little less than 3 degrees away from the equator. Launching a rocket near the equator decreases the amount of fuel needed.
The rotation of the earth at the equator gives launch vehicles a boost relative to sites further away from the equator, resulting in as much as a 500 km/h increase in velocity. This increase in velocity decreases the fuel cost necessary to place an object in orbit, making Alcântara the perfect place for launching geosynchronous satellites.
Brazil's first astronaut, Marcos Pontes, went to the International Space Station aboard the Russian Soyuz TMA-8 in 2006. NASA trained for Pontes, but problems with the Shuttle program after the Columbia disaster led Brazil to switch Pontes in the Soyuz program.
G/O Media may get a commission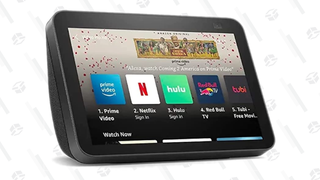 Brazil suffered three major failures at the Alcântara Launch Center in the late 1990s and early 2000s, including a launchpad explosion which killed 21 engineers and technicians in 2003. In 2010, Brazil successfully launched a mid-sized rocket from Alcântara with 10 microgravity experiments as a part of its payload.
Ground broke on a long-delayed joint venture between Ukraine and Brazil in September 2011 for the Ukranian Cyclone-4 launcher project. The joint venture began in 2003, but money and the Alcântara launchpad explosion delayed the project for nearly a decade. The first Cyclone-4 launch is planned for 2013, with the Ukrainian government decreasing costs by 30% by launching from Brazil.
Israel is in talks with Brazil to launch satellites from Alcântara, as Israel's geographic position makes domestic launches difficult. An eastward launch from Israel taking advantage of the rotation of the planet would cause the booster to drop in Jordan or Iraq. A 2000 agreement between Brazil and the United States also allows for private U.S. corporations to launch from Alcântara if they desire.
In 2009, Brazil and Russia agreed to create and launch five different rockets as part of the Southern Cross Project. The largest of the rockets, Epsilon , will carry a payload weight of four tons. The Southern Cross project will create five additional launch pads and oversee up to a dozen launches a year. The project is on pace to make its first launch in 2022.
While lacking a manned shuttle initiative, Brazil is poised as a hotbed for space exploration along with private and joint government launches in the coming decades. Additionally, Brazil's Science without Borders programs aims to spend two billion dollars to educate 75,000 students pursuing advanced degrees in engineering and physical sciences at home and abroad, with hope that some of those students will return to work in Brazil. Yes, Brazil, thanks to its location and initiative, could very well become the planet's spaceport of choice in the late 21st Century.
The top image is of the Brazil Space Agency's Flight Control Center and courtesy of Agência Brasil/CC. Images courtesy of the National Space Agency of Brazil. Sources linked within the article.