Edward James Olmos talks Agents of SHIELD. Check out some new Age of Ultron footage, plus a brief tease for Ant-Man. Stan Lee is making a new superhero series for UK TV. Plus, teasers for what's ahead on The Flash, iZombie and Gotham. Spoilers, Assemble!
Top image: iZombie.
Suicide Squad
The Wrap are reporting that Adewale Akinnuoye-Agbaje (Lost, Thor: The Dark World) has been cast in the movie as Batman villain Killer Croc.
Latino Review followed up the report, with their unnamed sources confirming the Killer Croc news and adding that the recently cast Scott Eastwood would play Steve Trevor, the frequent love interest of Wonder Woman. As always with unsourced rumors, keep the salt handy.
---
Leatherface
Bloody Disgusting reports that Stephen Dorff will play a Texas Ranger named Hal Hartman. They also offered this plot breakdown:
The film centers around a violent teen who one day will become Leatherface. He escapes from a mental hospital with three other inmates, kidnaps a young nurse and takes her on a road trip from hell. Along the way, they are pursued by an equally deranged lawman out for revenge.

Dorff's plays said lawman, who was described to us as a lean, mean Texas Ranger who has a vendetta against the teen boy who grows up to become Leatherface.
G/O Media may get a commission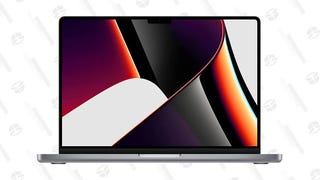 Save $300
2021 14" 1TB MacBook Pro
---
The Belco Experiment
Production on the movie, which is about a company that locks itself down one day and orders its employees to kill each other, has begun. [ Coming Soon]
---
Rings
An adult version of Aidan, the child of Naomi Watt's character Rachel in The Ring and The Ring Two, will appear in the movie. [Shock Till You Drop]
---
Shazam
Dwayne Johnson discusses why he chose the role of Black Adam over the chance to play Shazam:
I felt ultimately, and this is with all due respect to Shazam, Billy Batson, it's a mythology that I love, it's been with me for almost 10 years now. What made me choose Black Adam was I just inherently felt Black Adam was more interesting to me, because I felt like there were more layers to Black Adam, starting out as a slave and then ultimately becoming the anti-hero who we enjoy today.
[ Digital Spy]
---
Tron 3
According to a tweet from production weekly, Tron 3's subtitle will be "Ascension". [CBR]
---
Pride and Prejudice and Zombies
The movie now has a new release date: February 19th, 2016. [ Shock Till You Drop]
---
Pan
Here's a brief new synopsis for the film:
From Warner Bros. Pictures comes, Pan, a live-action Peter Pan feature directed by Joe Wright (Atonement, Pride & Prejudice). Offering a new take on the origin of the classic characters created by J.M. Barrie, the action adventure follows the story of an orphan who is spirited away to the magical Neverland. There, he finds both fun and dangers, and ultimately discovers his destiny—to become the hero who will be forever known as Peter Pan.
---
Avengers: Age of Ultron
There's a few new snippets of footage (and a bonus tease for Ant-Man) in this Audi commercial. [Coming Soon]
IMAX are asking fans to vote on a new poster for the film — see one option below, and find the rest here. [/Film]
---
Self/Less
Here's a new poster for the movie. [Coming Soon]
---
Poltergeist
Speaking of posters, here's a new one for Poltergeist as well. [Fandango]
---
iZombie
Robert Buckley discusses what's next for Major:
In the broader spectrum of the fact of zombies, he will. We'll start to see him— he's a social worker. He works with these at risk teens and runaways and a couple of them start to go missing. When his favorite kid goes missing, he starts looking into it and finds out that several kids have gone missing.

The police haven't made it much of a priority, so he makes it his mission to find out what is happening to these kids. As he does that it sort of puts him on this long crusade where he finds out increasingly bizarre things. He's butting up against zombie stuff and of course as a normal person, he's like, "That can't be real." And as he tries to explain to other people, he sounds crazy.

It puts him in this spot where people don't believe him and he can't believe what he's seeing, but he's seeing it with his own eyes so he doesn't know if he's going crazy. Ultimately, him and zombies, they do mingle and their paths cross.
[Buddy TV]
---
The Flash
Following last night's episode, two new trailers were released: One that offers a spoilery focus on Harrison Wells, and another that teases the rest of the season, including footage of Gorilla Grodd, Arrow's Ray Palmer and Felicity Smoak, and more footage of Oliver Queen in his League of Assassins garb:
The season finale will be called "Fast Enough", as revealed by this picture from Danielle Panabaker on the E! Online Instagram account:
---
Once Upon A Time
Here's a brief synopsis for "Heart of Gold":
"Heart of Gold" - Emma is still reeling after learning the truth of her parents' history with Maleficent, but she must focus on finding the Author, who is running loose in Storybrooke, before Gold does. When Gold's quest for his happy ending grows more urgent, he blackmails Regina into helping him. In a Fairy Tale Land flashback, Robin Hood learns what it means to be an honorable thief when he accepts a proposition by Rumpelstiltskin to travel to Oz to steal a valuable magic elixir from the Wicked Witch, on "Once Upon a Time."
---
Luke Cage
Cheo Hodari Coker is the new showrunner for the series. He will produce as well as write the first two episodes, which will première in 2016. [Variety]
---
Agents Of SHIELD
Comic Book Resources sat down with Edward James Olmos to talk about Gonzales' relationship with Bobbi Morse (and also his apparent excitement for Age of Ultron):
Agent Calderon doubted Bobbi's loyalties. Does Gonzales trust her? How would you describe their working relationship?

It's excellent. It's very difficult for Bobbie. Bobbi loves Coulson, but she understands that what I'm doing needs to be done. She finds herself torn, just like Mac. Mac loves Coulson. They appreciate what they've been able to accomplish under him, but that was during the time of Fury.

It's interesting because I'm anxious to see the Avengers movie. On the billboards, they talk about the "Age of Ultron." Whoa. Whoa. Do you know anything about that?

Not yet.

You're going to soon.
---
Lucky Man
UK TV Channel Sky One has commissioned a new superhero drama from Stan Lee. Here's the press release with more info:
Lucky Man is the story of DI Harry Clayton (James Nesbitt), a cop from Central London's notorious Murder Squad, who is given a charm that seems to confer upon the wearer the ability to control luck.

Harry is down on his luck; his wife (Eve Best) and child have left him due to his gambling habit, his boss thinks he's in league with the devil and he has a huge debt to an infamous underworld crime boss who is threatening his life.

A chance meeting with a mysterious woman who gives him an ancient bracelet changes everything... It appears to give Harry control over luck itself, but at what cost? What is luck anyway, and is one man's luck always another's misfortune? DI Harry Clayton is about to find out…
---
12 Monkeys
Here's some new promo pictures from the finale, "Arms of Mine" — find more here. [Spoiler TV]
---
Zoo
Here's a new teaser poster for the adaptation of the James Patterson novel. [Spoiler TV]
---
Supernatural
Here's some promo pictures for "Book of the Damned", featuring the return of Felicia Day's Charlie — see more at the link. [Buddy TV]
---
Gotham
A gallery of new promo pictures for the show's return in "Beasts of Prey" has been released — find more here. [Spoiler TV]
---
Penny Dreadful
Finally, a huge gallery of promotional pictures for the first two episodes of season 2 — go here for the gallery for episode 1, and here for episode 2. [Spoiler TV]
---
Additional reporting by Diana Biller and Charlie Jane Anders.