Looks like another familiar face is in Thor: Ragnarok. The porgs strike back in new Star Wars: The Last Jedi pictures. Westworld casts some suitably mysterious new roles. Yes, the 2016 election will still play a part in American Horror Story: Cult. Plus, new footage from Channel Zero's second season. Spoilers now!

Venom
Variety reports Riz Ahmed is in talks to play a "major", though currently undisclosed, role in Sony's Venom. Site reporter Justin Kroll stated on Twitter that Matt Smith, Pedro Pascal, and Mathias Schoenarts are Sony's top choices for the role.
THR, who also picked up the story, confirms Ahmed will not be playing Carnage. Conflictingly, Jeff Sneider from The Tracking Board says his sources are split—with one trustworthy source stating Ahmed is up for the role of Cletus "Carnage" Cassidy, while a second source suggests he is not.
---
Eat, Brains, Love
A film adaptation of Jeff Hart's zombie roadtrip novel is being written by One Tree Hill's Mike Herro and David Strauss. Rodman Flender (Idle Hands) will direct. [Deadline]
G/O Media may get a commission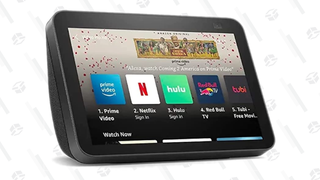 ---
Thor: Ragnarok
It appears Jaime Alexander has finally been confirmed for Thor: Ragnarok, thanks to a recent promo for Talking With Chris Hardwick.
---
Han Solo
Though it's difficult to make out with that freakin' nautilus shell in the way, Ron Howard shared a photo of himself watching a monitor of a woman in a backless dress who may-or-may-not be Emilia Clarke on Twitter.
---
Star Wars: The Last Jedi
Alongside the slate of new images we covered yesterday, Entertainment Weekly also published this photo of Chewbacca looking like he wants to throttle a curious porg that's made its way into the cockpit of the Millennium Falcon.
And here are the issue's two variant covers of Luke and Rey. Choose wisely.


---
Westworld
TV Line repots that Gustaf Skarsgård (Floki from Vikings) has joined the cast series regular Karl Strand, "a white-collar guy comfortable in the field".
The site also reports Fares Fares plays a character named Antoine Costa, "a tech expert with an objective perspective," while Betty Gabriel is Maling, a woman "trying to restore order on the ground." Both characters will be recurring roles in the show's second season.
---
The Flash
Susan Lyn Beard has been cast as Rebecca "Hazard" Sharpe, the Canadian granddaughter of Golden Age Green Lantern villain "The Gambler." [Variety]
---
Arrow
In an interview with CBR, Marc Guggenheim stated he's keen to bring back Jessica de Gouw as the Huntress:
I want to say, 'Absolutely.' Jessica De Gouw has expressed an absolute willingness to come back. Jessica's a favorite actor of mine, and the Huntress is a favorite character of mine. I want to make it happen in Season 6. We've got some plans for the later half of the year that I think she will fit into really well, so we'll see.
---
The Punisher
Ben Barnes, who plays Billy "Jigsaw" Russo on the upcoming Netflix series, stated to men's fashion magazine Da Man the show will tackle themes of "men suffering tragedy and trauma."
I was really pleased at the grounded, tough approach to the material. Our show is about men suffering tragedy and trauma; it's about a very real topic set in a world of superheroes—but no character in our show has superpowers and that makes it feel unique in this universe.
---
Wayward Pines
M. Night Shyamalan is still in talks with Fox about bringing the series back for a third season, according to Fox Entertainment president David Madden:
We don't know yet. M. Night has talked to both Dana and me recently about the possibilities of what a third season could be. We are exploring story and casting ideas; we haven't made any decisions.
[Deadline]
---
Deadpool: The Animated Series
Speaking with /Film, FX CEO John Landgraf stated the animated series would be "really different" from the live-action movies.
It'll be really different from the movies. It's animated and they're live-action, but also it has a different tone and editorial voice as evidenced by Donald and Stephen Glover, who have their own voice and tone. We really wanted to make something that was distinctly different from the movies.
---
American Horror Story: Cult
During a press conference at the Television Critic's Association, producer Alexis Martin Woodall stated the new season is about the Trump administration—from a certain point of view.
I think it's more about what's going on in the world around us — and we talk about the streak of paranoia — I think that there's a lot of ideas that launch from that point. It's not what you think it is, and I'm not trying to be cagey... It's an element in our launch point.
[TV Guide]
---
Channel Zero: No End House
Finally, we end on a trailer for the second season of Syfy's creepypasta anthology, Channel Zero, based on the NoEnd House internet horror story. You can read the original story here... if you dare!
---
Banner art by Jim Cooke.