LED light bulbs have always been a bit like car repairs: they're either good quality or affordable, but very rarely both. And it's all very well and good that these bulbs use a fraction of the electricity as incandescents but dropping $30-$40 on a single bulb—especially when they're so alien looking—keeps many consumers from switching over. But that's where the Cree LED bulb comes in.
What Is It?
The Cree LED bulb is an LED light source designed to accurately mimic the light and form factor of incandescent bulbs for less than $15.
Who's It For?
Do you currently have a light on in your house or office right now? Then you can probably find a use for the Cree LED Bulb.
G/O Media may get a commission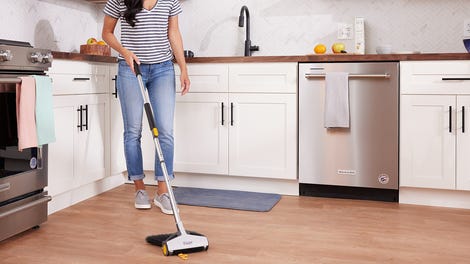 BOGO 50% Off
Flippr - BOGO 50% Off
Design
The Cree LED goes out of its way to ape the look and feel of a traditional A19 incandescent. The "Cree LED Filament Tower" (read: the light source) emulates the concentrated light source that filament bulbs produce and covers it in a real glass dome to distribute light evenly. Unlike, say, the turtle-necked Philps dimmable LED or the Samsung LED, with its go-fast fins, the Cree bulb actually looks like a lightbulb.
Using It
If you don't know how to screw in a light bulb, I don't even know where to start.
The Best Part
These things are dirt cheap, given the quality of light produced. Cree bulbs are solid, as evidenced by previous flashlight reviews, so getting a warm white 40W equivalent for $10, a 60W warm white for $13, or a 60W daylight for $14 is a steal, especially when rated for 25,000 hours. Plus, they act like regular incandescents: they turn on instantly and are dimmable. The Crees produce light at either 2700 or 5000 K, depending on whether you bought the warm white or daylight variety, but have slightly reduced output compared to the Samsung (900 vs 800 Lumen on the 60W) and the Philips (470 vs 450 on the 40W), though it's not particularly noticeable.
Tragic Flaw
The bulb is sized for standard A19 sockets though the ridged ring separating the base and dome can get in the way, preventing the bulb from being fully screwed in.
This Is Weird...
It's nearly impossible to tell the difference between the 40W and an equivalent incandescent once the lampshade is on.
Test Notes
Bulbs are rated for 25,000 hours of use.
40W equivalent uses 6W, 60W daylight uses 9.5W, 60W daylight uses 9W (not tested).
Includes 10-year limited warranty.
Outputs 84 Lumen per watt.
Should I Buy It?
If you're looking for an affordable, quality LED that looks and feels like the bulb it's replacing, then yes.
Cree LED Bulb Specs