The writers of Project Greenlight's Feast have written a screenplay about a robot insurgency—and the team needs your help bringing the film to life. You can also help fund some wonderful comics, a Mouse Guard board game, and a documentary about working visual artists.
Ever wanted to be another person? What about five other people? In Al Letson, Pier Brito, and Ron Hubbard's comic Imperfect, one girl has the ability to experience the world through a group of avatars, although each has its own will and personality:
Eve Barber is an average kid, until puberty hits and everything starts to change. Her parents die in a freak accident, a war breaks out between mad scientists and religious zealots, her body transforms in what she feels are hideous ways, and her extraordinary powers manifest.

Eve can create avatars. They are five individuals that can go out and experience the world for her: her parents, her best friend, the boy she loves and the girl she resents. Eve can't control the Avatars— they have a mind of their own. But they've found a way to work together... to become a family.

Life finds a new normal as Eve moves to the background and her avatars navigate the world. Until one day Eve is caught in a terrorist attack by the Technologists, a rogue faction of mad scientists.

Eve watches as a young girl is abducted and does nothing, knowing with her avatars she could have helped.

Guilt eats away at Eve until she realizes she has to do something. She has to be brave and face the world in order to help the kidnapped girl.
G/O Media may get a commission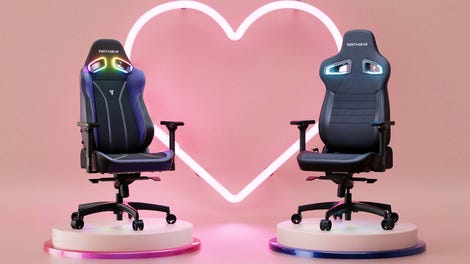 Up to $150 off
Vertagear Gaming Chairs
For a $20 pledge, the team is offering digital downloads of the first four issues. For a $30 pledge, they're offering print copies.
David Karlak directs this film about a robot insurgency from a screenplay by Feast writers Marcus Dunstan and Patrick Melton. So far, the pitch is simple:
In the near future, sentient robots are targeted for elimination after they develop emotional symmetry to humans and a revolutionary war for their survival begins.
RISE stars Anton Yelchin and Rufus Sewell and will available to stream for free online once it's finished. The team is offering access to the production diaries and digital downloads of the score, script, and HD film at different pledge levels.
You can also check out Karlak's short film, The Candidate, below:
Explore the world of David Petersen's Mouse Guard comics through a brand-new board game. Two players can play 10-20 minute games—perfect, the creators note, for killing time in long convention lines. Backers can nab the game for a $30 pledge.
This second anthology of monstrous comics features 20 comics by 40 indie creators and a wonderfully grotesque cover by James Stokoe. Backers can get a PDF of the book for $5 CAD and a hard copy for $20 CAD.
Here's another comics anthology for your consideration, this one focusing on female fairytale characters. It's being edited by Isabelle Melançon and Megan Lavey-Heaton, co-creators of the fictional mashup webcomic Namesake, and features stories by some of our favorite fantasy webcartoonists. Backers can get a PDF copy for a $5 pledge and a paperback copy for a $30 pledge.
This documentary explores the working lives of a who's who of artists: Barron Storey, Bill Sienkiewicz, Brian Thies, Christian Shillito, Christine Wu, Coop, Dadushin, Dan Quintana, Danni Shinya, Dave McKean, Dave Stoupakis, David Mack, Dongyun Lee, Dorian Iten, Gail Potocki, Greg Ruth, Hueman, Jasmine Worth, Jason Shawn Alexander, JAW Cooper, Jenna Gibson, Jensine Eckwall, Jim Mahfood, John Malloy, Jon Burgerman, Junko Mizuno, Justin Volz, Karen Hsiao, Kellesimone Waits, Ken Garduno, Kent Williams, Kozyndan, Kurt Huggins, Kyle Stecker, Marc Scheff, Matthew Bone, Matthew Levin, Nicole Maloof, Ping Zhu, Rebecca Guay, Roman Dirge, Rovina Cai, Satine Phoenix, Scott Fischer, Shaun Berke, Soey Milk, Stephanie Inagaki, Teresa Fischer, Vincent Castiglia, You Jung Byun, Zak Sabbath Smith, and Zelda Devon. For a $25 pledge, backers can get an HD download of the film.
We have been thoroughly enjoying Widdershins, Kate Ashwin's webcomic about the magical epicenter of England, and now Ashwin is collecting the latest volume, about a troubled baking competition:
The formerly prestigious Hotel Gula in Widdershins is this year's host for the National Bakeoff competition, and gifted young baker Alexa King has every intention of winning. But unfortunately for her, the prize is not quite what she expected...

Flung into the past and faced with a foe with an endless appetite for the finer things in life, it's down to her and a mismatched kitchen staff of maids, criminals, housewives and more to figure out how to escape the never-ending buffet.

Can Alexa uncover the Hotel's mysteries before she and her fellow cooks end up on the menu?
For a £5, Ashwin is offering downloads of all four volumes of Widdershins. For a £12, she's offering the PDF collection along with a hard copy of the latest volume.