There are a couple of post-apocalyptic projects looking for a little crowdfunding: a star-studded comedy film and a comic starring a badass version of Charlie Brown. Plus, Aardman Animation is bringing back one of their original characters and a gorgeous environmental art project is getting a coffee table book.
Top image from Crochet Coral Reef.
Jason Yungbluth's Weapon Brown reinterprets classic newspaper comic character in a bizarre post-apocalyptic environment. The cast is led by the cybernetically enhanced Chuck, who mourns the death of his beloved red-haired girl as he battles alongside Snoop across the wasteland. Yungbluth is printing the first volume of the two-part Weapon Brown comic, and he's offering a digital version of the book for a $10 pledge and a print copy for a $25 pledge.
G/O Media may get a commission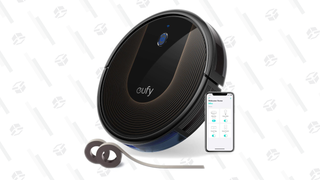 48% Off
Eufy BoostIQ RoboVac
From the people who brought us the robot edition of Huckleberry Finn comes an apocalyptic comedy featuring Barry Bostwick, Armin Shimerman, Harry Groener, and Legend of Korra's Janet Varney:
Are you prepared for the End of Civilization? Comedy team Diani & Devine are not. Like, not at all. So when all power and communication systems mysteriously shut off, the unprepared couple pack up their things and hit the road in search of a safe haven to wait out the possible extinction event. Accompanied by their trusty dog Watson and their miserable cat Mrs. Peel, the duo must struggle against the mundane realities of the collapse of civilization while retaining their decency and rationality as the rest of humanity starts getting really, really weird.
Also, there's a kind of adorable promo video in which Janet Varney has trouble recognizing that she's not the Avatar:
For a $15 pledge, the team is offering a digital download of the film, as well as a download of their first film, The Selling.
Margaret and Christine Wertheim started crocheting a coral reef in 2005, and since then they have been joined by 7,000 crafters who have brought attention to the dying coral reefs by making crochet imitations. Now, they are putting together a book of the various reefs that have been crafted all over the world. For a $55 pledge, they are offering backers a numbered and signed first edition of the book.
We love The Coffee Table, the goofy web series in which a family discovers that their new coffee table is actually an alien artifact with abilities that go far beyond holding up their art books. Now the team behind the show is raising funds to complete their second and third seasons. For a $10 pledge, the team is offering an HD download of each episode as it's released.
Morph was one of the early characters created by Aardman Animation, the animators behind Wallace & Gromit. Now, 30 years later, they want to bring back Morph for a series of 12 one-minute shorts. True to form, the shorts will be stop-motion claymation. For a £5 pledge, they are offering backers early digital downloads of the shorts before they're released. For a £20 pledge, they're offering a region-free DVD of the shorts along with behind-the-scenes extras.