Looking for more worthy projects to support this long weekend? We have an interactive story about a whale walking on stilts, a graphic novel following a young vampire who just wants to make comics, a human-powered helicopter looking to break records, and a webseries about aspiring cartoonists.
The Story of Flewn: Animator Gabriel Smetzer is developing this interactive children's story about a world falling into ruin:
The Story of Flewn follows an old whale crossing a continent on stilts made of driftwood in search of a new ocean for himself and the sea creatures he carries on his back. As he grows a beard and a weary heart he meets a frog on a unicycopter and a rabbit with wings. Together the three characters must use their creativity and courage to find a new ocean and confront the reason their world is falling apart around them.
For a $10 pledge, you'll receive The Story of Flewn, as well as downloads of the art, animated gifs, and an illustrated PDF version of the story.
G/O Media may get a commission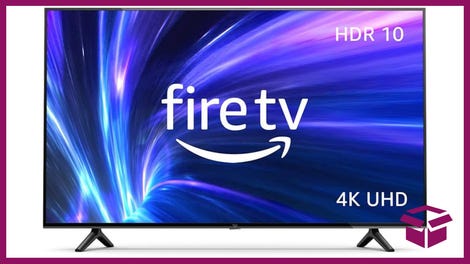 42% Off
Amazon Fire TV 50" 4K Smart TV
The Garlicks: Pandora Orange, Fail Vampire by Lea Hernandez: Killer Princesses and Rumble Girls cartoonist Lea Hernandez is working on a graphic novel for middle schoolers about a family of pork-eating vampires. Pandora is an aspiring graphic novelist, but she's always stuck watching her little sister Ham. After some Ham-based hijinks, Pandora and her sister come to the attention of a boy who can see monsters and a crew of moronic demon hunters. For a $10 pledge, you'll receive a PDF of the book, for $35, you'll receive the PDF, a set of mini-prints, and a signed copy of the trade.
Atlas: A Human-Powered Helicopter for a Historical First!: In 2010, Todd Reichert and Cameron Robertson created record-setting Snowbird, a human-powered ornithopter that flew 475 feet in 19.3 seconds. Currently, their team is working on Atlas, a human-powered helicopter they hope can capture the Sikorsky Prize, a $250,000 reward for a human-powered helicopter that can fly 60 seconds and reach an altitude of 3 meters while remaining in a 10 meter square. For a $25 pledge, you'll receive the team's embroidered badge. For $50, you'll receive an Atlas t-shirt.
Mythomania, Season 2: Crumb and American Splendor take us through the history of established cartoonists, but what about cartoonists who are just starting out? Mythomania introduces us to Andy Go (and alternate-universe version of Derek Kirk Kim's character from his webcomic Tune) and his cartoonist friends as they draw, goof off, talk fanfic, and get in ill-advised relationships. For a $10 pledge, you'll receive behind-the-scenes images; for a $25 pledge, you'll also receive access to a secret Mythomania video.