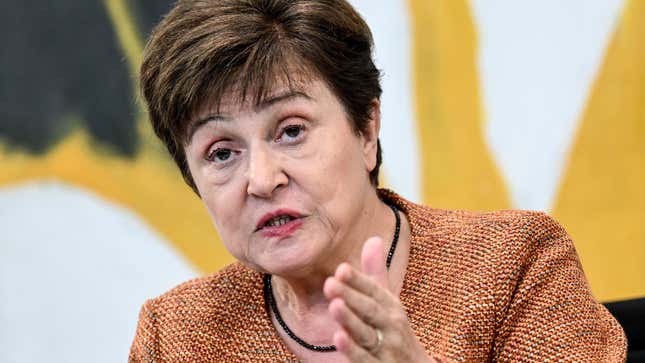 The world needs a new crypto crackdown, or else there's the nuclear option—at least according to one of the world's biggest financial bodies. Kristalina Georgieva, the Managing Director of the International Monetary Fund, shared the inter-country agency has suggested that countries should consider outright bans of crypto if they can't agree to any effective crypto regulation.
He Tossed His Bitcoin, Now He Wants It Back
"We are very much in favor of regulating the world of digital money," she told Bloomberg in an interview outside a G-20 financial meeting. "We also have to recognize if regulations are slow to come and if crypto assets become a high risk for consumers and potentially for financial stability. This option, that some countries are insisting on, including India, that they could be banned, it should not be taken off the table."
However, Georgieva did couch her comments by saying if there were enough consumer protection, then any bans wouldn't be necessary. At the same time "we are not yet in this world" of real, effective crypto regulation.
The International Monetary Fund, mostly referred to as the IMF, is an organization of close to 190 countries whose members, in part, helps provide debt assistance for countries and advices about stabilizing currencies. The IMF has regularly called crypto too risky and volatile for any country to adopt.
Georgieva's comments were made in light of G-20 talks over the weekend where Indian leaders expressed that all nations need a common framework for crypto regulation. U.S. Treasury Secretary Janet Yellen told Reuters she agreed there's a need for new regulation, but also said the U.S. has not suggested any outright bans. President Joe Biden's administration published its own plans for crypto regulation last year, but there's still a question of which federal agencies have authority to regulate certain kinds of crypto tokens or exchanges.
At the tail end of last week, the IMF's executive board came out with a paper that said, in part, that cryptocurrencies shouldn't be granted legal tender status. This decision was made "in order to safeguard monetary sovereignty and stability," according to the fund.
Georgieva told Bloomberg that they are all for digital currencies, especially dollar-pegged stablecoins, that are "backed by the state," which could refer to a Central Bank Digital Currency. As of December 2022 only 11 of 114 nations who mentioned they were exploring a CBDC have actually launched one. Another 36% of those nations have a crypto token in development, according to the think tank The Atlantic Council.
She made the distinction between publicly and privately-issued coins because those with actual ties to a country's monetary system are more stable than those without, which she called "speculative" and a "high-risk investment."
For years, the IMF has hammered the country of El Salvador whose leaders have tried to make crypto a legal tender. The IMF has routinely denied giving El Salvador funding for its crypto dreams. The country's crypto hype train has had trouble keeping on the tracks. El Salvador has lost tens of millions of dollars on its crypto bet, according to reports.