No matter what Bill Murray says, Dan Aykroyd promises a new Ghostbusters movie. Lisbeth Salander could be taking on a Ripley-like role in Ridley Scott's Alien prequel. Aronofsky might not do Wolverine 2. Plus The Avengers, MI4 and Bond 23.

Ghostbusters 3:
Once again serving as the unreasonably optimistic yin to Bill Murray's refreshingly curmudgeonly yang, Dan Aykroyd took time out from selling vodka out of his RV (seriously) to say this movie is totally happening, and Bill Murray didn't mean his negative comments about the movie's screenwriters in the way everyone (Bill Murray included, probably) thought he did. Murray seemingly said that the screenwriters's previous film, Year One, was utterly terrible, and this dashed his last hopes that a third Ghostbusters would be worth doing. Here's Aykroyd's spin on the situation, featuring some remarkably tepid praise for Year One:
"He was talking about the writers from Year One, and I think he was reacting to the box-office success and the general public view of the film, which in my view was a very serviceable comedy, and in the end I think they'll make their money back. I think he was concerned that the writing on Ghostbusters 3 by these guys would not be up to standard, but I can tell you firsthand, I'm working on the script now and those two — Stupnitsky and Eisenberg, [writer-producers of The Office] — wrote Bill the comic role of a lifetime, and the new Ghostbusters and the old are all well represented in it…we have a strong first draft that Harold [Ramis] and I will take back, and I'm very excited about working on it."
And here's how Aykroyd feels this movie fits into the Hollywood nostalgia machine, and what's in store for his character:
Look, Hollywood is in love with any kind of nostalgia that can prove itself to be commercial. But it has to evolve. Now [in Ghostbusters 3] my character's eyesight is shot, I got a bad knee, a bad hip — I can't drive that caddy anymore or lift that Psychotron Accelerator anymore, it's too heavy. We need young legs, new minds-new Ghostbusters; so I'm in essence passing the torch to the new regime, and you know what? That's totally okay with me.
G/O Media may get a commission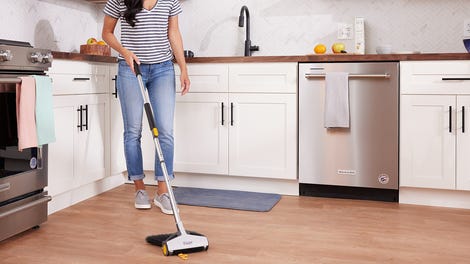 BOGO 50% Off
Flippr - BOGO 50% Off
The Avengers:
The movie will do most of its studio shooting inside Grumman Studios, located in Bethpage on Long Island, New York. Grumman president Parviz Farahzad says the movie will be using all seven studio spaces for several months. [LIBN]
Alien Prequel:
Noomi Rapace, best known as Lisbeth Salander in the original Swedish Girl with the Dragon Tattoo movies, is reportedly a serious contender to take on the main female lead in Ridley Scott's new Alien movies. Other actresses in the running reportedly include Carey Mulligan and Abbey Cornish. [Deadline]
Wolverine 2:
So maybe the sequel to the poorly received spin-off of a movie franchise that needed to be semi-rebooted just to be made creatively viable again wasn't the logical next step for acclaimed auteur Darren Aronofsky. After he didn't get the Superman job, all rumors pointed to him taking the director's chair for Wolverine 2, but now he's reportedly going to start filming The Tiger in November, which would seem to make him unavailable for Wolverine 2. (The Tiger, by the way, reportedly stars Brad Pitt and is about an animal activist fighting off a seemingly supernatural tiger in Siberia.) [The Playlist]
Transformers 3:
Here are some more set photos from the Kennedy Space Center: [TFW2005]

Bond 23:
The latest Bond movie is still in a holding pattern, but Eon Productions honcho David G. Wilson says they hope to start the film up again next year. He also says Sam Mendes very much still wants to direct the film, and hopefully the timing will still work for him to do that. [IGN]
Mission Impossible 4:
Anil Kapoor, best known as the charismatic but vaguely menacing game show host in Slumdog Millionaire, and Lea Seydoux, who played Charlotte LaPadite in the opening scene of Inglourious Basterds, have reportedly joined the project. Seydoux is reportedly the main female villain, but there's some disagreement among inside sources as to whether Kapoor is a villain or not. [Deadline and The Hollywood Reporter]
Harry Potter and the Deathly Hallows:
A whole bunch of new production photos have been released: [SpoilerTV]

Breaking Dawn:
Stephanie Meyer has now confirmed that nine-year-old actress Mackenzie Foy is playing Renesmee, the half-vampire daughter of Bella and Edward. [Facebook]
The Voyage of the Dawn Treader:
The new international trailer for the latest Narnia adaptation gives us our first good look at new human child Eustace Scrubb, which is great news for all those breathlessly anticipating the lavish, epic The Silver Chair and The Last Battle movies. There are other people besides me breathlessly anticipating those, right? [CinemaBlend] Click to view

Chuck:
Adam Baldwin tweeted a picture of him onset with his Firefly costar Summer Glau, who plays Greta in episode 8: [TwitPic via ChuckTV]

Doctor Who:
An entry in line producer David Mason's CV reveals the show may be headed to the United States for some location shoots. It will be the second time ever the show has shot in the US, after the third series's "Daleks in Manhattan"/"Evolution of the Daleks." (And no, I'm not forgetting the Paul McGann movie - like every American scifi TV show of the last 20 years, that was filmed in Vancouver.) Last time, it was purely second unit shooting, and David Tennant didn't actually travel to the States for filming. I'd guess for budgetary reasons it'll be the same thing this time around, but it's not impossible Matt Smith could make the trip. [The Doctor Who News Page]
The Sarah Jane Adventures:
Supposedly, there are other stories in this series beyond Matt Smith's debut on the show, "The Death of the Doctor," but you'd never know it from all the news that keeps coming out. Here's a new synopsis of all the goodies in store:
Sarah Jane and Jo Grant pair up to rescue The Doctor after they are tricked into believing he has been killed, and invited to his funeral.

But the pair quickly realise the ceremony is a trap, and learn that a group of aliens called The Shansheeth have captured the Tardis, leaving the Time Lord stranded on a planet.

These vulture-like aliens then attempt to use a "memory weave" to connect with the pair's brains and past thoughts, and learn how to unlock the time-travelling machine through their past experiences with The Doctor.

As they reminisce, viewers of the show will watch video flashbacks of previous Time Lords William Hartnell, Patrick Troughton, Jon Pertwee and Tom Baker, whilst their iconic nemeses The Daleks, Sea Devils, Sontarans and Davros also make a return.
In case anyone is wondering how Jo and Sarah Jane are going to reminisce about two Doctors they never met, I'd guess we'll be seeing clips from the Third Doctor and Jo adventure "The Three Doctors," which was William Hartnell's one brief return to the show. [The List via Doctor Who TV]
The Event:
Here are five sneak peeks for the next episode, "A Matter of Life and Death": [SpoilerTV] Click to view

No Ordinary Family:
Here's a synopsis for episode 5, "No Ordinary Quake":
Jim goes into search mode to discover the cause of some recent earthquakes; Stephanie begins to suspect that JJ may be lying about his lack of super powers; and Daphne struggles with morality issues when she reads the minds of a fellow student and teacher and suspects they may be having an affair.
Caprica:
A couple new sneak peeks are out for the next episode, "Retribution": Click to view

Click to view

Here's an interview from Attack of the Show with the first Cylon herself, Alessandra Torresani:
Click to view
Stargate Universe:
Here's a sneak peek at episode 3, "Awakening": Click to view

And here are a bunch of new promo photos for the same episode: [SpoilerTV]

V:
Jane Badler says Diana's prison is modeled to look like the Visitors' homeworld, so it's "lush and tropical." When asked if it's possible Diana doesn't even realize she ever left her home planet, Badler said she had never thought of that, then said that probably was actually the case. [Fancast]
Laura Vandervoort has some thoughts on how the arrival of Diana might affect the relationship between Anna and Lisa:
"Originally, I would have said that Lisa was just a soldier ant, following the Queen Ant, Anna. I always think of the V's as like a bee colony, or an ant colony, or whatever, and there's the Queen, which is Anna, and the rest of us follow, but I think finally, Lisa is getting around of the rest of the ants, and she's making her own destiny, and maybe Grandma will get in the way of that."
Smallville:
In the same interview, Vandervoort says Kara will be sticking around after "Supergirl", but just because she's still in Metropolis doesn't mean she's still on Smallville:
"The storyline is left open-ended, so Kara doesn't necessarily leave; but I don't know if she's returning. She's staying in Metropolis, but I'm not sure if you're going to see me again after that episode."
One-time Superman portrayer Dean Cain says he would love to return to the final season as the villainous Dr. Knox. [OCSK]
Additional reporting by Katharine Trendacosta and Charlie Jane Anders.