Way back in 1941, the first Vigilante was Greg Sanders, a cowboy-themed crimefighter who was also on the Seven Soldiers of Victory. Then came New York City district attorney Adrian Chase, who embodied a more well-known, violent version of the identity in the 1980s, followed by a few other folks as time passed. The newest person to wear the distinctive black suit will be a fictional basketball player whose life turns sour after a NBA career fails to materialize.
The House of Superman announced The Vigilante: Southland today, a new six-issue miniseries starts in October from author Gary Phillips, with interior art by Elena Casagrande Giulia Brusco, along with covers by Mitch Gerads. The southern California-set story will focus on one-time pro hoops hopeful Donny Fairchild. More from the press release:
When his girlfriend stumbles on a conspiracy to steal water rights through a series of shady land development deals, she's mysteriously murdered. Once Donny starts getting too close to the cause of her death, his house is blown up and he's left for dead. Determined to bring the killers to justice, Donny undergoes training from an urban legend known as The Eastsider to become a masked vigilante.
"THE VIGILANTE: SOUTHLAND is incredibly relevant to our times," said writer Gary Phillips. "It's a politically tinged story that touches on a myriad of contemporary issues, such as gun violence, class struggle and Black Lives Matter. The book also provides me an opportunity to contemporize classic issues/tropes like the fight over water rights in southern California. I'm very excited to show readers this character, reimagined for the 21st Century."
G/O Media may get a commission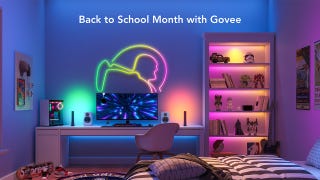 Back to School
Back to School Month with Govee Sale