Michael Douglas talks who is going to wear the Ant-Man costume. Hayley Atwell tweets photos from the set of Agent Carter. The Flash teases more heroes. And Orlando Bloom is willing to return to Pirates of the Caribbean. Spoilers now!
Top image: Gotham
Ant-Man
Michael Douglas said that he, as Hank Pym, will not be wearing a superhero costume during the film. But he definitely appreciates how good it will look on Paul Rudd. He told MTV:
The good thing is Paul Rudd is ripped. He's been training for this picture for a long time. He was so cut that they had to soften his costume up even with all the built-in six-packs. My costume will be hung up, and Paul will be wearing it in good form.
[MTV via Comic Book Resources]
---
Captain America 3
Joe and Anthony Russo have been on the interview circuit to promote the upcoming DVD release of Captain America: The Winter Soldier. Speaking with Comic Book Resources, Joe Russo talked about how they'd carry the feel of that film forward:
We can't talk about it yet, obviously, because we haven't done the announcement yet, but we think it's coming very shortly. Look, our job, as fans of the genre, lifelong fans of the genre — by genre, I mean comic book films — is to, like I said earlier, blow people's minds the same way that you want your mind blown sitting in a movie theater. And the competition is so fierce right now. What do we have, like, 97 superhero films coming out in the next few years? So you have to bring your A — you can't just bring your A-game. You've got to bring your A-plus-plus game.

We've been hard at work for the last five or six months, trying to craft what the vision of "Cap 3" will be, and hopefully, when people find out what we're up to, they'll freak out. Again, because that's the job. So we will say that the tone will — Cap will keep existing in the same Universe, which is the grounded Universe that we like, the grounded sandbox that we like playing with him in. As to whether it will be a thriller, people have to wait and see, but it will still live in that grounded Universe.
G/O Media may get a commission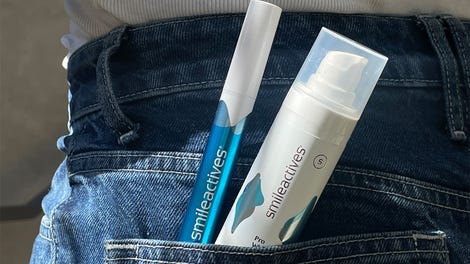 58% off
Whitening Powerhouse Pen & Gel Duo
---
Batman v. Superman
Someone contacted MLive claiming to have photos and video of a scene with the Batmobile being filmed in River Rouge at the Nicholson Terminal and Dock. Co. last week. MLive didn't have them, since the e-mailer said they were looking to sell them, so there's no other proof that the Batmobile was in town. While Warner Bros. has refused to confirm filming in Detroit, a source told that there was an "environmental/special effect" shoot at Nicholson Terminal and Dock Co. [MLive]
---
Pirates of the Caribbean 5
Despite being absent from the last installment of the Pirates films, Orlando Bloom hinted that he'd be willing to reprise the role of Will Turner for the fifth film. He said on an Oz Comic Con panel:
There have certainly been some discussions about it and I'm open to it. That whole experience working with Johnny (Depp) and (director) Gore (Verbinski) was really amazing for me.

I had a great time working with Johnny, one of the reasons I jumped at the opportunity (to be in the first Pirates) was because Johnny was involved.
---
Supergirl
Greg Berlanti, of Arrow and The Flash, confirmed he's working on a Supergirl series:
We're just starting to work on it. We haven't gone to the networks yet, so. I'll be happy, very excited to talk about it once we know where its home will be and that kind of stuff, but not at this moment.
So it's still looking for a network home. The CW, NBC and Fox all have DC shows starting this fall. Of them all, given Berlanti's involvement, the CW's probably the best bet. [Comic Book Resources]
---
Arrow
Manu Bennett seems to think that he'll be back as Slade Wilson/Deathstroke, telling SpoilerTV: "I'm trapped in purgatory right now – but I think I'm going to get out. We'll see what happens. Deathstroke's not going anywhere quick." See the interview below. [SpoilerTV]
---
The Flash
EP Andrew Kreisberg talked about two major plotlines running throughout the season: the death of Barry's mother and the hint of time-travel at the end of the pilot. He promises answers:
KREISBERG: I think you're going to get a lot of the answers in the first season. We tend to approach things season by season. One of the biggest things that I've learned working with Greg [Berlanti] is that, if you have a great idea for Episode 10, do it in Episode 5. In within an episode itself, I'll pitch him a story and say, "We're building up to this great moment in Act 4," and he'll say, "Do it in the teaser." People are always worried that we'll burn through story, but we've always managed to come up with a new idea. We'll be solving a lot of the mysteries that we set up in the pilot, and not making that a series-long mystery, but a season-long mystery. At the same time, we'll set up new mysteries for a potential Season 2. There's always more story there.

The final scene in the pilot with Harrison Wells hints towards some possibilities. Is that a newspaper he might go to often, to see what's in store for the future?

KREISBERG: Yeah. If you're a fan of the comic book, you obviously know that time travel is a big part of The Flash's world. There's obviously hints that Harrison Wells has access to the future. One of the things, especially going back to Crisis on Infinite Earths and some of our favorite time travel stories, like Back to the Future, time isn't written, as they would say on Doctor Who. Things can change, and some things can't. That's one of the things that will get explored, over the course of the series. How much of our lives are already written, and how much of your destiny is up to you?
He also said that the focus would be on the present in season 1:
KREISBERG: Especially for the foreseeable future, what's most important to us is what's happening in the present. At least for the time being, talking about the past and the future is impacting what's happening in the present day. I don't think we'll be making those kinds of trips right now.
And here are Candice Patton (Iris West) and Jesse L. Martin (Joe West) summarizing their characters:
PATTON: One of my favorite lines that I've gotten to say as Iris is, "Excuse me, if you think that being curious is a character flaw," and I love that about her. She's unabashedly curious. To tell young girls that you can be curious, explore the world, and go out there and be brave is what I love about her. Every time I get a script and I read Iris, I'm constantly inspired and motivated to be a stronger, braver woman. She's not the kind of girl that's going to wait for someone to come in and save her. She's constantly figuring out ways to save herself. I think that's such a great message.

MARTIN: The thing I love most about what I've learned about Joe West, so far, is that he doesn't see showing emotion as a weakness. He sees it as somebody who's been strong for a really, really, really long time, and had to break. I love that. You get yourself trapped in the notion of being a cop, and you always have to be stern about things and not cry and hold yourself together, but that's not Joe. He's strong and he can hold himself together, but sometimes he breaks down a little bit. I like that.
[Collider]
Here's a video teasing both Cisco Roman/Vibe and Ronnie Raymond/Firestorm. [Coming Soon]
---
Beauty and the Beast
Charlotte Arnold (Degrassi) will guest star in the third season premiere as "Marissa, a distraught Midwestern woman whose stockbroker husband suddenly begins displaying erratic, violent behavior." [TV Line]
---
Agent Carter
Hayley Atwell tweeted photos of her wig fittings and costume meetings for Agent Carter. [via SpoilerTV]
---
Once Upon a Time
Here's a promo for the new season. [via Entertainment Weekly]
Go here for more promo photos. [TV Line]
---
Gotham
Here's a video featuring Fish Mooney (Jada Pinkett Smith). [via Comic Book Resources]
---
Under the Dome
Go here for more photos from September 15th's episode, "Turn." Here's the description:
"Turn" - When a new threat from the Dome intensifies, the residents of Chester's Mill find themselves at risk of being crushed to death. Meanwhile, Melanie's health continues to deteriorate as the fate of the egg remains unknown, on UNDER THE DOME, Monday, Sept. 15 (10:00-11:00 PM, ET/PT), on the CBS Television Network.
---
Additional reporting by Charlie Jane Anders and Madeleine Monson-Rosen