Washington, D.C.'s Crime Museum, which opened in 2008, will close at the end of September, citing "various circumstances." The museum's attractions include Ted Bundy's VW, which he used to snatch his victims, as well as paints used by John Wayne Gacy to create his clown portraits on Death Row.
According to a statement released by the Crime Museum, its final day will be September 30:
"We are incredibly disappointed that we were asked to leave our building and did everything possible to try and work with our landlords to stay but nothing seemed to change our fate," states Janine Vaccarello, chief operating officer of the Crime Museum. "But due to various circumstances with our lease agreement, we really don't have a choice. While we understand the DC real estate market is desirable, it doesn't make it easy to digest. People still have weeks left that they can come in and see the museum before we close, so they should take advantage!"
The press release adds that the museum will continue to host an "Assassinations in the Capital Walking Tour," with points of interest that include the nearby Ford's Theatre (well worth its own visit if you're into macabre history).
The Washington Post—which was critical of the America's Most Wanted-affiliated museum when it opened, calling it "more fun than annoying, but not by terribly much"—points out that the attraction, which charged admission, had difficulty competing with D.C.'s many free Smithsonian outposts, and suggests finances are behind its closure:
Janine Vaccarello, the chief operating officer of the museum, said that as part of its lease, the building owners have had the right since 2013 to ask the museum to vacate the property if it does not meet certain sales thresholds. Vaccarello would not disclose details of the museum's finances, but said, "we had our challenges, but we were making it."

...The future of the crime museum is uncertain. Vaccarello said the museum would search for other spaces in the area, or would look to partner with another organization and a place to sell its paraphernalia.
G/O Media may get a commission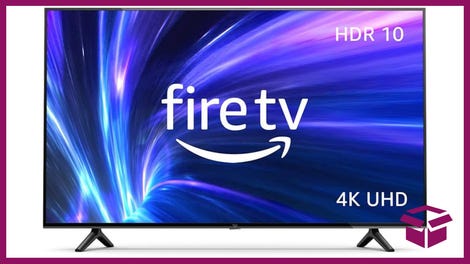 42% Off
Amazon Fire TV 50" 4K Smart TV
Photo of Ted Bundy's VW on display in the Crime Museum's Lobby via Crimemuseum.org; photo by J.C. Fiola