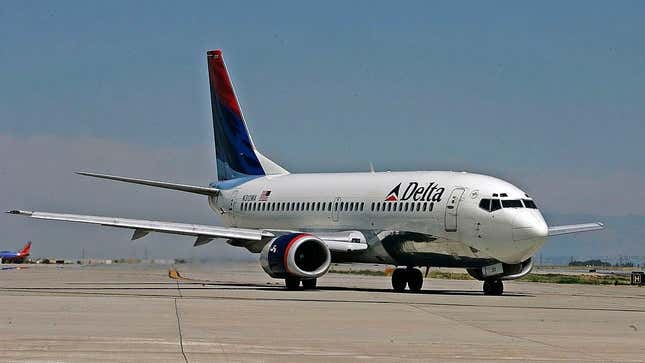 Delta Airlines will offer free WiFi on its flights beginning on February 1, CEO Ed Bastian said at the Consumer Electronics Show (CES) in Las Vegas on Thursday.
You Could Soon Get Cash Back for Your Canceled Flight
The airline first considered the possibility of adding in-flight WiFi in 2018, but at the time, the company said it was holding off to ensure they could provide high-speed internet access. The growing concern amounted to whether passengers would encounter slower WiFi speeds, creating grievances and complaints.
Delta explained that WiFi access will initially be available on about 80% of its domestic flights and the remaining planes on its fleet will be upgraded to include free WiFi each week.
"It's going to be free, it's going to be fast and it's going to be available for everyone," Bastian said, adding that in the past several years, the airline had invested more than $1 billion in WiFi technology.
Passengers will know the plan offers WiFi by a decal placed on the door of the aircraft as they board, but although Bastian boasts that the WiFi will be free, that option will only be available to those who are members of its free SkyMiles loyalty program. Those who aren't members of the program will have to pay $10 to access the aircraft's WiFi.
Delta said in a press release that the service, created alongside T-Mobile, will be offered on more than 700 Viasat-equipped airplanes by the end of this year, and will expand to international and regional flights by the end of 2024.
T-Mobile CEO Mike Sievert said in the press release that the company believes passengers' WiFi connection should be seamless. He added, "T-Mobile customers already get free in-flight Wi-Fi and now we're partnering with Delta to bring that experience to all customers — regardless of their wireless provider — so that anyone flying Delta can enjoy online access from takeoff to touchdown."
Delta currently charges about $50 per month for WiFi within North America and charges about $70 on international flights, according to CNBC. However, the airline did introduce free messaging in 2017.
Delta also announced it plans to introduce the Delta Sync Exclusives hub which will connect passengers to a mobile platform through SkyMiles that will increase their "in-flight connectivity experience." This expansion will include "exclusive offers, access, and entertainment," and is set to be released this spring. 
"Our vision has long been to deliver an experience at 30,000 feet that feel similar to what our customers have available on the ground," Bastian said at CES. He added, "We didn't just want free Wi-Fi to offer base-level service – we wanted it to be transformative for the entire onboard experience. 
"It is imperative all customers onboard can enjoy their favorite content just as they would at home, and we've put this system through meticulous tests to make that possible."