How often do you find yourself cruising through the apps on your smartphone and wondering: How did they do that? Welcome back to the Great Apps series, inspired by the Intel AppUpSM developer program. Today we give you, Instagram, the photo-sharing tool that in under a year has caught the eye of 5 million users, has become a staple tool for the mobile picture-obsessed, and is kinda more popular than Twitter.
Maybe Instagram's success can be attributed to the fact that the majority of us remember what it was actually like to develop and distribute photos: buy film, load film, set up a shot, take a picture, take another picture, take ten more, drop off film, hope that one-hour photo doesn't screw things up, request copies, find the ones where your GF isn't making that face, give her the duplicates, have her insist that you take new pictures because she is making that face, repeat.
Yeah, basic digital photo-sharing has been around in various incarnations forever, but it took the combined brainpower of Instagram developers Kevin Systrom and Mike Krieger to finally create an app that is both seamless and intuitive.
Systrom's pedigree probably has a bit to do with it. Back in 2004, the now 27-year old CEO was turning down offers from some guy named Zucker-something in order to continue his studies at Stanford, and then went on to intern for a company called Odeo (which eventually became Twitter).
G/O Media may get a commission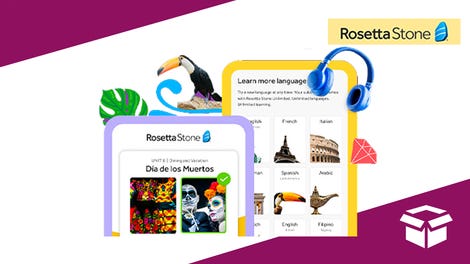 Extra 20% off
Rosetta Stone Lifetime Subscription - All Languages
Ultimately, though, Systrom's goal was to work for himself. In an interview with Fast Company, Systrom said, "Everyone has their story about how they had the chance to work at X, Y, or Z. But being at Stanford, I was given the opportunity to be in the middle of a ton of innovation, and meet some of the smartest people doing the coolest stuff in the world."
"When I finally did it [myself]," he adds, "It just felt so right."
Must've felt right for everyone else too because in the 9 months that Instagram has been around, the 4 person company has seen usage swell to 5 million people (that's like 25,000 users for every month they've been in existence and 1.25 million to 1 user/employee ratio!) with 10 new pictures being uploaded every second.
The Great Apps Series is inspired by Intel. Have you developed the next Great App? Join the Intel AppUpSM developer program and you could get up to $25,000 in funding so you can develop and distribute your app to multiple app stores powered by Intel AppUp! Click here to sign up and submit now.