Chick-fil-A, home of chicken-loving bigots, is in the middle of a PR nightmare. After Chick-fil-A's COO admitted to being anti-gay, the Jim Henson Company (bless their heart) pulled their toys from Chick-fil-A's kids meals. Only Chick-fil-A claimed the toys were pulled because of a "possible safety issue". That, of course, is a complete lie. A lie that the company may be propagating with fake Facebook accounts of Chick-fil-a sympathists.
Yep, Chick-fil-A is still stuck in its own reality and is doubling down on its lie. Instead of owning up to the fact that The Jim Henson Company stopped doing business with them because they're overrun with bigots, the chicken sandwich company appears to have made fake Facebook accounts to defend its honor on the social network. How do we know the accounts are fake? Just check out this back and forth on Chick-fil-A's Facebook page between real, breathing people and "Abby Farle", a Facebook account that was made 8 hours ago by a chicken PR flack with a stock image of a teenage girl as her profile picture:

It's a dirty, awful trick that is completely embarrassing and just shows how sleazy a company backed up against a wall can be. Especially a company that doesn't believe in treating all humans equally. Of course, there's a chance that this could all be a stunt to shame Chick-fil-A—or an overzealous supporter—but that company hardly needs more shaming. Chick-fil-A is being rightfully pummeled to the ground by anyone who believes in equality, its delicious chicken sandwiches be damned. [Happy Place]
G/O Media may get a commission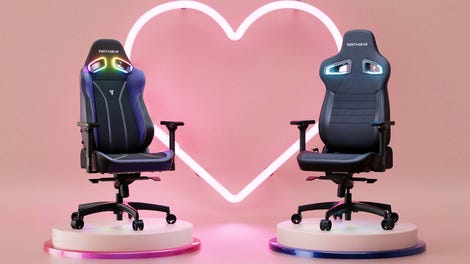 Up to $150 off
Vertagear Gaming Chairs
Update: Chick-fil-A has denied that it has created fake Facebook accounts to defend itself. In a statement to BuzzFeed, spokeswoman Tiffany Greenway said:
"We have seen this and it is not true. Chick-Fil-A has not created a separate or a false Facebook account. We don't know who created it."