The bizarre reports of a "sonic weapon" allegedly turned on American and Canadian diplomats in Havana, Cuba, are getting more and more curious, if not disturbing, by the day.
Medical files reviewed by CBS News revealed a slew of physical symptoms associated with the mysterious "covert sonic device" that reportedly operates outside the range of audible sound, including some as serious as "mild traumatic brain injury, and with likely damage to the central nervous system."
The symptoms were previously described as hearing loss, nausea, headaches and balance disorders and at least one envoy is said to now require the use of a hearing aid. The medical files, however, indicate that the unfamiliar device may be capable of causing substantially more harm than previously disclosed.

G/O Media may get a commission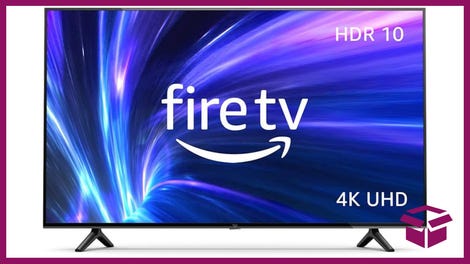 42% Off
Amazon Fire TV 50" 4K Smart TV
An unnamed American doctor who participated in audiological evaluations has warned of health risks to those further exposed, according to CBS. The University of Miami has also confirmed that its physicians were consulted by the US State Department. A number of diplomats have reportedly resigned to leave their posts in response to the attacks.
CNN has reported, citing a government source, that as many as ten American and five Canadian diplomats and their family members had been treated for various symptoms. Two US officials told reporters that the attacks made a "deafening loud sound similar to buzzing created by insects or metal scraping across a floor."
The diplomats were living in homes provided by the Cuban government, but while two Cuban envoys were dismissed from the United States in May, the US government has yet attribute blame. Cuban authorities, in response to the dismissals, denied any wrongdoing, asserting further that an "exhaustive, high-priority, urgent investigation" had been launched "at the behest of the highest level of the Cuban government."
That Canadian diplomats were targeted as well only adds to the fog of who might be responsible.
The targeting of Canadians has spurred theories that a third party, perhaps another country altogether, may be involved. The Canadian government has been especially critical of US trade embargoes against Cuba after all, and Canadians make up a significant portion of the nation's tourist market.
Earlier this month, Secretary of State Rex Tillerson said the US government held Cuban authorities "responsible" for uncovering the culprit behind the attacks. In a statement to CBS, an agency spokesperson said State was in "regular contact" with Cuba to "resolve this matter in a satisfactory manner."
Gizmodo previously reached out to several academic researchers who study hearing loss, but none indicated they'd heard of a device inflicting such damage. None of the researchers felt comfortable addressing the stories from a medical perspective without more information. The State Department unfortunately has remained tight-lipped.
Dr. Toby Heys of Manchester Metropolitan University in the UK speculated to New Scientist last week that a device emitting sound waves below the audible range of human hearing could theoretically be responsible, although such a device would require a "large array of subwoofers." Another possibility, though far more covert, seems too precise, he said—using ultrasound to create sound waves aimed directly at the ear cavity at a frequency above the audible range.
Heys said the claims seemed "all very Philip K. Dick territory," referring to the esteemed science fiction author. "That said," he added, "we are living in a fairly surreal world right now."
[CBS News]