Lance Blair was 18 when a truck blew a red light and removed his lower leg. "There was about a pinky-width of meat holding it on." So Lance did the obvious thing: He built a diesel-powered wheelchair-accessible 4x4 adventure truck.
Granted, it took Lance a couple of decades to put together the "Wheelchair Accessible Van for Expeditions"—the "WAVE." After his motorcycle accident in 1988 he wasn't sure he'd even walk again.
"The hip and pelvis were too damaged," Lance told me. "Actually they told my mom I'd only make it until Monday." Monday came and Lance was still alive. Cold comfort—he got to spend the next two months in intensive care. Then six months of therapy and a colostomy bag. "At 18 years old, pooing in a bag is way worse than losing your leg. You don't talk to girls. You don't socialize. Your whole self-confidence goes right out the window."
The doctors didn't think Lance was a good candidate for a prosthesis because of the extensive damage to the very place to which it would need to be attached, his hips and upper leg. So Lance lied to the prosthesis maker and told him that his orthopedic surgeon wanted him to have it. He was sick of being told how fast he should recover.
"There was no one around at that time who came to your hospital and said, 'This is what your life's going to be like now.' I didn't go to any support groups. I just started going back to work and started breaking quite a few prosthetics."
G/O Media may get a commission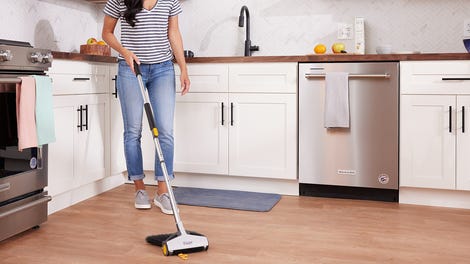 BOGO 50% Off
Flippr - BOGO 50% Off
He wasn't breaking his prosthetic legs idly. Lance hiked the Peruvian Andes. He backpacked through the Yucatan jungles. He went all around the world. There were very few things in life he found that being a below-the-knee amputee prevented him from doing.
"What I have run into is a lot of situations where I could do it, but I could see how other disabled people couldn't. That bugged me. Especially people in wheelchairs. They're waiting on someone else to build a ramp, someone else to put a pathway in. So their life is often dictated by what someone—especially, you know, government entities—is willing to spend on making it possible."
* * *
Every soldier is eventually discharged. Every soldier, especially those who have seen combat, has to figure out how to reintegrate with society. Disabled soldiers get to do all that, plus figure out what they physically can and can't do.
So Lance rolls up in the WAVE, tosses the soldier in the back, and takes him out to the desert for a few days of overland travel.
Since the wars began, dozens of soldiers have come back from Iraq and Afghanistan missing limbs. The US military's disposition towards disabled soldiers has improved considerably since the 20th century, with programs like "Operation Proper Exit" in place to help soldiers work through not just the physical but emotional trauma by revisiting the place where they lost their limb. To see that their loss contributed to the completion of their mission helps some soldiers contextualize their sacrifice.
Lance's prosthesis maker lives in Phoenix. He works with Marines at Camp Pendleton in San Diego, the ones who have gotten back from a dusty war and are being fitted with their first custom carbon-fiber arm or leg. Together they realized that there was an opportunity to get these guys out of their physical therapy and into an adventure—one that would remind them they were still healthy young men who could do things that even those with all their limbs might not have the gumption to manage. (Lance also works with non-military disabled folk.)
Disabled Explorers is Lance's project. Their first major outing was a 24-day trip up and down the Continental Divide in some Toyota FJ Cruisers.
"We had three vehicles," Lance recalls. "In the course of 24 days, we drove 5,000 miles, including going up and coming back. We were off-road, probably 80% of it dirt, from Canada to Mexico following the Continental Divide. That was our hallmark. You know, 'This is what the disabled can do and you can do it, too.'"
The FJ Cruisers were capable vehicles, but they were too small for wheelchairs, too awkward for anyone who didn't have a lot of upper-body strength. "If you have a degenerative disease—muscular dystrophy, multiple sclerosis, spina bifida, cerebral palsy—something that's making you weaker over time, or you are already using either a power chair or a manual chair, it really wasn't the best vehicle choice."
At last year's Overland Expo, Lance saw a Sportsmobile, a customized 4x4 version of a Ford Econoline van. Lance asked the owner if he might be willing to take him for a test ride.
"You can't go for a ride," the owner told Lance. He threw him the keys. "You can go for a drive."
The Sportsmobile is an 11,000-pound vehicle that costs over $100,000 when fully appointed. But for Disabled Explorers, it was perfect. Ten forward speeds, four reverse. Great visibility. A shower. A sink. A refrigerator. Highly redundant suspension system, which could still run front-wheel drive even if the rear differential was shot. Plus, plenty of room for a wheelchair lift.
Buying a $100,000 van wasn't in Disabled Explorers' budget. Lance doesn't get government funding. Disabled Explorers is funded primarily by overtime pay Lance makes by picking up extra shifts as an intensive care nurse. It's his therapeutic side project.
So Lance worked out a deal with Sportsmobile: They'd cut him a break, help him build his van at a discount; he'd take it to SEMA and other shows as a showcase for the kind of custom work Sportsmobile can do. Other off-road equipment companies donated free gear. Friends and family chipped in. A few months and several hundred man-hours of labor later, the WAVE rolled out of the Fresno, California factory and onto the trail.
* * *
It's probably not that surprising to discover that people who rely on highly engineered prosthetic limbs don't shy from technology in the field. For Disabled Explorers, the technological advances of the last decade have greatly expanded the ability to safely adventure in the wild.
Trip planning has changed considerable thanks to free tools like Google Earth—just zoom in, look at the roads, see what you're gonna do. Look at the terrain, make sure it's somewhere you want to go.
Your GPS has XM Weather built into it. You know if a storm is heading your way that's gonna bring a flash flood.
A SPOT Satellite Messenger can, at the touch of a button, bring the helicopters—or at least alert ten of your buddies that you're in a pickle and exactly where to come find you.
Even things that sound like luxuries to some, like back-up cameras, become indispensable tools. Lance has installed five relatively inexpensive cameras all over the vehicle, allowing him to see what the terrain is like without getting out of the driver's seat. Lance isn't trying to completely insulate himself from the dangers of being on the trail—just the insipid, sneaky little ones that increase the opportunities for him to twist his $15,000 prosthetic leg while getting in and out of the WAVE needlessly. Caution is an ally for every explorer.
"On our recent Devil's Highway trip, we turned around." Lance had taken two disabled guys out in the WAVE for an extended weekend. "It's nine o'clock at night on a Saturday. We're looking at two miles long and half-mile wide of snotty clay, nasty mud. The Border Patrol has informed us they've lost four vehicles in the area, that they're gonna have to wait for it to dry up to go get their vehicles out."
"Okay. We could try. We could try and spend the next 10, 20 hours winching 100 feet at a time with three vehicles and maybe be successful. Or we can say, 'You know what? There is just as much beauty and history and scenery behind us as there is in front of us.'"
The two disabled guys urged Lance to press on, even while "token able guys" were more cautious. "As the expedition leader you have to tamp that down. A lot of disabled guys get a kind of superman thing going. 'I have to prove that I can do this.'" Lance laughs. "Okay, well, you're an amputee now. Do you want to be a paralyzed amputee?"
There are plenty of tweaks in the WAVE's future. Racing-style seats with four-point harnesses to better support people whose disabilities make it difficult to stay upright over uneven terrain. Voice control for the navigation. Inevitably, more cameras. Maybe even another "Action Trackchair," an all-terrain personal mobility vehicle that's half wheelchair, half tank. That means a lot more shifts for Lance at the hospital to pay for all the gear.
Spending months on his back twenty years ago didn't scare Lance away from hospitals, although he tried lots of things—owning a cigar shop, being a firearms instructor—before getting his RN degree.
"It's the emotional drive that makes you transfer from your bed to the wheelchair. That makes you put your legs on. Or stop and take 'em off, if that's what you need to do. Working in the hospital kind of gives me that ability to be empathetic, to use my experiences to... you know, I can't change anything for these people. I can't say, 'I can stick your leg back on.' Or, 'Hey, guess what? I can get you out of that wheelchair.' But if nothing else, I can say, 'I've been where you are. I laid in the bed. I pooped. I vomited. I did all that. I can't make it any better, but I can make sure it's not any worse than it has to be.'"
Main story photos by Dennis Tarwood; gallery photos from Disabled Explorers