The DJI Osmo Mobile series has been a popular line of camera stabilizers for those happy to stick to the simplicity of shooting with a smartphone, while DJI's Ronin series serves as a serious step up for those who prefer shooting with DSLRs and larger lenses. The new DJI RS 3 Mini is a smaller version of the current gen DJI RS 3 and DJI RS 3 Pro, which are designed specifically for lighter mirrorless cameras, but with an improved body that makes the stabilizer itself lighter, too.
Although the hefty digital cinema cameras that Hollywood still relies on require more capable stabilizing solutions like wearable Steadicam rigs with price tags well north of $10,000, or cars with cranes on top costing much more than that, the video capabilities of DSLRs and mirrorless cameras have allowed for impressive results for those shooting with smaller budgets. For less than $500, DJI's RS 3 can keep a weighty DSLR, with even a zoom lens attached, smooth and stabilized while on the move, with the upgraded $800 DJI RS 3 Pro significantly increasing the stabilizer's payload.
The DJI RS 3 Mini takes things in the other direction, with a weight capacity of up to 4.4 pounds, compared to 6.6 pounds with DJI's RS 3, and 10 pounds with the Pro. DJI claims that's enough capacity for the Sony A7S3 with a 24-70mm F2.8 GM lens attached, or a Canon EOS R5 with an RF24-70mm F2.8 STM lens hanging off the front. A full list of supported gear is available on DJI's website, and DJI also promises the RS 3 Mini is strong enough to support these camera and lens combinations even with their zoom lenses fully extended without requiring a rebalancing midway, allowing for one-take zoom shots.
G/O Media may get a commission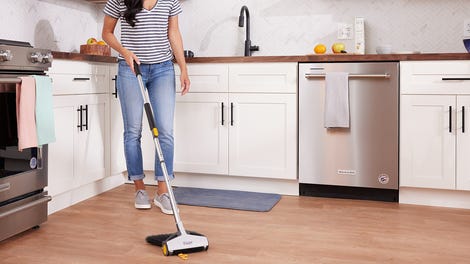 BOGO 50% Off
Flippr - BOGO 50% Off
In its vertical shooting configuration, the RS 3 Mini weighs in at just 1.7 pounds, making it much lighter than the both the RS 3 and RS 3 Pro, as well as its mirrorless-toting predecessor, the DJI RSC 2, which came in at 2.68 pounds. However, the stabilizer's weight will vary depending on the accessories used, including quick-release camera mounting plates, fill lights, and microphones. In other words, if you're here for the lightweight design, go easy on the accessories.
The RS 3 Mini also gains a larger 1.4-inch full color touchscreen for easier menu navigation and settings adjustments (the RSC 2 only offered a 1-inch screen) and takes advantage of the same "3rd generation stabilization algorithm" that DJI developed for the RS 3 and RS 3 Pro. It also supports wireless shutter control over Bluetooth for modern mirrorless cameras that allow that functionality, so videographers can stay hands-off the balanced camera at all times. When shooting with Sony cameras with certain digital lenses, users can even remotely control the zoom using a dial on the front of the RS 3 Mini.
It's essentially designed to be a lighter and more portable alternative to DJI's larger Ronin Series 3 stabilizers for those who've migrated to the conveniences of lighter and smaller mirrorless cameras and want to keep their kit easy to travel with. It's much cheaper, too, at $369, and is available for purchase today through DJI's online store.