Check out a ton of behind-the-scenes "B-roll" footage from X-Men: Days of Future Past. Whether Pacific Rim 2 happens depends on the right story being written. And Dylan Bruce talks about what's next for Paul and Rachel on Orphan Black. Spoilers now!
Top image: Batman Vs. Superman
X-Men: Days of Future Past
Despite saying that he's was going to be done with Wolverine after shooting the sequel to The Wolverine, Hugh Jackman's been walking that back. He told IGN:
At one point, you're right, I said I was pretty sure. But I'm less sure as it goes along. Because after seeing this movie, the whole thing feels fresher to me than ever. And during this movie...I don't want to spoil anything, but it's kind of like a clean slate, so who knows where it's going to go. As long as I have the passion for it, and the fans will have me.
So the next standalone Wolverine movie may not be the last outing for Jackman, after all. Or the character is going to die in his third solo film, and he's trying to throw us off the scent. Literally anything could happen right now. [IGN]
Adan Canto is one of the new people added to the massive Days of Future Past cast, and he talked a bit about what Sunspot is like in the film:
Well he's a mutant from the future. We're basically starting off in the future and we're seeing the mutants surviving. They have to be fighting these Sentinels, these 15-foot Sentinels, that are quite invincible. We're keeping together, there's been a lot of loss of mutants and the remainder of us are fighting together to beat these guys. Mainly our sequences are just action, action, action, we have to protect them, but once we come together with your "A" X-Men, Patrick Stewart, Ian McKellen, Hugh Jackman, then we come together to find a solution for this. That's when the travel to the past comes about.
G/O Media may get a commission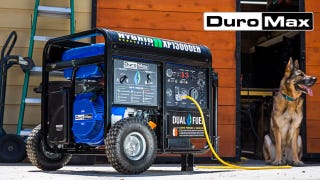 Black Friday Sale
DuroMax Generator Sale
Below are two behind-the-scenes videos:
Here are three "Power Piece" featurettes about Iceman, Colossus, and Bishop. [via Coming Soon]
---
Batman Vs. Superman
Batman Vs. Superman cinematographer Larry Fong tweeted a photo of a playing card embedded in concrete, which could hint that the Joker is to return in the Man of Steel sequel. Of course, we can't see the face of the card in the photo, so it could be nothing. Or the film could just include a nod to the character, rather than show a brand new take on the iconic villain. (Similar to the way Batman Begins included a playing card.) Add that to fan speculation that you can see the Joker's face in the Batmobile image that Snyder had previously tweeted.
With all the characters rumored to be included in Batman Vs. Superman, it's not entirely outside the realm of possibility that Zack Snyder could include the Joker. Of course, it could be more than the film really needs, since it's going to lead right into the Justice League movie. See the photo below. [Gotcha Movies]
---
Guardians of the Galaxy
James Gunn said that the upcoming film would reveal a bit about the main characters' pasts and that we'd have to "wait and see" who is playing Thanos. He also said that while we wouldn't see the Guardians appear in Avengers: Age of Ultron, "we'll have to see" about later films. As for Nebula, Karen Gillan has said that the film-version of her character "was drawn [partly] from the comics, and some we established in our own right." Her comment likely relates to the changing of Nebula and Gamora's backstory in the film to make them sort-of adopted siblings. [Comic Book Resources]
---
Pacific Rim 2
Producer Thomas Tull gave a little bit more life to the possibility of a Pacific Rim sequel, while simultaneously warning that there's nothing official yet:
Here's the deal. We're very close with Guillermo. He's doing Crimson Peak for us right now. With the amount of money that we did on Pacific Rim, over $400 million, it didn't quite hit our expectations, but it did better than a lot of other films. If there's another great story to tell with Guillermo then we're all over it because we think it's really hard to create one of these things from scratch. The movie did really well on home video and merchandise, and it certainly has a big international following. We're not just going to do Pacific Rim 2 just to do it. Right now we're talking to Guillermo del Toro. If we can crack the story, we all think it's great, and it's him at the helm, then fantastic. But right now there's nothing going on officially to proclaim.
---
Warcraft
In the same interview, Tull also gave an update on the Warcraft adaptation:
We're almost done shooting now with another young director, Duncan Jones. The guy is so talented. I think people might initially say, "It's a video game movie, or it's sort of fantasy whatever." But just wait. That's the whole point of having a Duncan Jones direct the movie versus maybe some other version. That's really as fans what we want to see, which is stuff that's commercial, but elevated that takes these amazing stories as jumping off points and then puts these directors on them that will tweak it slightly and look at it through a different lens. It took forever to develop this because we just couldn't get it right. It took a long time. I think the mistake sometimes that gets made is you might say, how many people played the video game? Well that's big, so lets make that. If everybody who's ever played the game went to see it, it's still not enough. On top of that making a video game movie is a different medium, it's very difficult. What intrigued us about Warcraft was that there are 100 novels. We have come up with a mythology and a lore that's so deep that it got us excited. Because just saying we're going to make what the game you play into a movie, I'm not interested in that at all. We finally got to a story that felt like it had big, universal themes that people will be able to get their heads around. But I also think jabbing your finger into a fence and saying, everything you loved about the game is gone, well I don't get that either. What you do want to do is say, here's something that you really love and here's that version of it. So that's what we tried to do.
---
Extraterrestrial
IFC Midnight has bought the U.S. rights to Extraterrestrial, a film which follows a group of friends to a (what else?) cabin in the woods. There, they are terrorized by aliens. The film was shown at the Tribeca Film Festival, but this deal closed at Cannes. The film was written by "the Vicious Brothers" — Colin Minihan and Stuart Ortiz — and stars Brittany Allen, Freddie Stroma, Jesse Moss, Melanie Papalia, Gil Bellows and Michael Ironside. [The Hollywood Reporter]
---
Inversion
Foresight Unlimited is developing Inversion, a sci-fi action film that envisions what would happen if Earth somehow lost gravity. The script is written by Bragi Schut and David Arata (Children of Men). The film, which has a budget of $120 million, will start filming in January 2015. [Coming Soon]
---
Supernatural
While Misha Collins says that Castiel will go to great lengths in the season finale, he's looking forward to seeing season 10 deal with his "fading grace." And co-star Jared Padalecki embellished on Jensen Ackles' recent comments about the finale's intensity:
It has a lot of what makes Sam and Dean Sam and Dean and a lot of that brotherly love that the show is based on. You see a lot of it in the finale, in a weird way. So hopefully, next season, we bounce off of that [to show a stronger bond between the two]...

. . . Parts of it made me laugh, parts of it brought me to tears and parts of it really gave me that feeling where I was excited to see what happens next . . . More than any other season before, this season finale has implications for Season 10.
Collins agreed, calling the finale "chilling" and backing up Ackles' statement that the final few seconds of the finale cannot be missed, calling them the "the best last 10 seconds of a season that we've had in five years." [TV Line]
---
The Originals
Phoebe Tonkin says that, three episodes into filming, she hasn't yet kissed Daniel Gillies. The next season does, however, have a lot in store for Hayley. Says Tonkin:
We're going to see a very broken, a very lost Hayley. She doesn't know who she is anymore. She not only doesn't know where she came from, she doesn't know who she is right now. It's sad and it's heartbreaking.
---
Orphan Black
Dylan Bruce previewed what's coming up for Paul and Rachel:
It progresses to the point where she really stars relying on him, which he wants. He wants to be as useful to her as he possible can be, become her inside man for reason for his own agenda.
He also says that Paul will once again go off the grid as part of his grander scheme. [E! Online]
Go here for more photos from episode 2.06, "To Hound Nature in Her Wanderings." [SpoilerTV]
---
Under the Dome
Brett Cullen (Lost) will be in several episodes as Don Barbara, the father of Barbie, in the second season. Don is the smooth-talking head of a multi-national corporation. As for his arc, producer Neal Baer says, "Barbie is shocked to find himself face-to-face with his father in an unforgettable turn of events." [TV Guide]
According to Baer, season two is about the tension between science and faith, with the two sides represented by Julie and a new character, science teacher Rachel, and Big Jim will be caught in the middle. Baer also hinted at some not-so-permanent deaths:
One of our characters [meets] a very untimely death. So will another character; they meet their untimely death as well. That doesn't mean you won't necessarily see them again because anything is possible under the dome.
More at the link. [TV Guide]
Here's a new promo photo. [SpoilerTV]
---
Game of Thrones
Here's the promo for episode 4.08, "The Mountain and the Viper":
---
Damien
Lifetime is developing a new series based on The Omen, with the show following a now-adult Damien embracing his destiny as the Antichrist. Former Walking Dead showrunner Glen Mazzara is writing the pilot and acting as showrunner for the show. [Entertainment Weekly]
---
Penny Dreadful
Here are the promo and two sneak peeks at episode 1.03. [via SpoilerTV]
---
The Leftovers
Here's a new promo and poster for the HBO show based on Tom Perrotta's post-Rapture novel. [Coming Soon]
Additional reporting by Charlie Jane Anders and Madeleine Monson-Rosen