Doctor Strange might have found its leading man. We may have learned who the villains of X-Men: Days of Future Past are. All You Need is Kill gets renamed. See the new Walking Dead zombie. Learn what the music of Agents of S.H.I.E.L.D. tells us about the show. There are a million beautiful Comic-Con posters. Spoilers ahead!
Edge of Tomorrow
After releasing a new official image yesterday, the project formerly known as All You Need is Kill has been given a new official title, Edge of Tomorrow. Along with the title announcement, the film got a release date of June 6, 2014, and a poster. [/Film]
G/O Media may get a commission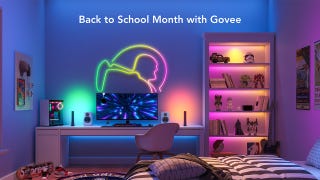 Back to School
Back to School Month with Govee Sale
---
Doctor Strange
The rumor mill has it that Disney wants Joseph Gordon Levitt to play The Sorcerer Supreme — but of course, the Doctor Strange movie has yet to be actually confirmed at this point. We'll probably hear more about the possibility of a Doctor Strange movie at Comic-Con. [Latino Review]
---
Interstellar
Mackenzie Foy (The Conjuring) has joined the cast of Christopher Nolan's movie about an interstellar voyage. [ComingSoon.net]
---
Godzilla
A nifty Godzilla poster for has been released for Comic-Con, and director Gareth Edwards released a video from the set, teasing that "something very big is heading to San Diego." [IGN]
---
X-Men: Days of Future Past
Vulture is claiming they know what characters Peter Dinklage and Josh Helman will be playing in the movie. Not surprisingly Peter Dinklage is reported to be playing Bolivar Trask, the creator of the Sentinels. There have been pictures leaking from the set, fueling this rumor for some time. The new part is that Josh Helman is reportedly playing a young William "Bill" Stryker. Brian Cox played the role in X2: X-men United and Danny Huston played the role in X-Men Origins: Wolverine. [Vulture]
A set photo tweeted by director Bryan Singer confirms the return of actor Lucas Till as Alex Summer a.k.a. Havoc:
---
Incredible Hulk
A new rumor about the potential plot of a Hulk movie has surfaced. According to ComicBookMovie.com, a screenwriting source is saying that the next movie will be based on Marvel NOW's Indestructible Hulk comic. In this storyline, Bruce Banner, feeling the need to give back to society, asks for a lab at S.H.I.E.LD. where he can work on inventions to benefit the world. In return S.H.I.E.L.D. gets to use the Hulk. It's a scenario that would make a certain amount of sense: It allows Marvel to make good use of Mark Ruffalo, and the S.H.I.E.L.D connection ties in neatly to the films and TV show. Still, this is just a rumor for now, and should be taken with all the grains of salt. [ComicBookMovie.com]
---
Pinocchio
Robert Downey Jr., who has been attached to this project for some time in the role of Gepetto, might also be playing Pinocchio as well. Rumors are, the Gepetto character will be portrayed as younger than the usual portrayal, so Downey won't have to wear "old man" makeup. As for the Pinocchio role, Downey could voice the character, and maybe provide motion capture. [Bleeding Cool]
---
I, Frankenstein
In the lead up to Comic-Con, three new stylish character posters for I, Frankenstein have been released. [Shock Til You Drop]
---
Seventh Son
A character poster for Djimon Honsou. [ComingSoon.net]
---
300: Rise of an Empire
A character poster of Lena Headey as Queen Gorgo has appeared. [ComingSoon.net]
---
Agents of S.H.I.E.L.D.
Composer Bear McCreary, who has composed such notable genre show themes as The Walking Dead and Battlestar Galactica, will score the pilot episode of the series, and probably be involved with the rest of the season. A recent interview with him gives some interesting insights into his approach to S.H.I.E.L.D., as well as some plot teasers.
The series centers on the behind-the-scenes people, their heroism and their quirks. As such, the music I wrote is heroic and, at times, quirky and offbeat. And I'm fortunate that Marvel and Disney immediately recognized the value in having a full symphony orchestra perform the score for each and every episode, which is the only way to do this right...

For me, the entire series hinges around Clark Gregg's Agent Phil Coulson. He has a magnetic presence and an irresistible charm. Every time he's onscreen, musical ideas are bursting into my brain. As a fan, I think he brings the same commanding presence that Edward James Olmos brought to Battlestar Galactica, although obviously with a totally different style. Centering the series around him was an inspired idea.

… Joss [Whedon] and I spoke at length about the music for S.H.I.E.L.D. in particular, about the challenge of creating a score that is big enough in its orchestral presence that it feels cinematic and feels at home in the Marvel Cinematic Universe. It also must capture the intimate human characteristics that define this series. In editorial, it became clear that simply tracking in typical big "superhero movie" music wasn't going to work. So Joss helped guide me to find a sound that lives a little in both worlds.
---
The Walking Dead
Comic creator and executive producer Robert Kirkman and new showrunner Scott Gimple explain how the show will more closely resemble the comics this season:
Kirkman: You can expect a lot of surprises. Comic book fans that think the show has steered away from the comics completely will be pleasantly surprised by Season 4. Honestly, some of the closest adaptations of the comic [that] have happened thus far is in Season 4. There are some very cool things that are told in the comics that... are adapted almost directly, which I usually frown upon. But Scott Gimple is able to talk me into things from time to time.

Gimple: I think it's something I've always done and something I've always striven to do. Some of the moments I've written on the show that I felt really, really psyched about, like Sophia coming out of the barn or Rick on the phone in the episode "Hounded," are kind of from the comic book. Sophia never came out of the barn in the comic book, but Hershel's family came out of the barn. It affected Hershel the same way as it did on the show. The way I always approached it is that it's a remix of the comic book. It's taking great stuff and, because we have departed from the comic book in so many ways, being true to the moments, but in different ways. As a fan, it can be really exciting because you recognize it and you know it, but it's in a way that will surprise you and you wouldn't see coming...

Kirkman: There will be some things that will be directly pulled from the comics that start creeping in very early in Season 4. I think comic book fans don't know what to expect which is the best possible place to be in.

Pictures have leaked online that suggest — SPOILER ALERT — Rick may lose his hand, like in the comics. What do you say to that?

Kirkman: I will say Scott Gimple is a huge comic fan and may possibly be trying to steer me into letting the show be closer to what the comic books are. Also people could be misinterpreting those photos. Who knows?

Gimple: I may have convinced him. Possibly. We may not know that.
[TV Guide]
The Walking Dead Facebook page posted a look at a season four "walker." [via Shock Til You Drop]
---
Under the Dome
Here's the official description of the sixth episode of the season, "The Endless Thirst."
"The Endless Thirst" – When the town begins to run low on water, the residents of Chester's Mill begin to fight for the remaining resources. Meanwhile, Julia discovers a strange connection that two of the town's residents have with the Dome.
---
True Blood
HBO has officially ordered a seventh season of True Blood.
And take a look at the promo for the next episode "Don't You Feel Me." [Entertainment Weekly]
---
Haven
Here is a teaser for the upcoming fourth season.
---
Falling Skies
Here's a promo for next week's episode, "Strange Brew":
Additional Reporting by Charlie Jane Anders