One of the best parts of The Vampire Diaries right now is the semi-evil Klaus, one of the Original vampires who's also half-werewolf. (Don't ask.) So at first blush, it's exciting news to hear that The CW is thinking about giving Klaus and his Original siblings their own spinoff show, possibly focused on their adventures in New Orleans. According to EW, the "backdoor pilot" for this series will air in the next few months on TVD, basically showing what the spinoff (tentatively called The Originals) would look like.
EW explains:
The story centers around the original family of vampires and stars Joseph Morgan (Klaus). In the episode, Klaus "returns to the supernatural melting pot that is the French Quarter of New Orleans - a town he helped build centuries ago - and is reunited with his diabolical former protégé Marcel. Phoebe Tonkin, who plays sexy werewolf Hayley on TVD, is also set to star.
Julie Plec is writing the episode, and would also be the showrunner of The Originals if it gets picked up as a series.
Like I said, at first blush it sounds like a great idea — except that I'm not sure we really need two Vampire Diaries shows. I have a terrible feeling that taking the Originals away from Mystic Falls would leave us trapped with Elena and the Salvatore Brothers, and the amount of self-medication that might be involved at that point would almost certainly lead to irreversible brain damage. Also, I'm not sure who you root for in a show about Klaus and his siblings — every show needs a relatable main character, who's seldom the undisputed audience favorite but is the rock on which all the other craziness is built. And for TVD, that's Elena. Who's the relatable main character in an Originals show?
G/O Media may get a commission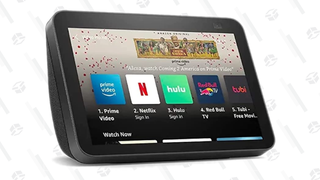 And finally, since we just got done showering Julie Plec with praise a while ago — why can't we see her create something new? She didn't create Kyle XY, and Vampire Diaries was based on an existing book series, which she developed along with Kevin Williamson. After being impressed with Plec's work on TVD for so long, I want to see her craft a new mythos from the ground up. Please?