Physicians who get paid extra by pharmaceutical and medical device companies often aren't forthcoming about the money in their research papers, according to a study out Wednesday in JAMA Surgery. It found that many of the doctors who receive the most in industry payments only occasionally disclose their potential financial conflicts when publishing relevant research.
The authors behind the new study, led by Mehraneh Jafari of the University of California, Irvine, wanted to see if doctors were abiding by their obligation to report conflicts in their academic and scientific papers. Professional organizations such as the International Committee of Medical Journal Editors have long asked authors to disclose any such conflicts of interests (COIs). But it's only recently that there's been any way, at least in the United States, to objectively check whether someone was doing so.
In 2013, as part of the Affordable Care Act, the federal government established the Open Payments Database, which tracks reported payments, funding, and ownership stakes the pharmaceutical industry gives to physicians and hospitals. Jafari and her team pored through the data from 2015, isolating the top 100 doctors who had gotten paid that year by surgical and medical device companies. They then searched through all of those doctors' papers published in 2016, scrutinizing the COI disclosure sections.
The doctors had collectively been paid more than $12 million in 2015, with the median payment coming in at just under $100,000. Of those 100 doctors, 64 published research the next year. About half of the 412 articles published by them concerned research that should have merited a disclosure of the payments, such as from a medical device company whose products were used in the study. But only a third of the 225 papers flagged by Jafari and her team actually did. Worse still, 85 percent of the authors had at least one paper where they failed to list their conflicts.
G/O Media may get a commission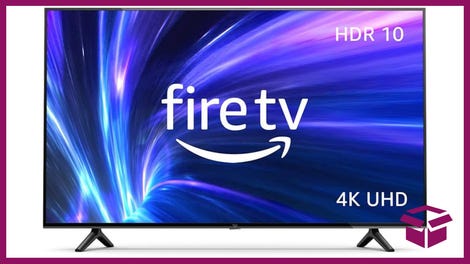 42% Off
Amazon Fire TV 50" 4K Smart TV
Despite the findings, Jafari doesn't think it's a matter of sinister intent on the doctors' part.
"You can't really blame the physicians—it's the system that's broken," she said. "There's different guidelines from different journals, and it's hard, especially if you're a prolific researcher, to keep track of them."
Thanks to the varying guidelines surrounding COIs, Jafari added, doctors might not always understand whether a specific industry payment should be considered a conflict. Other times, they or the co-authors largely responsible for writing the paper might simply forget to include them.
But doctors do need to be open about their COIs, she said.
"If everyone's getting excited about a study's findings, and you're getting paid by the industry, people should know. And it's especially important with new technology, since there's so much money riding on it." Jafari said. "It's an inherent bias, even if you think you don't have it."
There are ongoing efforts to protect against bias in research, such as by asking scientists to pre-register their studies before publication to ensure the experimental design stays the same—since, for example, a biased researcher might alter an experiment midway through if they find they are getting results that don't support their preferred hypothesis. But because there's no perfect way to vet beforehand which industry payments might be relevant enough to disclose, Jafari and others are advocating for a universal disclosure policy across all journals.
"We need full disclosure, at least until someone comes up with a better idea," she said.