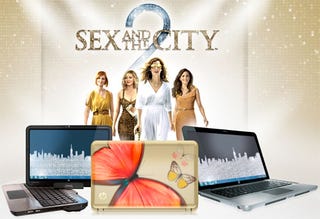 In today's news-you-wish-you-didn't-know, there's a vicious rumor circulating that Carrie Bradshaw has swapped her MacBook for a HP netbook (albeit one designed by fashion designer Vivienne Tam). Gasp! Phone the girls! We have a MAJOR situation on our hands!
Of course, it's not surprising, because Sarah Jessica Parker is starring in a HP commercial, and news of a special Vivienne Tam-designed netbook appearing (as product placement) in the movie came out a while ago. What we now know however, thanks to ChipChick, is that in the movie lead character Carrie can be seen with the HP netbook in a scene. Has she given up her OS X allegiance altogether? You'll just have to watch the movie (launching in US cinemas today, UK cinemas tomorrow) to find out 2010's hottest tech-gossip, men. [ChipChick]
UPDATE: According to GeekSugar, Carrie is seen using her old PowerBook in a scene or two. I know this issue has been burning on your mind, so now you know.