J.J. Abrams explains what Simon Pegg brought to The Force Awakens. Team Arrow is getting a new base. Star Trek Beyond is trashing a huge starship. Plus, insane rumors about the origin of Jared Leto's Joker in Suicide Squad, and Olivia Munn in action in X-men Apocalypse. Spoilers Get!
Deadly Mississippi Tornado Kills More Than 2 Dozen | Extreme Earth
Star Wars Episode VIII
Benicio Del Toro has confirmed recent rumors that he's involved in the next Star Wars Episode, offering an optimistic update about joining the film:
I can't tell you much about it but I think that it might happen. It looks like it's gonna happen so I'm very excited.
[CBR]

---
Suicide Squad
Speculation spurred from fan theories—so major dosages of salt at the ready—offers the rather offbeat rumor that Jared Leto's Joker is in fact a crazed version of the DC Cinematic Universe's Jason Todd.
G/O Media may get a commission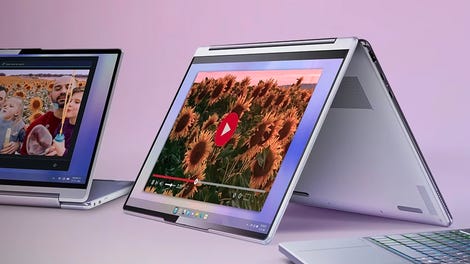 up to 70% off
Lenovo Spring Clearance
The speculation comes from comparing the first released picture of Leto's Joker as well as the shot of the deceased Robin's suit from the Batman v Superman comic-con trailer (who is not confirmed to be Jason Todd): Wounds on the Joker's shoulders seem to match up with the bullet entry wounds left in the suit. [CBR]
---
Fantastic Beasts And Where To Find Them
J.K. Rowling has released a minor piece of information about the film on Twitter: the recently cast sister characters Tina and Queenie's surname is Goldstein—and they are distant relatives of the minor Harry Potter character Anthony Goldstein.
---
Star Wars: The Force Awakens
Here's J.J. Abrams on Simon Pegg's contribution to the movie beyond his minor cameo:
He was a sounding board. He would drop by the set because he wanted to, and when he could, he would help… We could talk about things, and he was a perfect combination of incredibly smart screenwriter, fan of the series, critical fan of the series, and friend of mine – but not just blindly supportive. He was an honest, critical friend. And he wasn't so close to it that he became immune to things. He would come in with fresh eyes and very smart ideas. He's one of a handful of people along the way that has been really priceless.
[/Film]

---
Underworld 5
Tobias Menzies has been cast as Marius, a leader of the Lycans in the fifth installment in this werewolf vs vampire franchise. [Shock Till You Drop]
---
Ouija 2
Mike Flanagan will direct the film, which has cast a lead actress: Annalise Basso. [Shock Till You Drop]
---
Predator
Producer John Davis offers an update on Shane Black's script for the Predator followup:
Shane shot a movie and he's doing a pilot now, but I've read a lot of his script and I think it's genius. I think it's genius and I think it's entertaining, and what it did is recreate a famous franchise in a different, interesting way; looking at it from a different light. He's just an amazing writer-director. He's got a way of looking at this that makes you excited again.

Shane's got a writing partner, Fred Dekker. They've been doing it together and Fred's great. The two of them together, they've been in the business for a long time, but the writing is so fresh, the perspective is so fresh. I'm telling you you're going to get something you don't expect and you're going to say, 'This is the most entertaining way to reinvent a franchise'.
[/Film]
---
Attack On Titan
Subtitled versions of the Japanese Live-Action adaptations have been given American release dates: Part 1 releases September 30th, with Part 2 releasing October 20th. [Coming Soon]
---
X-Men Apocalypse
Olivia Munn flips into action as Psylocke in some behind the scenes footage posted to Instagram. [/Film]
---
Star Trek Beyond
Trek Core have some photos from filming that reveal a humongous set that appears to be a crash-landed Federation Starship. It's unclear if this is meant to be the Enterprise or just another Federation vessel that's crashed.
Chris Pine and Idris Elba goof around in a new charity video for the film.
---
Doctor Who
A rumor is circulating that Georgia Moffett is returning to the show as Jenny, the Doctor's Daughter from the self-titled 2009 episode. However, it comes merely from a picture of Moffett visiting the set during filming, so it's most likely just a set visit rather than her character making a return. [Fansided]
---
Under The Dome
A moment's silence for guest io9 contributor The Dome: CBS entertainment chairman Nina Tassler has confirmed that the third season of the show will end with the Dome dissipating:
The Dome is coming down at the end of this season. [The dome coming down] opens up a host of other storytelling opportunities, you just don't know what will happen when the dome comes down.
---
Supergirl
Actor Justice Leak has been cast as an alien villain Roderick Rose, the Hellgrammite. Although an alien in the show, in the comics Hellgrammite was created after Rose, an Entymologist, spliced insect genes into his own body to give him powers. [CBR]
---
Arrow
Marc Guggenheim has confirmed that Diggle will not become the DC hero Guardian, but will get his own heroic codename:
No. He won't be the Guardian.

We've always said Diggle's comic book trajectory is Diggle. DC Comics has put John Diggle in the comics. We're going to give him a code name out of practicality. I can't tell you when it's going to happen, because every time I write it, I end up taking it out, because it feels forced. I need to find the right moment for it. But we have the code name, DC's approved it… but it's unique to Diggle, and that's what I like about it.
Entertainment Weekly has a look at the Arrow's new digs, dubbed the Arrow Bunker:
---
Hannibal
Here's some pictures from "The Wrath of the Lamb", the final episode of the show—find more at the link. [Spoiler TV]
---
Galavant
Singer Kylie Minogue has been cast in a guest role for the show's second season.
---
The Muppets
Finally, Ms. Piggy ogles Nathan Fillion in a new promo for the show.
---
Additional reporting by Gordon Jackson and Charlie Jane Anders. Top image: Star Wars Rebels.