Netflix's Sabrina series has found one of its aunts. No, Christopher Nolan isn't directing the next Bond. Jughead's role in the Riverdale musical episode will sadly not involve singing. Plus, new Santa Clarita Diet casting and teases for Roy Harper's return to Arrow. To me, my Spoilers!

Aquaman
Speaking to the Las Vegas Review Journal, Dolph Lundgren, playing King Nerius of rival undersea kingdom Xebel, revealed that in the movie Mera will, in fact, be his daughter, attempting to convince her father to side with Atlantis:
It is good to be king. Basically, I try to keep the peace down there along with Amber Heard, who plays my daughter. She's trying to convince me to join the right side. Then you have Nicole Kidman as Aquaman's mother. We're trying to avoid war between the surface [dwellers] and the people of Atlantis.
In the comics, Mera and Nerius were not related, and were instead set to be betrothed before she was sent to spy on Atlantis and instead fell in love with Arthur Curry.
---
Bond 25
Appearing as a guest on BBC Radio 4's Desert Island Discs, Christopher Nolan confirmed he is not in the running to direct the next James Bond, so make the necessary alterations to the spreadsheet you're keeping. You're keeping one, right?
I won't be the man. No, categorically…I think every time they hire a new director I'm rumored to be doing it.

I'd love to make a Bond film at some point and I think those producers – Barbara and Michael – they do a tremendous job and Sam Mendes has done a terrific job the last couple of films, so they don't particularly need me.
G/O Media may get a commission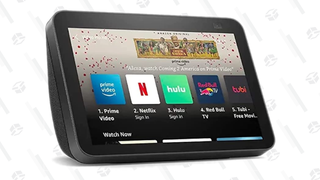 ---
Bill & Ted 3
Writer Ed Solomon has revealed William Sadler's incarnation of Death has a role in Bill & Ted 3.
---
The Beastlies
Deadline reports J.J. Abrams is teaming up with Mattel for a film adaptation of the yet-to-be-released Beastlies toyline from sculptor Leslie Levings. In a press release, Abrams stated:
The Beastlies is a passion project we have been working on at Bad Robot for years with the creator of these extraordinary creatures, Leslie Levings. To finally bring The Beastlies to the world, in collaboration with the brilliant minds at Mattel, is an absolute dream.


---
Halloween
Jamie Lee Curtis believes fans will be "very happy and VERY scared" by the new Halloween, in her wrap message for the new movie.




---
Sharknado 6
Bloody-Disgusting has the poster and an official synopsis for Sharknado 6.
All is lost, or is it? Fin unlocks the time-traveling power of the SHARKNADOS in order to save the world and resurrect his family. In his quest, Fin fights Nazis, dinosaurs, knights, and even takes a ride on Noah's Ark. This time, it's not how to stop the sharknados, it's when.
---
Rampage
Dwayne Johnson promises Rampage will satisfy kaiju fans in a new trailer aimed at Japanese audiences.
---
Descendants 3
Disney stealthily announced a third entry in its "kids of Disney villains" TV movie over the weekend with a teaser trailer.
---


The Santa Clarita Diet
TV Line reports Joel McHale, Maggie Lawson, and Gerald McRaney have joined the cast of season two. McHale and Lawson will play a "more successful, more aggressive" version of Sheila and Timothy named Chris and Christa. McRaney will play a retired Army colonel "intimidated by Joel" named Ed Thune.
---
The Chilling Adventures of Sabrina
Etta Candy herself, Lucy Davis, has joined the cast of the series as Aunt Hilda. [Deadline]
---
Legends of Tomorrow
Speaking with Entertainment Weekly, Marc Guggenheim revealed John Noble will appear on the series, in person, as himself, as well as in his role as the voice of Mallus.
We figured out a very Legends-like way to actually get John Noble the actor into the show. We're very excited that John Noble will be making a live action appearance on Legends. He's been voicing our third season's big bad, Mallus, but he won't be appearing as the time demon. He'll actually be appearing as himself. It makes total sense in a Legends-y kind of way.
Meanwhile, season three has wrapped filming, according to Caity Lotz on Twitter.
---
Arrow
Roy Harper returns to Star City in unfortunate circumstances in the synopsis for Arrow's March 1st episode, "Doppelganger."
ROY HARPER RETURNS – Oliver (Stephen Amell) and Thea (Willa Holland) are shocked to hear that Roy Harper (guest star Colton Haynes) is back in Star City. However, when they discover the circumstances of Roy's return, Oliver and Thea realize that Roy is in trouble and jump in to save him. Black Siren (Katie Cassidy) makes a shocking discovery.

Kristin Windell directed the episode with story by Christos Gage & Ruth Fletcher Gage and teleplay by Speed Weed.
---
The Flash
Jesse Quick and Jay Garrick return to stop a nuclear bomb in the synopsis for episode 15, "Enter Flashtime."
JESSE QUICK AND JAY GARRICK TEAM UP WITH THE FLASH — When a nuclear bomb detonates in downtown Central City, Barry (Grant Gustin), Jesse Quick (guest star Violett Beane) and Jay Garrick (guest star John Wesley Shipp) slow down time by entering Flashtime. As everyone in the city is frozen, the three speedsters push themselves to the breaking point to save the city and everyone in it. Gregory Smith directed the episode written by Todd Helbing & Sterling Gates.
---
Riverdale
Roberto Aguirre-Sacasa confirmed to TV Line that Jughead will not be singing in the forthcoming Carrie: The Musical. Sorry, Jughead fans.
When we really thought about the character of Jughead, he felt like the one character who probably wouldn't be in the school musical… when you see the episode, he's very much an integral part of it, and he's doing something quintessentially Jughead during the musical. Except he doesn't sing.
---
Supernatural
Coming Soon has images from March 1st's return episode, "Good Intentions," featuring Chad Rook as Zachariah. More at the link.
---
The Walking Dead
Carl takes a selfie in Coming Soon's gallery of images from February 25th's midseason premiere.
---
Ash vs the Evil Dead
Finally, Ash goes nutzoid in the latest (and relatively gory, so be careful if you're watching at work!) trailer for season three.
---
Banner art by Jim Cooke.