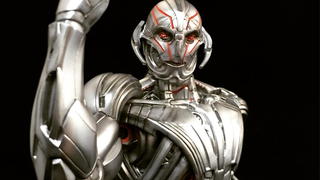 Dragon have long been putting out Model kits for the Marvel movies - including this adorable dancing Groot - and now they've revealed their line for the upcoming Avengers: Age Of Ultron, including a ginormous Hulkbuster, and this creepy-as-hell Ultron. ROBOT TEETH!
Dragon's 'Action Hero Vignette' line of plug-and-display 1/9 models are pretty nifty, and the AoU line is no exception, with Cap, Thor, Iron Man and Hulk (poor Hawkeye and Black Widow) joining the series:
But the coolest reveal has to be the gigantic Hulkbuster they're putting out:
Cor Blimey! I quite like the ridiculous amount of Hulkbustery goodness being put out for this movie. There's going to be so many amazing toy versions of that thing by the end of the year. But anyway, now we've got the awesome stuff out the way, let's get on to the incredibly creepy looking Ultron:
I'm kind of sad we're not seeing more merchandise for the Ultron we saw gracing the cover of Entertainment Weekly around SDCC last year, because honestly - this version just weirds me out at this point. Those robot teeth, you guys. Why does Ultron need teeth? Why?
Dragon's Age of Ultron models will be out soon, in time for the movie's release.
[via Toyark]
---
You're reading Toybox, io9's blog for all things pop culture. From merchandise to awesome fan creations, TV recaps and critical commentary on the hot topics of the day, you can find it all here!