There is no shortage of high performance Android phones out there, and it can be hard to find a good reason to go with one over the other. The Droid Turbo 2 has a couple of features that say hey over here, pick me. pick me!! But a great phone has to feel right in many different ways, and this one might catch a nerve or two.
What Is It?
An Android phone with a 5.4" display that costs $624 for the 32GB or $720 for 64 GB. It's only available for Verizon customers, and its based off of the Moto X (2015) and the new international-only Moto X Force. It's got the specs for great performance, like a 2GHz Qualcomm Snapdragon 810 processor and 3GB of RAM. But it's headliners are a shatterproof display and claims of 48-hour battery life.
Why Does it Matter?
If you've ever broken a phone, chances are it was either because of water damaged or a shattered screen. The Droid Turbo 2 isn't waterproof, but it will ease the pain of chronic phone droppers everywhere. That's a pretty major practical benefit that could save you a good bit of money in the long run.
G/O Media may get a commission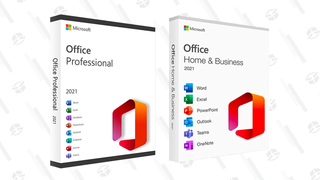 89% off
Microsoft Office Professional 2021 Lifetime License
Design
Horrendous. I'm a stickler about design and this phone pains me to look at it. But most people probably wouldn't get hung up on the same design detail that annoy me. The curves of the plastic rim on the back, the width of the front bezel—it's all just clunky. It's like Verizon took the nice looking Moto X and just had to do a bunch of shit to it, which inevitably made it ugly. The Droid logo on the back? Ugly. The Verizon check-mark on the front? Even uglier.
If I could buff it all off with a belt-sander, I would.
You can attempt to ameliorate the Turbo 2's aesthetic by choosing your own color scheme and backing materials on the Moto Maker website. Have fun trying make this thing handsome with ballistic nylon or leather. It won't work.
Using It
If you want an Android phone with really great specs that will run fast, the Droid Turbo 2 will not disappoint but neither will a host of other top-tier Android phones like the Moto X or Nexus 6P. Fast is par for the course these days. What's more important is the user experience, and that's where the Turbo 2 is a mixed bag.
The all-around feel is akin to the Moto X Pure Edition, just slightly downgraded a half-step. It's mostly the design elements I mentioned above, but other things stand out as well. The display does not lack for pixels at 2,560×1440, that's Quad HD if you're keeping track, but it's harsh and contrasty, and quite dim compared to the Moto X. Also, its colors skew greenish-yellow. I found the Moto display much more pleasing to look at, although the Droid Turbo 2 has much better viewing angles.
The surface of the display is the most unique aspect of this phone. Drop the Droid Turbo 2. Throw it. Throw it hard—on cement, asphalt, or metal. The screen will not shatter or crack. I casually tossed this phone onto a gritty concrete floor over 70 times and it came out in one piece (aside from the SIM tray which popped out a bunch of times). This is one area where Verizon/Motorola's claims absolutely hold true. That's not to say that the screen remains unblemished. Scratches and abrasions do become visible with enough abuse, but they are hardly noticeable once the display is turned on.
Another grand claim about this phone is that the battery will last an extra long time. Verizon specifically said it lasts "two days." There's some truthiness to that. It depends, of course, on what you do with the phone. I'm pretty sure most phones can last two days if you don't use it much. If you watch a lot of video then prance around town using location services and LTE all day, no it will not last two days.
My own casual use consists of maybe a few phone calls and texts, reading on the Kindle app, checking the ol' social media feeds, browsing the web in Chrome. Under this duress (or lack of), the Turbo 2 did indeed last two days. But so did my iPhone 6. I did a little test where I played the same video on the Turbo 2 and the Moto X side-by-side, with similar settings on both phones and starting from a full charge. After one hour, the Moto drained to 83%, and the Turbo 2 drained to 89%. So, ok. My point is that the battery life is very good, but it's not like holy shit good.
One nagging annoyance about this phone is the bloatware courtesy of Verizon. There's sooo much, including ridiculous games and utilities you'll never use. It's not fun spending 20 minutes removing and disabling apps when you buy a new phone. I don't care how these bundled apps benefit Verizon. They are nonsense for the consumer.
Once you get beyond that, it's Android Lollipop as usual. At least they didn't muck with the interface. Who knows when Marshmallow will arrive for the Droid Turbo 2. Probably not for a while.
If photos are your thing, the camera on the Turbo 2 is pretty good! It's got 21 megapixels of resolution that make for nicely detailed daytime shot. Low light shots are not as good, with color and detail receding into mush. Weirdly, there's no option for Night Mode which proved useful on the Moto X for better low light shots.
But I was never a fan of the stock Android camera interface. The gesture driven interactions often get in the way of just wanting to take a picture. But you can't blame the Droid for that. You can do that stupid shake-to-active gesture and shoot 4K video. As smartphone cameras go, it can hang.
Like
It actually delivers on the promise of a shatter-proof screen. Battery life is better than other Android phones in similar price ranges. It's plenty fast.
Dislike
It looks hideous. Verizon crapware and branding saddle an otherwise pure-ish Android experience.
Should You Buy it?
The only good reason to by the Droid Turbo 2 is if you are clumsy with your phone, or want to experience the freewheeling lifestyle that results from not having that constant fear of The Drop in the back of your mind. If you are good at keeping your phone safe, the fact is that there are other Android phones out there that offers just as much but with much much better design. Yes, the battery life is better than most, but not astronomically so.
The Moto X Pure Edition is the most obvious alternative. It's a great phone and doesn't give a shit what carrier you belong to, and the Nexus 6P is a powerhouse that's getting near-universal praise. You have options!
What's interesting is that the Droid Turbo 2 may find a solid niche in the market of shoppers who waltz into a Verizon store and need a new phone. They want something "good" and aren't uptight about design. My guess is that once those customers hear that they will never have to worry dropping their phone again, they will be sold on the Turbo 2. Hey, that's great!
In the meantime, I'm going to throw the sheet back over this thing and move along.
---
Contact the author at mhession@gizmodo.com.