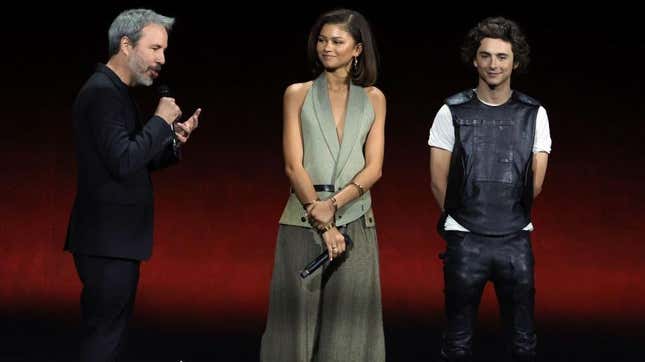 In the second half of Frank Herbert's Dune, there's a moment that changes everything: when Paul Atreides, the left-for-dead son of a Duke, finally proves himself to the Fremen, the native people of the planet Arrakis who have been protecting him and his mother.
Book readers know, of course, exactly what happens. After months of preparation, Paul takes his hooks, runs along the top of a sand dune and, at just the right moment, falls into a storm of sand created by the huge sandworm that has been coming towards him. As he falls, he grapples one hook onto the worm. Then a second. Slowly he uses the long ropes attached to move into a position on top of the sandworm. And then he's there, on top of a sandworm, riding it, proof that he's one of the Fremen people.
That moment, as described, was front and center in the first footage from Dune: Part Two that played at CinemaCon 2023 on Tuesday. Stars Timothée Chalamet and Zendaya were joined by director Denis Villeneuve to hype up the upcoming sequel, which hits theaters November 3. And hype it they did with a brief Q&A and finally, the footage.

It began with Paul (Chalamet) and Chani (Zendaya) sitting on top of a sand dune. Paul tells her that everywhere she sees sand, to imagine water. Water so deep you can't even touch the bottom. Water you would dive into. She says she doesn't believe him, but he says it's called swimming. You can see that they're bonding.

A voiceover by Princess Irulan (Florence Pugh) talks of the deep secrets of the planet Arrakis, but that one secret is bigger than them all. It's what happened to end House Atreides. "What if Paul is still alive?" she asks. Well, he is. This all happens over a bunch of shots with very different visuals. One shot is Austin Butler's character, Feyd-Rautha Harkonnen, who is a deadly assassin with bright white skin and no hair. His scenes seem to look almost completely black and white. Next is two people fighting in a very red environment, then also a shot of a character's head cocking back with bright, blue eyes, which is a Fremen trait.
About here is where Chani starts to psych Paul up as he places a thumper into the ground. She's getting him ready to attempt the sandworm ride we've already described above. In this footage though, the scenes of Paul running, jumping, and hooking into the worm are intercut with him talking to Stilgar, played by Javier Bardem. He's a Fremen leader who develops a connection with Paul. Stilgar tells Paul not to try anything impressive. To be simple and direct. Don't try anything fancy. Paul gives him a little smile, knowing that he won't be following any of that advice. He's going to showboat, and he does.
After Paul gets on the sandworm, we see a shot of dozens of Thopters flying, another shot of two people fighting in black and white, a kiss between Paul and Chani, and finally a shot of Paul walking to the top of a ridge and hundreds of people below him. He throws his fist in the air and they all cheer. This is then quickly intercut with a darkly shadowed scene of two people ready to have a knife fight, most likely Paul and Feyd-Rautha.
"Fury Will Rise" is on the screen earlier in the trailer, as well as brief shots of Josh Brolin as Gurney Halleck, Rebecca Ferguson as Lady Jessica, Léa Seydoux as Lady Margot, and Dave Bautista as Glossu Rabban. Basically, as Villeneuve said at the presentation, this is a "more action-packed epic war movie" than the first movie. And though it takes place on the same planet, they didn't revisit one set or location in the entire shoot. It was all new stuff.
Oh, and Dune: Part Two was completely shot in IMAX (this was only true for less than half of the first film). You can see it yourself on November 3, and expect to see this trailer later this summer.
---
Want more io9 news? Check out when to expect the latest Marvel, Star Wars, and Star Trek releases, what's next for the DC Universe on film and TV, and everything you need to know about the future of Doctor Who.