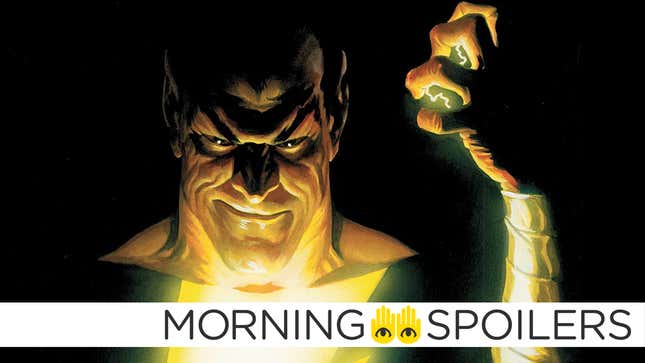 Daniel Craig reconfirms his return to James Bond. DC still has hopes for a Birds of Prey movie. Thanos wants to get snapping in a new Infinity War TV spot. Plus, more footage from The Meg, Team Flash faces the Thinker, and some Legends of Tomorrow stars could be going rogue in the next season. To me, my spoilers!


Black Adam
In an interview with Yahoo! Movies, Dwayne Johnson anticipates that the Black Adam movie is still happening and plans to go behind the cameras sometime in 2019.
The script came in, it's great, we're working on it. If things come together in the way we anticipate them coming together, that feels like a 2019 movie, in production. Marvel is doing such an incredible job of universe building and building out … and DC is doing a great job finding the footing and tone of their movies, certainly with like Wonder Woman, for example. I look forward to James Wan's movie that's coming out, with Aquaman. So, Black Adam is this phenomenal opportunity for us to nail the tone, make sure that he's badass, make sure that we're serving the mythology properly, but then, also make sure that we can have intrinsic DNA tied to a lot of other properties in DC. So, it's not an easy thing to do, but I think we're going to nail it.
G/O Media may get a commission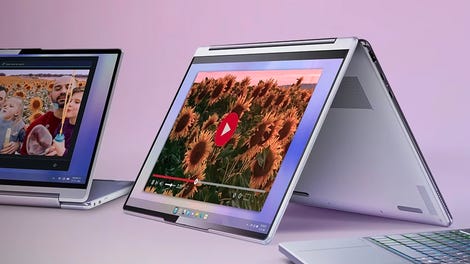 up to 70% off
Lenovo Spring Clearance
---
Bond 25
Daniel Craig has re-confirmed to AP Entertainment his next film will indeed be the 25th installment of the James Bond franchise.
---
The Toymaker's Secret
Bloody-Disgusting reports TriStar Pictures has purchased the rights to The Toymaker's Secret, a family-friendly haunted house thriller from writer/director Alex Garland (Annihilation, Ex Machina). According to TriStar President Hannah Minghella, "The Toymaker's Secret is an original movie with such heart and humor and magic that it is sure to become an instant classic for the whole family. We are thrilled to be working with Paloma on her debut feature and with Alex and Andrew [Macdonald] who are both long-time friends and creative partners."
---
Super-Intelligence
THR reports Melissa McCarthy has signed on play the lead in Super-Intelligence, an upcoming sci-fi/comedy from her husband, Ben Falcone. In the film, McCarthy plays Carol Peters, a woman chosen to be constantly observed by an artificial intelligence that may-or-may-not be planning to take over the world.
---
Birds of Prey
The Wrap reports Christina Hodgson's screenplay for a Birds of Prey movie is "currently out to directors," separate from her new work on the Batgirl movie.
---
Avengers: Infinity War
Good Morning America recently sat down with Benedict Cumberbatch, Tom Hiddleston, and Tom Holland for a lightweight, early morning interview. If you did not know by their accents that these actors are indeed British, the flag in the background is sure to help.
Meanwhile, Thanos continues to hype his power set in the latest TV spot.
---
The Meg
Coming Soon has a slightly less fun international trailer, but also a much better international poster for The Meg. Here was the first trailer in case you missed it.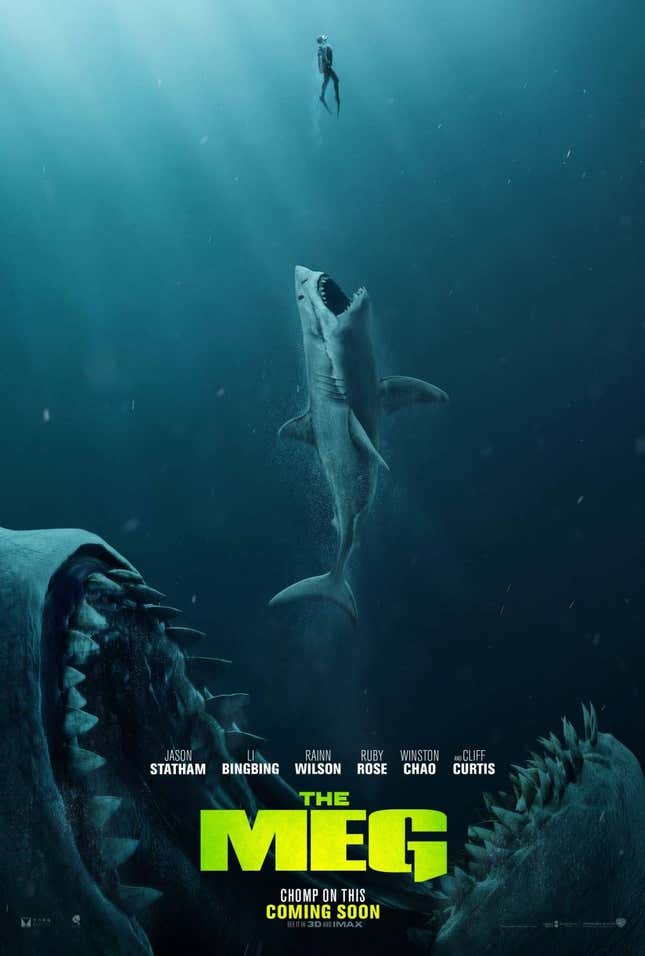 ---
The Purge
Deadline reports Lili Simmons, Hannah Anderson, and Lee Tergesen have joined the cast of The Purge series. Simmons will play Lila, a rebellious young socialite who refuses to fit in with her Purge-loving colleagues, while Anderson has been cast as Jenna, an anti-Purge crusader for justice. Tergesen will play Joe, a masked vigilante who intervenes against violent acts committed on Purge night.
---
Foundation
Apple is developing a TV series based on Isaac Asimov's Foundation Trilogy from David S. Goyer and Josh Friedman. Skydance's David Ellison, Dana Goldberg and Marcy Ross will executive produce. [Deadline]
---
Legends of Tomorrow
In an interview with TV Guide, executive producer Phil Klemmer stated "at least a legend, if not two" will be "kind of breaking bad next season," leading to the arrival of a new team member to replace them:
There are more changes coming. We don't want Legends to just remain in stasis. We're gonna have at least a legend, if not two, kind of breaking bad next season. And then, presumably, we'll find another new Legend along the way.
---
Supergirl
TV Guide reports the season finale of Supergirl airs June 18.
---
Timeless
The Time Team travel back to 1981 to ensure Ronald Reagan is shot by John Hinckley, Jr. in the synopsis for "The Day Reagan Was Shot."
The Time Team travels back to 1981 Washington D.C. on the day President Reagan was shot, only to discover that the Sleeper's target isn't the President – but a young rookie police office – none other than Agent Christopher (Sakina Jaffrey), who brought the time team together and kept the Lifeboat from getting into Rittenhouse's hands. The Time Team must save Agent Christopher's life and prevent her from making a mistake that set her on a different path that would forever change her own future, the future of the team — and the future of the world.
---
Arrow
Buddy TV has four new photos from Thursday's episode, "Fundamentals."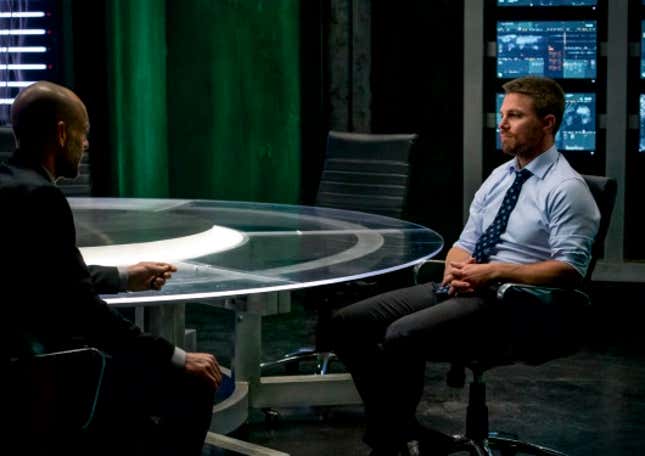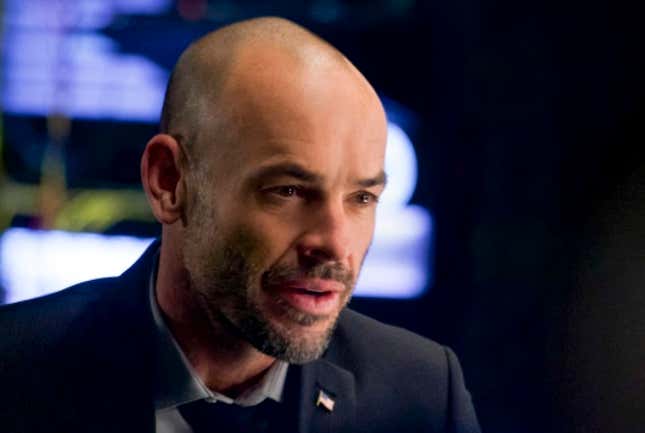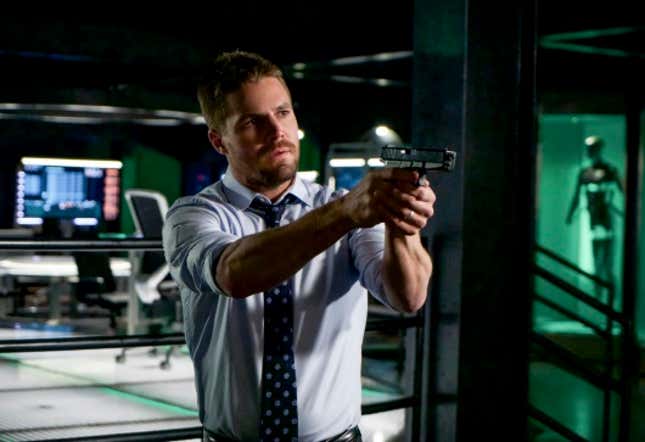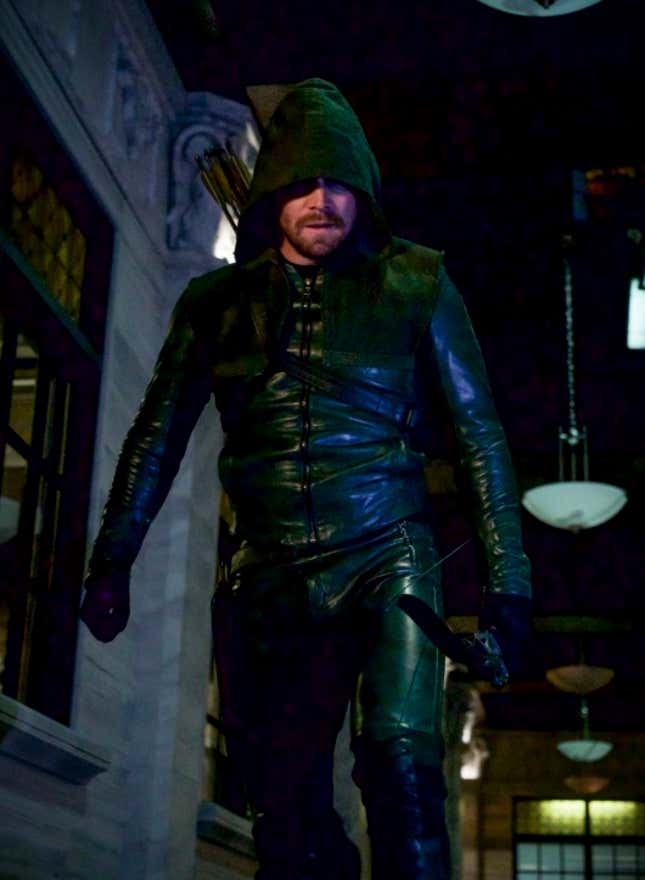 ---
The Flash
Team Flash forms a full assault against The Thinker in the trailer for next week's episode, "Lose Yourself."
---
Krypton
Syfy has released a new featurette on Adam Strange.
---
James Cameron's Story of Science Fiction
AMC has also released three new TV spots for James Cameron's documentary series.
---
Fabled
Finally, here's a trailer for the new fairy tale anthology series, Fabled. The pilot episode, "Anodyne" asks, "What if Alice from Alice in Wonderland met Dorothy from The Wizard of Oz?"
---
Banner art by Jim Cooke.