This week, io9 is hosting a week of posts about the science of sex, starting off with a post that focuses more on the sexy stuff than the science. We've rounded up eight of the steamiest and raunchiest webcomics this side of a paywall. Enjoy them when you have a little time to yourself.
All links are, as you might expect, NSFW.
We've highlighted most of these webcomics in the past, but we're gathering them here for your pornographic reading convenience. Feel free to share any of your favorite sexy webcomics in comments.
Here we're only looking for sexy webcomics that don't require a credit card. If you don't mind paying for your illustrated sex, you can always head on over to Slipshine or Filthy Figments, which host popular porny webcomics.
Oglaf: If you're going to read one webcomic on this list, it should be Oglaf. Trudy Cooper's delightfully demented brain comes up with endlessly creative sexual spins on the fantasy genre, from the enchanted semen that runs and tattles on the poor sorceress's apprentice whenever he masturbates to the ice queen who can't be…ahem…conquered because of her frosty interior.
G/O Media may get a commission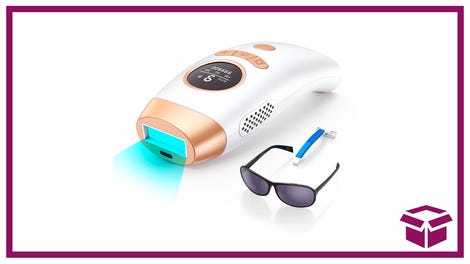 58% Off + Coupon
IPL Hair Removal Device
Chester 5000 XYV: Perhaps the sweetest bit of sleaze on this whole list is Jess Fink's Chester 5000 XYV. When he can't keep up with his wife's voracious libido, a young Victorian inventor builds his bride a dashing sexbot. But Chester turns out to be much more than a plaything; through his technologically enhanced romps with the lady of the house, the two fall very much in love.
Curvy: When Anaïs finds herself face to licorice-flavored nethers with the Candy World princess Fauna, she embarks on a journey across the various theme worlds of the multiverse. On the run from Fauna's fiancé and a very confused government agent, Anaïs leaves her native Boring World and finds herself meeting (and sometimes bedding) a host of interesting people: Fauna's peppermint-tentacled maid on Candy World, a transgendered, transspecies merperson on Pirate World, uber-capitalists on Corporate World, and a genderqueer Invisible Person in Super City.
Dr. Voluptua: Dr. Voluptua is a therapist — a sex therapist, to be precise. And her patients have some rather unusual problems — such as singing penises, libidinous split personalities, and bandito ghost possessions. Fortunately, she has an equally bizarre arsenal of treatments: perpetually naked colleges, Ken doll security guards who reproduce by cell division, anthropomorphic genitalia, and hat-wearing puppy hypnotists. It's all in the name of helping her patients have functional, if non-traditional, sex lives.
SS Myra: Upon her death, the hedonistic millionairess Myra had her consciousness uploaded into her pleasure spaceship, figuring she'd spend the rest of time partying it up with fellow lovers of vice. What she ends up with a sweet newlywed couple who actually waited until their wedding night to get naked beneath the sheets. Myra is determined to introduce her new occupants to the libertine lifestyle — even if it kills them.
Starfighter: Adding a little guy-on-guy love to the mix is the sex-filled yaoi webcomic Starfighter. Abel has defied his family's expectations by joining up with the Navigators to battle a distant threat. He's paired up with a Fighter, Cain (they're code names, not a terrible coincidence), who's pushy, violent, and, Abel finds, quite charming. And the truth is, Abel joined the military for two reasons, and one of them has nothing to do with fighting a war.
Cura Te Ipsum: Normally, Cura Te Ipsum isn't a particularly porny webcomic. In fact, back when we first highlighted Neal Bailey's multiversal tale of a depressed school counselor who is saved from suicide by himself, it was solidly safe for work. But a recent trek through the alternate universes of the alternate Charlies Everett lands the interdimensional suicide support group in a universe where procreation is so difficult that the entire culture revolves around sex. Seriously, even the police spend all of their time naked (except for the hats and gun holsters). And apparently, only people with the gene for enormous breasts are able to successfully breed.
Sexy Losers/The Thin H Line: Hard's on-again-off-again raunchy webcomic is not for the faint of heart — or weak of stomach. Sexy Losers explores the lighter side of every sexual taboo — from incest to necrophilia — and although most of the entries don't fall under speculative fiction, a few do. There's the Sex Toy Fairy, who brings that faithful old vibrator to life (the sex toys, incidentally, aren't particularly grateful), and Scientific Erotican, delivering the latest innovations in sexual science. Just remember, nothing in this comic can be unseen.
Edit: Wow, a lot of people showing love for Teahouse. I can't personally vouch for it (and I'm not actually sure what genre it is — I left non-genre sexy comics off the list), but your fellow readers are clamoring for it, so there it is.