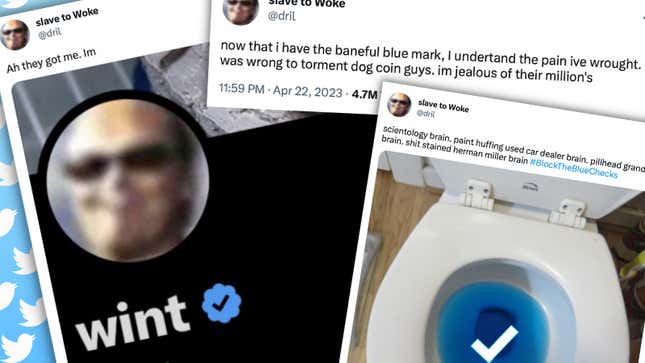 Twitter CEO Elon Musk forced blue checkmarks on dozens of celebrities and other high-profile users after they refused to pay for Twitter Blue subscriptions in the latest chapter of the blue checkmark apocalypse this weekend. However, blinded by his urge to troll and embarrass the celebrities who wouldn't pay him $8, Musk accidentally gave blue checkmarks to several dead people.

Musk randomly adorned the Twitter profiles of various deceased celebrities, including Norm Macdonald, Anthony Bourdain, Chadwick Boseman, Kobe Bryant, Paul Walker, and Jamal Khashoggi with blue checkmarks and the message that has infuriated celebrities in the world of the living: "This account is verified because they are subscribed to Twitter Blue and verified their phone number."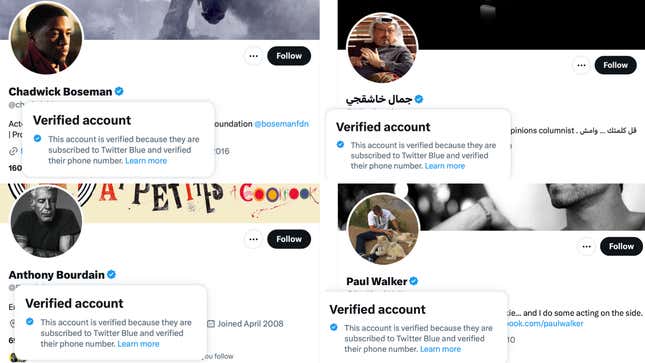 While some may believe that it's not a big deal if Twitter profiles for deceased people suddenly sport a blue checkmark, Musk is attaching a message that states that they paid for Twitter Blue and verified their phone numbers, which is a lie. Through the Internet Archive, Gizmodo confirmed that Bourdain and Bryant had legacy blue checkmarks, and their living relatives haven't made use of their accounts in years. Macdonald didn't even have a legacy blue checkmark but suddenly got a Twitter Blue checkmark this weekend.
Boseman and Walker's accounts are still active, managed by teams associated with their foundations or loved ones, so there is a possibility that someone could have paid for Twitter Blue for their accounts. Gizmodo reached out to the Paul Walker Foundation and the Chadwick Boseman Foundation for the Arts for comment but didn't immediately hear back. We also reached out to Twitter's press office but received a poop emoji in response.
Bottom line, saying these celebrities bought Twitter Blue subscriptions when many have been dead for years is untruthful and disrespectful to their remaining family members and loved ones. They've already been through a lot, and the last thing they need is to be swept up in Musk's ridiculous attempts to be funny.
As for why Musk childishly decided to put unwanted blue checkmarks on celebrities over the weekend, the answer appears to lie in the A-listers' overwhelming rejection of the Twitter CEO's new blue checkmarks "for the people.
In short, the blue checkmark has quickly become the most embarrassing cringe object online. According to Travis Brown, an independent researcher and programmer, there were only 28 new Twitter Blue signups after Musk started taking away legacy blue checkmarks last week. Brown said he verified the number with his Twitter API account.
In response to the death of legacy blue checkmarks, which used to mean that Twitter had verified someone's identity, power user @dril and others began a campaign, dubbed #BlocktheBlue, to block users with paid blue checkmarks.
"99% of twitter blue guys are dead-eyed cretins who are usually trying to sell you something stupid and expensive, and now they want to pay a monthly subscription fee to boost their dog shit posts front and center," @dril told Mashable on Friday. "blocking them and encouraging others to do the same on a massive scale is the complete opposite of what they want. It's funny."
Musk, as it turns out, was not amused. Although he didn't hasn't explicitly mentioned the #BlockTheBlue campaign, he has responded with various laughing emojis and memes to news and comments about it. He also forced a blue checkmark on @dril. In response to a tweet from T(w)itter News Daily, which posted about the #BlockTheBlue campaign and @dril's unwanted blue checkmark, Musk responded with glee.
"A troll, me?? 🤣" Musk said.
@dril, meanwhile, bemoaned his blue checkmark and tried to use a newfound hack to remove it: changing his display name. He ended up changing his name so many times that it triggered a review of his account.
"now that i have the baneful blue mark, I undertand the pain ive wrought. i was wrong to torment dog coin guys. im jealous of their million's," @dril tweeted.
As on Monday morning, it appeared that @dril has managed to get the blue checkmark off his profile again, but others weren't so lucky. Click through to check out the other celebrities, including Lil Nas X, Ice Spice, Chrissy Teigen, Ian McKellen, and more who were so horrified they suddenly had a blue checkmark that they immediately tweeted to tell people they hadn't paid for Twitter Blue.