If you're any kind of fan of Michael Moorcock or Elric, the dark fantasy antihero he created, you owe it to yourself to check out this new graphic novel adaptation. Not only is it empirically gorgeous, Moorcock himself says it's the first comic to "capture the sense of utter decadence" of his fantasy epics.
---
New Issues
Criminal Macabre: Third Child #1 (Dark Horse) — Steve Niles sequel to The Eyes of Frankenstein finds Cal trying to drown the evil consuming him with booze… and losing. Christopher Mitten (A).
Deadpool Bi-Annual #1 (Marvel) — The League's Paul Scheer pits the merc with a mouth against Brute Force over the fate of an ocean park. Paul Scheer and Nick Giovannetti (W), Salva Espin (A).
G/O Media may get a commission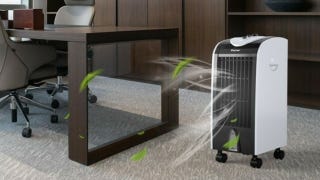 Save $10
Evaporative Portable Air Conditioner Cooler with Filter Knob
Delinquents #2 (Valiant) — The two teams each have half a map to the secret treasure of the Hobo King. But will the other team kill them before their own partners do? James Asmus and Fred Van Lente (W), Kano (A)
George Perez's Sirens #1 (Boom) — A legendary team of warriors try to protect the galaxy, so why does the galaxy fear them as villains? George Perez (W/A).
John Henson's The Storyteller: Witches #1 (Boom) — An anthology of four haunting fairy tales from around the world by four acclaimed creators.
Justice League: Future's End #1 (DC) — Five years in the future, the Martian Manhunter finally reveals his terrifying plan to take over the world. Jeff Lemire (W), Jed Dougherty (A).
The Life After #3 (Oni) — Jude and Ernest Hemingway battle the most dangerous foe in purgatory — the bureaucracy of the afterlife.
Multiversity: The Society of Super-Heroes #1 (DC) — The pulp heroes of Earth-20 are attacked by the Vandal Savage and their own evil Earth-40 counterparts. Grant Morrison (W), Chris Sprouse and Paul Story (A).
Oddly Normal #1 (Image) — A 10-year-old half-witch makes a bad wish on her birthday and has to travel to the magical land of her mother to find her parents. Otis Frampton (W/A).
Purgatori #1 (Chaos) — The sex demoness must outwit Satan to free herself from hell. Aaron Gillespie (W), JG Miranda (A).
Thor: God of Thunder #25 (Marvel) — The granddaughters of King Thor discover a hidden chapter in his history. Jason Aaron (W), Esad Ribic and various (W).
Trees #5 (Image) — Luca makes Eligia his knife. No, I don't know what it means either. Warren Ellis (W), Jason Howard (A).
---
Graphic Novels and Collections
Astro City: Victory (DC) — When Winged Victory is put on trial, the Confessor runs afoul of the Samaritan while investigating. Kurt Busiek (W), Brent Eric Anderson (A).
Billy the Kid's Old Timey Oddities (Dark Horse) — Thought dead, Billy the Kid protects the freakiest freak show in the west from a crazed killer. Eric Powell (W), Kyle Hotz (A).
Blue Estate (Image) — A private detective and a young starlet run afoul of criminals, killers and more in this darkly humorous noir tale. Viktor Kalvachev and various (W/A).
Bumperhead (Fantagraphics) — Love and Rockets' Gilbert Hernandez makes a companion to his acclaimed Marble Season, this time examining the disaffected anger and isolation of youth as opposed to its joy.
Charles Burns' Sugar Skull (Pantheon) — In the final volume of this mind-bending saga begun in X'ed Out and The Hive, Doug must find the terrifying truth as his past secrets and nightmarish reality collide.
Forever Evil: Arkham War (DC) — Released into Gotham City by the Crime Syndicate, the criminals of Blackgate Prison and the lunatics of Arkham Asylum go to war against each other.
Godzilla: Awakening (DC) — The prequel to the summer's hit monster movie features the birth of Godzilla and his first sightings. Max and Greg Borenstein (W), various (A).
Leaving Megalopolis (Dark Horse) — When a city's superheroes turn into murderous psychopaths, a small group of survivors tries to escape. Gail Simone (W), Jim Calafiore (A).
Meka (Magnetic Press) — When their giant, planet-defending robot is disabled, two pilots must survive the world they nearly ruined. Jean-David Morvan (W), Bengal (A).
Michael Moorcock's Elric: The Ruby Throne Vol. 1 (Titan) — The sickly albino king Elric has ruled Melnibone with his soul-devouring sword for millennia, but as his people descend into decadence someone schemes to steal his throne. Julien Blondel (W), Robin Recht and various (A).
Sons of Anarchy Vol. 1 (Boom) — When the daughter of a former SAMCRO member arrives looking for help, she brings trouble with her. Christopher Golden (W), Damian Couceiro (A).
The Sub-Mariner and the Original Human Torch (Marvel) — Tales of the two Invaders who fought alongside Captain America during World War II. Roy Thomas and Dann Thomas (W), Rich Buckler (A).
Transformers: Phase One Omnibus (IDW) — Collecting the first three sagas of IDW's new Transformers universe. Simon Furman (W), E.J. Su and various (A).
Undertow Vol. 1: Boatman's Call (Image) — In a world where humans stayed in the water and Atlantis is the main superpower, a man embarks on adventure that may reveal the power to live on the surface. Steve Orlando (W), Artyom Trakhanov (A).
X-Men: The Adventures of Cyclops and Phoenix (Marvel) — The first couple of the X-Men spend their honeymoon two millennia in the future, fighting Apocalypse and a new enemy named Stryfe. Various (W/A).
---
As usual, here's the list of everything being released to comic stores tomorrow, and you can find your nearest comic retailer here.