Emma Stones opens up about playing Spider-Man love interest Gwen Stacy. Watch five kickass new clips from Sucker Punch. Three names emerge for the next generation of Ghostbusters. Let's dig into some Turkey Day spoilers!

Spider-Man Reboot
Emma Stone discusses what it's like playing Gwen Stacy. She says the main difference between this and any other job is all the harnesses she has to use for stunts. She also mentions that "Gwen really likes science", and both she and Spider-Man actor Andrew Garfield just went to learn more about science, particularly chemistry. She also explained the process for how the story and her character develop:
There are a lot of changes happening on a day to day basis. There's a lot of open dialogue about where we're going with this and how Peter and Gwen are going to come together and what makes the most sense for the story we're telling. It's an ever-changing thing. We're still in that development period. It's so fantastic. My background is in improv and things like that, so this kind of ever-changing nature is ideal for me.
There's more at the link. [MTV Splash Page]
Sucker Punch
Here's five new short but awesome clips: [/Film]
Ghostbusters 3
A trio of younger comic actors are rumored to be part of the new generation of Ghostbusters. Anna Faris, who always seems to be a lot better than the actual movie she's in, and SNL alums Bill Hader and Will Forte are all reportedly in contention for roles in the movie. Hader and Forte would reportedly be two of the new Ghostbusters, while Faris would be up for another role. Inside sources are reportedly saying that Hader and Forte are definitely wanted by Sony, while the reports about Faris are a bit more tenuous. Either way, all three of these names are fairly obvious people that Sony would want for a comedy movie, and it's quite probably they're just three of about thirty different names under consideration. So, grains of salt and all that. [What's Playing]
G/O Media may get a commission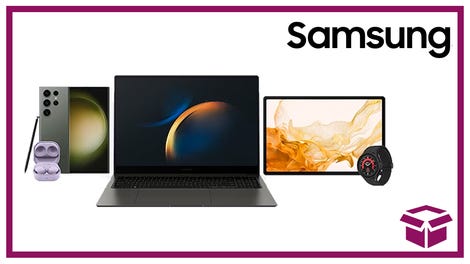 24 hour deals
Discover Samsung - Daily Deal
Doctor Who
Matt Smith reveals that the monsters in the opening, America-set two-parter are "the most hideous things in the world", and are as scary as the Weeping Angels. [Zap2It]
Stargate Universe
Here's a ton of promo photos for episode 10, "Resurgence": [SpoilerTV]

Sanctuary
Here's a synopsis and a sneak peek for the next episode, "Breach": [Daemon's TV]
Her distant past leaves Magnus fighting for her life in an old, abandoned building. And, in order to ensure the safety of Hollow Earth, she must make a deal with the devil – a devil who appears to have come back from the dead to threaten her present – and future.
Misfits
And here's all the same good stuff, including some photos, for episode 3: [Daemon's TV]
Alisha's mugged while she's walking through the estate. Luckily for her, that guy in the mask arrives just in time to save the day. Alisha is determined to learn more about her masked saviour – she has a plan to find him but very quickly finds herself in out of her depth.

Meanwhile, Kelly needs to get her tattoo touched up, and like the true gentlemen they are, Nathan and Simon go along with her for support. Naturally, Nathan manages to offend Vince, the tattooist, by just being himself. Big mistake, Nathan.
A synopsis is also out for episode 6:
After the existence of super-powers is exposed to the world at large, the gang become celebrity super-heroes, known as the 'ASBO Five'. There is serious money to be made, as long as the gang can manage to handle their fame. But, as they settle in at a luxury hotel, they find their renown has made them the target of a sinister killer, who has the most bizarre power yet encountered.
V
Here's a new promo that shows new cast members Jane Badler and Reaper's Bret Harrison: [KSiteTV]
The Cape
Chad Lindberg, who's probably best known as Ash from a few episodes of Supernatural, says he'll be guest starring as a bad guy on one of the episodes. [CapeSite.net]
Additional reporting by Michael Ann Dobbs and Charlie Jane Anders.