It never fails: The second you sit down for a session, the doorbell rings. Rather than scrambling to hide your piece (that four-footer isn't exactly discreet), you could turn to the EV-2. It's hidden in plain sight.
What Is It?
An American-made vaporizer wrapped in a single piece of hardwood.
Who's It For?
Stoners who don't want a UFO sitting on their coffee table.
Design
Gorgeous, albeit closely resembling those comically large pepper grinders they use at fancy restaurants. Its ceramic heating element draws only 18 watts (max), all electronic components are positioned away from the heat source and air intake, and the natural wood finish keeps the unit cool to the touch.
Using It
It heats up in 2-5 minutes, depending on whether you choose the fast-acting Boost setting. The bowl holds about .2 grams, and is secured with a plug screen and then inserted into the vape for heating. The Epic Vape employs an easily replaceable rubber tube—with a matching wooden mouthpiece—rather than a more conventional mylar bag.
G/O Media may get a commission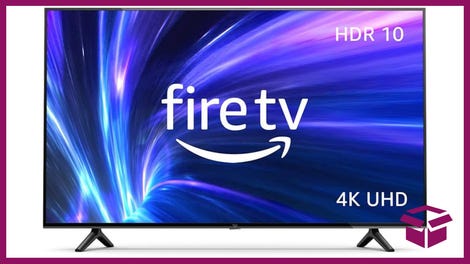 42% Off
Amazon Fire TV 50" 4K Smart TV
The Best Part
None of the coughing fits and lung damage, all the giggles and munchies.
Tragic Flaw
The plug screen has a terrible habit of getting lodged in the heating chamber, which spills the spent bowl and requires you to dig it out with a paperclip. Update: The screen I tested has since been updated with a newer design. Per Epic Vape reps, "The OD on the joint of some EL-Bowls was overground causing them to slide too far into the downstem which in turn caused the basket screen to catch. The new El-Bowls are shorter and fatter. Problem solved."
This Is Weird...
I know it's working, I can smell it. But there's no smoke, whoa, look at my hands. They can touch anything but themselves.
Test Notes
Don't leave in Boost mode (if you exhale smoke, you've left the Boost on)
Don't press the bowl into the chamber, just set it there
Lack of external temperature dial reduces complexity, just flip it on and light up
Should You Buy It?
If you've got $250 and an affection for your lungs, then yes.
Epic Vape EV-2
• Dimensions: 2.75" x 5.75"
• Weight: 1.5 lbs
• Vaporization Temperature: 360 - 450 F (adjustable)
• Price: $250
• Giz Rank: 3.5 Stars