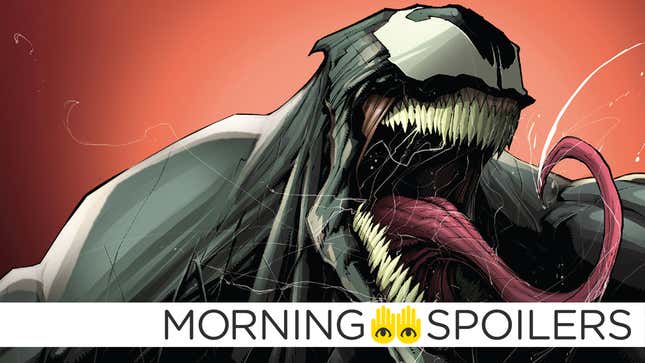 Disney unleashes a bevy of sneak peeks at Ant-Man and The Wasp, Mary Poppins, and more. Supergirl could recruit another familiar Superman supporting character. A new rumor suggests Marvel is wiping its slate of animated series clean. Plus, an update on the Y: The Last Man TV show. Behold, Spoilers!

Coastal Animals Are Thriving on Plastic Pollution Out in the Pacific Ocean | Extreme Earth

Venom

Symbiote-salt-shakers at the ready! Speaking on Collider's Movie Talk podcast, John Schepp, the director The Death of Superman Lives: What Happened?, recently claimed Tom Holland would cameo as Spider-Man, despite repeated denials from Sony over the last few months.
Spider-Man is going to be in Venom. For the last couple of months, we've been hearing how Sony is keeping it all separated, and Spider-Man is in the Marvel Cinematic Universe, but every other character that's in the Spider-Man universe is separate. All I'm saying is that Spider-Man—and I'm talking about Tom Holland's Spider-Man—is going to be in Venom.
Meanwhile, Tom Hardy posted — then quickly deleted — an image of Carnage on his Instagram account, leading outlets like Comic Book to speculate the character will allegedly appear in the movie. Your guess is as good as ours.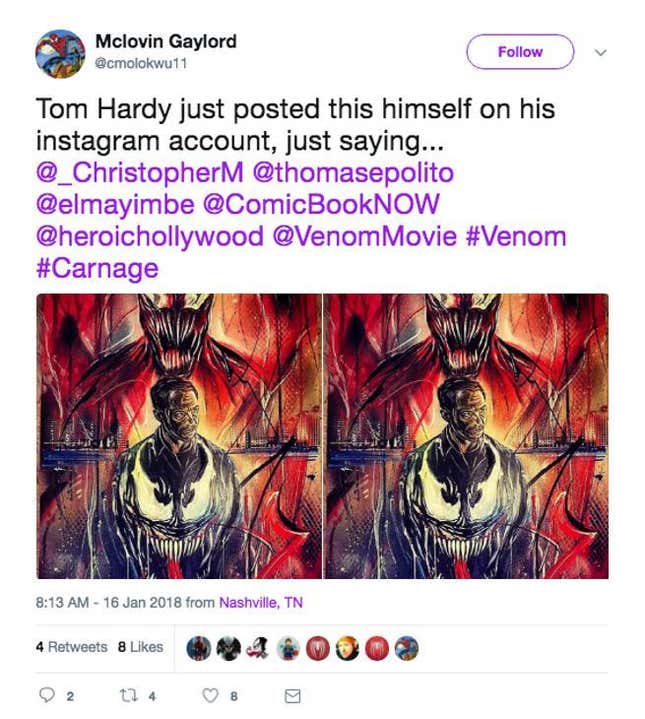 Lastly, Heroic Hollywood has more set footage of Tom Hardy writhing on the ground. Click through for the actor's signature "symbiote squirm."
---
Halloween
Will Patton has joined the cast of David Gordon Green's Halloween as a currently unnamed police officer. [The Tracking Board]
---
Ant-Man & The Wasp
Here's a new image and an official synopsis for the film, courtesy of Disney's 2018 preview.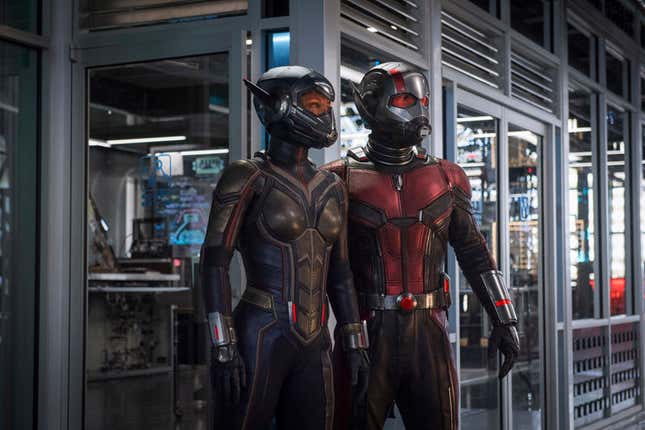 From the Marvel Cinematic Universe comes Ant-Man and The Wasp, a new chapter featuring heroes with the astonishing ability to shrink. In the aftermath of Captain America: Civil War, Scott Lang grapples with the consequences of his choices as both a super hero and a father. As he struggles to rebalance his life with his responsibilities as Ant-Man, he's confronted by Hope van Dyne and Dr. Hank Pym with an urgent new mission. Scott must once again put on the suit and learn to fight alongside the Wasp as the team works together to uncover secrets from the past.
---
Ant-Man 3
In conversation with USA Today, Michael Peña clarified he was merely speculating when he suggested there will be a third Ant-Man movie.
I read some of those things. And it says I 'hint at an Ant-Man 3.' I have no idea. If there is an Ant-Man 3, it would be great to be in it. That's all I said. I don't work at Marvel. I'm not part of the studio. And I don't have the money to fund the movie. I wish I had $150 million around, you know. It's like, one of the supporting (Ant-Man) characters would say, 'Yup, there's going to be a third (movie).' Like I have the information, more than Kevin (Feige). That would be really, really funny. It's like on sequels, we don't know anything. They keep it under wraps man. They really do.
---
Wreck-It Ralph Breaks the Internet
Disney has released the film's first official image as part of their 2018 preview package.
---
Solo: A Star Wars Story
There's also has the official synopsis for Disney's Han Solo spinoff, which tells us absolutely nothing we didn't already know about this movie that's apparently still coming out in just over four months.
Board the Millennium Falcon and journey to a galaxy far, far away in Solo: A Star Wars Story, an all-new adventure with the most beloved scoundrel in the galaxy. Through a series of daring escapades deep within a dark and dangerous criminal underworld, Han Solo meets his mighty future copilot Chewbacca and encounters the notorious gambler Lando Calrissian, in a journey that will set the course of one of the Star Wars saga's most unlikely heroes.
---
Mary Poppins Returns
The Disney 2019 previewtacular continues, with a photo of Emily Blunt and Lin-Manuel Miranda imperiling children on a dangerous-looking bike ride, much to the delight and consternation of the film's stuffy supporting cast.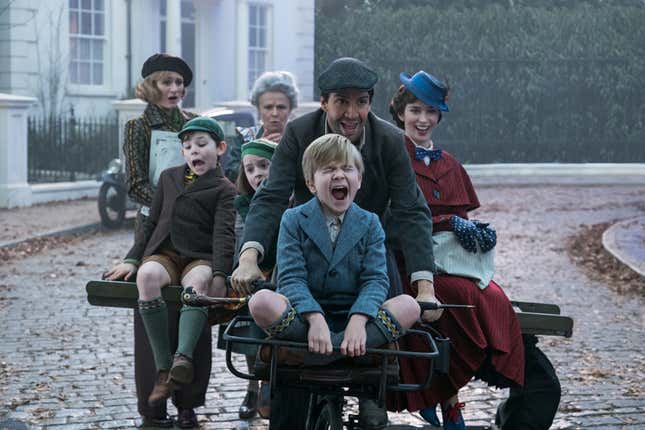 ---
Psychokinesis
Here's a trailer for an upcoming action/comedy from Korea about a man discovering his own psychokinetic abilities, which is set to come to Netflix.
---
Supergirl
Omega Underground has discovered an audition tape of actress Sarah Ceballos apparently trying out for the role of Lois Lane in a future episode of the show. Here's the transcript:
Reporter- Tell me your relationship with Superman?

Lois – If I had a dollar for every time somebody asked me that question I'd be a millionaire. Just kidding! But my relationship with Superman is completely unpredictable, I never know when I'm going to see him, he's always in and out-of-town. But that is also the fun part about it is that I'm constantly being kept on my toes and surprised. So I'm hoping one day and honey if your hearing this I'm waiting for that rock on my finger.


Reporter – And what is it like to meet Supergirl?


Lois – Well it's funny you ask that! Supergirl is very down to earth. She's kind and I think that it's great that young ladies today have somebody to look up too. Especially, given the fact we continuously hear of these predators, are coming into the forefront and harassment being a big issue. I think it's important they have someone to look up too.

---
Shadowhunters
Chai Hansen has joined the cast of season three as Jordan Kyle, Simon's new roommate with "a secret of his own." [Entertainment Weekly]
---
Shannara Chronicles
Sad news: The Shannara Chronicles has been canceled at Paramount/Spike. [TV Guide]
---
Y: The Last Man
FX CEO John Landgraf stated the network feels "pretty optimistic" about moving forward with their adaptation of Y: The Last Man during the Television Critics Association Press Tour.
[We feel] pretty optimistic, not quite at a final decision point. But we got a script I really like, a draft we really like recently. Michael [Green] is available, because he's not involved in American Gods [anymore].
[TV Guide]
---
Guardians Of The Galaxy, Spider-Man and Avengers Assemble
Den of Geek reports Marvel is preparing to announce the cancellation of all three series at Disney XD, effectively clearing the current slate of Marvel Animation.
---
The Umbrella Academy
Finally, filming has begun on Netflix's The Umbrella Academy adaptation, courtesy of this tweet from the artist behind the comic series, Gabriel Bá.


---
Banner art by Jim Cooke. Venom #1 cover art by Dono Sanchez Almara.