You don't have to settle for the charts and reports produced by your fitness tracker's own software—export the data elsewhere and you can use it in a variety of different ways. It's not difficult to do and it could help renew your enthusiasm for working towards a healthier lifestyle.
Is AI Moving Too Fast? | Future Tech
Fitness tracking data
Fitness trackers are getting more and more advanced—and smartwatches are getting in on the act—but there's a problem: A report out at the start of the year suggested that more than half of the people who've bought a fitness tracker have stopped using it; a third of users quit bothering with their new gadget within six months of getting it. Is this a sign of widespread apathy, or to do with the fact that the data collected just isn't engaging enough?
If you want to do more with the data your fitness tracker is collecting, it's not as difficult as you might think. You can quite easily extract all the essential statistics using a Web and mobile service called IFTTT (If This Then That)—if you've never heard of it, you've obviously not been reading this blog very long. It plugs into all kinds of apps and platforms to let you move content around, from posting Twitter pictures on Facebook to automatically feeding RSS updates into Instapaper.
G/O Media may get a commission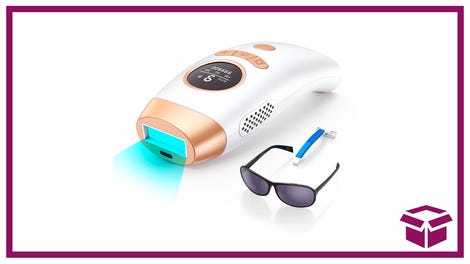 58% Off + Coupon
IPL Hair Removal Device
IFTTT uses triggers to create actions based around channels. The available channels include some of the biggest names in health and fitness tracking: Fitbit, Misfit, Nike+, Jawbone and Withings. Choose to activate any of these channels and when you've given IFTTT permission to log into the platform's API you can get your data out to almost anywhere you like—post summaries on Twitter, create spreadsheets of your performance, and so on.
In the case of the Fitbit channel, for example, triggers can be activated by a daily activity summary report, a daily achievement (steps, distance, floors climbed, calories burned, active minutes) or a specific new data item (weight, sleep). The daily summary is the one that's most useful for exporting your data, but you can play around with the other ones too. Once you've signed up for IFTTT (which is free to do) click on the Create a Recipe button to start activating your channels and putting them to use.
Using the data
When you've made your selection from the available channels, the next question is what to do with it. Here we're going to look at building up a Google Drive spreadsheet with daily summaries from a Jawbone UP24 tracker—most of the relevant channels let you export details of the daily summaries produced by your device, and as you build up the IFTTT recipe you can choose which bits of data are exported. In the case of the UP24, the available options include steps taken, distance covered, calories burned and total active time.
Select a Google Drive spreadsheet as the trigger and you can opt to create a new file each day or append data to an existing one, which is much more suitable for our needs. Every time your fitness tracker syncs with IFTTT, it will add a new line to your spreadsheet. After 2,000 rows are reached, a new spreadsheet is automatically created to stop it becoming too unwieldy. You can take control over which data is included and where in your Google Drive account the spreadsheet is stored.
With your data safely exported to a spreadsheet, you can do whatever you like with it. Customized charts, trending patterns, weekly highlights and more can all be created with the data spewed out by IFTTT. It is pretty raw in the form that it comes—you might want to add in a few column headings and apply some color and formatting to make your newly created spreadsheet easier to understand. Refer back to the recipe you created if you're unsure about what each data point means. In the case of the Jawbone UP24, the New daily movement logged is one of the best triggers for getting all of the key statistics you need out of the band.
On the simplest level, some bar charts showing your steps and sleep over the last few weeks can be helpful. As you collect more data, it becomes more useful, enabling you to track performance over longer periods of time (something that isn't always easy using the apps that come supplied with your tracker device). If you've ever groaned at the native app or Web interface provided by your gadget's manufacturer then this is the perfect way of crafting something yourself.
Other platforms
There are fitness trackers that don't sync with IFTTT or that don't export data in exactly the way you need. If you have a dig around online for your specific device then you might turn up something useful, such as this export script for the Basis tracker. It's also worth checking inside the app and accompanying documentation for any available export options—with the advent of Google Fit and Apple HealthKit, fitness tracker developers are opening up their platforms like never before.
If you need more than a data dump to renew your enthusiasm for fitness tracking then consider getting friends and family involved—most tracker apps include the option to pit yourself against other people or at least make your reports public, and it might provide that extra motivation you need. Some of the other possibilities we've already mentioned regarding IFTTT—like being able to post your progress publicly on social media accounts or blogs—can also help in this regard.
[Header image: Fitbit Facebook]