A new writing workshop organized by the Magazine Of Fantasy & Science Fiction will provide three stories to the magazine per year, according to F&SF. And editor Gordon Van Gelder tells io9 it may actually boost unpublished authors' chances otherwise.
Yesterday we reported on a bit of a controversy around F&SF launching a paid workshop whose participants get the inside track for publication in the magazine. And now F&SF has posted the editorial explaining about the workshop online, including some more details:
I don't know why we never tried this before, but F&SF is going to begin hosting a writing workshop.

We're fortunate to have the great Gardner Dozois running the show. I'm sure most of our readers know Gardner already, but just in case, he's the author of dozens of short stories (his most recent F&SF story is "Counterfactual," which appeared in our June 2006 issue) and he edited Asimov's Science Fiction magazine from 1984 to 2004. He also has decades of experience with writing workshops and is widely considered one of the best story doctors in the field.

All F&SF readers should benefit from Gardner's workshop work, because he's going to have the option of selecting stories from the workshop for publication in F&SF. We're currently planning to run Gardner Dozois selections three times a year. (Writers, fret not: I won't be reading the workshop stories myself, so you can still submit your stories to F&SF regardless of what anyone in the workshop makes of the story.)
The workshop will be administered by Lisa Rogers, a former editor for Gollancz and Little, Brown.

Initially, the workshop will be available online only and the site will have a private message board to go with the critiquing.

Until the workshop is firing on all cylinders, we're limiting the membership to 100 people. You can find the membership prices and other information at www.FandSFworkshop.com.

Frankly, I'm very excited about the prospects for this new project and I think all of our readers will benefit from it.
We talked to Van Gelder, who says "the workshop isn't even ready to launch, so any angst about our policies seems very premature to me." And he says that the current plan is for the workshop to provide three stories a year to the magazine, but "we'll see how it goes." It's up to Gardner Dozois when he selects stories for the magazine, and any stories that end up in print will be highlighted as Dozois' selections.
We asked Van Gelder how many stories from previously unpublished authors F&SF currently publishes. He says:
You're welcome to go through back issues and check. My sense is that we average 2-6 stories a year, but I haven't actually tried to verify that. In fact, I'd be curious to see the actual numbers. One reason I thought of launching the workshop was because it seemed like we were running fewer stories by newbies in recent years.
G/O Media may get a commission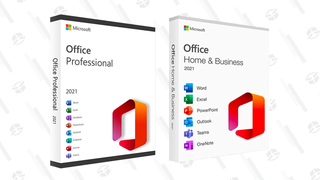 89% off
Microsoft Office Professional 2021 Lifetime License
I looked back through eight recent issues of F&SF, and pretty much every story seemed to be from a veteran author. One issue did include a story by John Langan, who seems to have gotten his start in F&SF back in 2007 or thereabouts. One of those eight issues was the all-star anniversary issue, however. In a few cases, an author's bio noted that his/her first publication had been in FS&F — but that first publication had taken place back in the 1980s in a lot of cases.
Also, we asked Van Gelder if he thought F&SF would end up publishing fewer stories by unpublished authors that didn't come from the workshop, since the workshop is expected to provide three new authors per year already. He replies:
No, I don't. If the workshop goes well, I'd expect to see the number increase.
He says the overall goal of the workshop is to get more good stories, regardless of the writer's experience — but one of the major driving forces is a desire to reach out to new writers. He points to other recent moves, like F&SF offering an extra $100 to the next "newbie woman writer" to publish a story in the magazine.
Once again, we're sorry we didn't seek comment from F&SF before posting our previous entry about this workshop.