It sucks when a new technology comes along and creeps everybody out. It sucks even more when that technology is so good, so life-changing that even the most discerning consumer sets that anxiety aside and says, "Who cares if Apple owns detailed biometric data about my face?" That's what Face ID has done to me with the iPhone X. And if you're not already using it, you're next.
To no one's surprise, Apple might be adding Face ID to more of its mobile products. The face-enabled iPad rumor has been floating around for months, but it got a big jolt of legitimacy on Thursday, when, as noted by MacRumors, developers found clues about a new iPad in the recently released iOS 11.3 beta. The code refers to something called the "modern iPad," which is significant because some of the clues about the iPhone X came from references to a "modern iPhone" in older firmware releases. The modern iPad, the supposition goes, will feature Face ID.
There's plenty of chatter to back up that bet, too. Bloomberg reported a couple of months ago that the company will release a new iPad with Face ID capabilities later this year. Trusted Apple rumor mongers Mark Gurman and Alex Webb say that the new tablet will likely be about 10.5-inches, like the current iPad Pro, feature a slimmer bezel, and have no Home button. As with the iPhone X before it, the new iPad will depend on Face ID for unlocking and other security-related tasks. This rumor backed up an earlier report from KGI Securities analyst Ming-Chi Kuo who told investors that an iPad with a TrueDepth sensor was imminent last October.
This almost feels like deja vu. Apple brought Touch ID to the iPad 2 roughly a year after debuting the technology on the iPhone 5S back in 2013. Understanding that timeline makes the release of a Face ID-enabled iPad about a year after the technology first appeared on the iPhone X seem almost indisputable. It would honestly be more surprising if Apple didn't start slapping Face ID on more of its devices so quickly. After all, Jony Ive revealed last year that his team had been working on the technology for five years before Face ID's initial release. God knows how much money Apple spent getting it right.
Apple got it right, too. I can confidently say that Face ID is the best biometric security technology I've ever used, and I'd also argue that it's the best on the market. Two months after getting my iPhone X, I've practically forgotten what it's like to hold my thumb over a sensor or to type in a passcode to unlock my phone. Face ID is so fast and dependable, my phone is almost always ready to use when I glance at it. I could almost forget that this is because Apple is identifying and cross-checking the most minute details of my face every time I use it. If I thought facial recognition was creepy six months ago, I think it's incredible now. Face ID works so well, I stopped thinking about the privacy implications last Thanksgiving.
G/O Media may get a commission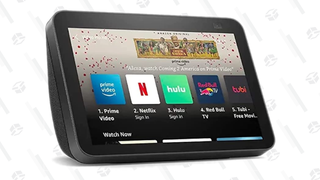 Which brings me back to my original point. If you have avoided Face ID because you don't like Apple scanning your face all the time, that's cool. But if you're an Apple loyalist, you probably need to get over it. That, or Apple is going to make your life even more difficult. Face ID is very obviously replacing Touch ID on mobile devices in the near future, but we can also expect it to take over the MacBook lineup as well. Just as the latest MacBook Pros got a Touch ID sensor, the MacBooks of the future will probably have TrueDepth cameras, and users will be coerced into using Face ID to unlock everything, sort of like how many Windows users currently enjoy Windows Hello—which also unlocks laptops with a look. No more passwords. No more thumbprints. Just your dumb face staring a screen that's blasting infrared light into your wrinkles and verifying your identity. It's a Philip K. Dick plot playing out in real life, and I don't even care this time.
If you're not an Apple person, you're probably laughing at this point. You might be content pattern-unlocking your phone until the next century. Even still, companies like Samsung are making strides in biometric security, too. The Galaxy S8 features an iris scanner that doesn't work as well as Face ID in my experience yet also bears some dystopian implications. And while all of these companies claim that their technology is the most secure ever, it only takes one big hack to make everyone step back and ponder the state of technological progress for at least one product cycle.
Me, I'm never going back. If there's a database full of biometric data somewhere my face is in it, and I'm already spoiled on the quick convenience of looking at a device to unlock it. I welcome Apple's efforts to install facial recognition cameras on all of its computer gadgets. Face ID is unstoppable, just like Touch ID before it. You can turn it off, and you can put tape over the sensor. But as far as Apple products are concerned, your face is your password from here on out.