In an email accidentally sent to a BuzzFeed reporter, a Facebook spokesperson said the idea of a Muslim registry is a "straw man"—a sham argument that misrepresents another's belief. Earlier this month, The Intercept asked nine tech companies if they would aide Trump in creating a Muslim registry. Facebook—along with Google, Apple, and IBM—did not respond; Twitter was the only company to say no. In an email intended for one of his colleagues, a Facebook spokesman told BuzzFeed's Nitasha Tiku:
Happy to talk to her off record about why this is attacking a straw man. Also I heard back from her that she may or may not write an additional piece depending on what response she gets from companies. So sounds like not making any stmt on record is the way to go.
Upon sending the email, the spokesman called Tiku to ask her to keep the email off the record. In response she wrote, "This preference for off the record spin over on the record comments is fairly typical of large tech companies. Facebook ultimately declined to comment."
While Facebook might think instituting a Muslim registry is a "straw man," it's a threat the president-elect has repeatedly promised to make good on. In November of last year, when asked about the registry Trump told NBC News, "There should be a lot of systems, beyond database, we should have a lot of systems, and today you can do it." When the reporter asked how he would get Muslims specifically to register, Trump explained, "It would be just good management. What you have to do is good management procedures and we can do that."
Shortly after the election, Reuters reported that Kansas Secretary of State Kris Kobach—who helped author Arizona SB 1070—said his "immigration policy group could recommend the reinstatement of a national registry of immigrants and visitors who enter the United States on visas from countries where extremist organizations are active." His role on Trump's transition team is unclear—he's been called "Trump's immigration whisperer." He played a key role in designing the National Security Entry-Exit Registration System while working in the Department of Justice under George W. Bush. NSEERS—a federal program enacted in 2001 and abandoned in 2012—required people from countries classified as 'higher risk' to be subject to interrogations and fingerprinting before entering the United States. Effectively a Muslim registry, the program was discontinued in 2011 only "because it was found to be redundant with other immigration systems."
"Any technology company should resist a government request for assistance that targets a customer on the basis of race, religion, or national origin," ACLU attorney Ben Wizner told The Intercept.
G/O Media may get a commission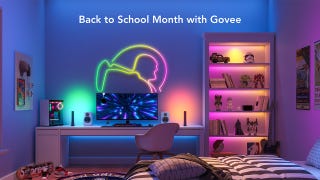 Back to School
Back to School Month with Govee Sale
The Muslim registry is not a "straw man." It is a real threat. When The Intercept asked Microsoft if it would "help facilitate the creation of a national Muslim registry," the company said, "We're not going to talk about hypotheticals at this point."
When, then, is the time discuss these "hypotheticals" and "straw men"? We must talk now, before it's too late.
Update, 12/14 7:56PM EST: A Facebook spokesperson reached out to Gizmodo with the following statement:
"No one has asked us to build a Muslim registry, and of course we would not do so."
Gizmodo has asked Facebook for some clarification on this, and will update the post if we get a response.
[BuzzFeed]