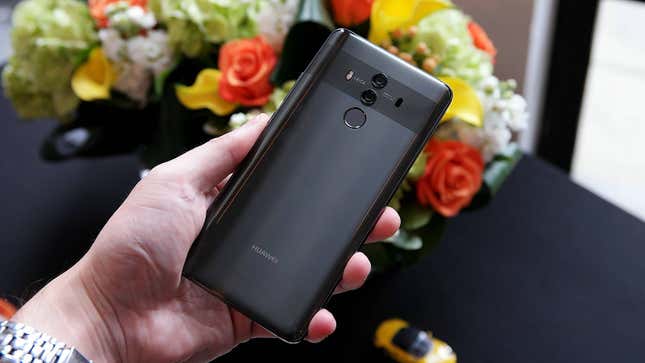 2018 has gotten off to a rough start for Huawei, the world's third largest smartphone maker. Just before the company's CEO made a keynote speech at CES, AT&T pulled out of a partnership that would have put Huawei's flagship in the stores of a major US carrier for the first time. A month later, Verizon did the same thing. Both wireless providers blamed the moves on rising government concerns that Huawei's phones pose a risk to US security.
Caleb McLaughlin Wants to Play Static Shock
And now things have gotten worse, as Huawei might have pissed of one of its few remaining retail partners by flooding Best Buy's website with fake reviews. According to 9to5 Google, the fake reviews were the result of a beta program that offered users the chance to own and review a Mate 10 Pro in return for leaving a comment in the review section of Best Buy's pre-sale retail page.
This resulted in more than 70 reviews on BestBuy.com (many which have not yet been taken down), with the vast majority giving the Mate 10 Pro glowing 5 star recommendations en route to an overall score of 4.8 out of 5 before the phone has even officially gone on sale.
While this may feel like a shady attempt to juice review scores, Huawei claims the fiasco was caused by a misunderstanding between the company and the people participating in its contest. When asked for an official statement, Huawei responded by saying:
"Huawei's first priority is always the consumer and we encourage our customers to share their experiences with our devices in their own voice and through authentic conversation. We believe there is confusion around a recent social media post reaching out to recruit new beta testers. While there are reviews from beta testers with extensive knowledge of the product, they were in no way given monetary benefits for providing their honest opinions of the product. However, we are working to remove posts by beta testers where it isn't disclosed they participated in the review program.
Right, OK, so mistakes happen, and it's hard to really get that angry about a company trying to promote its new device. But no matter how you slice it, this isn't a good look for Huawei, which has struggled to gain wider adoption in the US.
This whole situation could have been avoided in the first place. Although it's apparent that a lot of the Mate 10 Pro reviews on BestBuy.com's website are shallow and potentially made by people who haven't used the phone, I have, and it actually is a nice device. While I don't agree with every decision Huawei made on the Mate 10 Pro, such as its somewhat sedate design and lack of a headphone jack, the phone also includes some innovative features including a dedicated neural processing unit and AI that can automatically enhance your photos. Then you add in a large 5.9-inch AMOLED display, excellent battery life, and IP67 water-resistance, and the result is a big-screen phone that almost anyone would be happy to own.
Unfortunately, now a lot of people are people are going to think customer feedback about the Mate 10 Pro's is tainted, which is something Huawei really can't afford right now.
[Update 1:30 PM ET] When asked for an official comment, a spokesperson from Best Buy replied saying "Reviews on our site are important to customers as they research and shop for tech, but the comments have to be trusted and legitimate. These were not, so they are in the process of being removed.