Vincent Gammill, a 69-year-old "doctor," has been arrested in California for allegedly prescribing bullshit cancer treatments and practicing medicine without a license. One of his cancer-fighting drugs was little more than a "baggie of dirt."
Authorities were tipped off by a woman with late stage cancer in Thousand Oaks, California who sought treatment from Gammill through his website at the Natural Oncology Institute. The woman says she paid $2,000 for just two days of treatment, which involved expired drugs and homemade powders.
The woman says that she first became alarmed about Gammill's methods when it was clear he had not reviewed her medical history. The second red flag was when one of his DIY treatments made her stomach burn. The arresting officers found over 25,000 pills, including powerful painkillers, at his home-based "treatment center."
The unnamed woman traveled from her home in Southern California to Gammill's alternative medicine practice in the Bay Area. As is often the case when people feel desperate, the woman felt she had nothing to lose by trying an unorthodox treatment. The 50-year-old had been following Gamill's work for years, but only sought treatment from him after her breast cancer had spread to her brain and lungs.
On his website, Gammill claims to have a background as a "pharmaceutical designer" who has developed successful cancer vaccines. Gammill reportedly first told police that he had some kind of degree in science. He later admitted that he had no qualifications beyond a high school diploma.
G/O Media may get a commission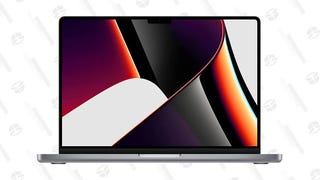 Save $300
2021 14" 1TB MacBook Pro
Gammill also ran a 5-day program in Del Mar outside San Diego. Called the Mango Retreat Program, it's safe to assume that he was peddling garbage cures there as well, though it's unclear how much this particular program cost his victims.
Gammill's website also claims that he was diagnosed with "widely metastatic colorectal cancer" in 2009. He claims to have seen his last oncologist in 2010 after he was supposedly told that he'd be dead by October of that year if he refused surgery. According to his website, he did just that, and devised his own methods of treatment that cured him:
Vincent devised his own protocol just as he would help find one for any program participant at the Mango Retreat Program. He regained all lost weight and all pelvic function. He does arrange for an annual MRI to make sure the cancer is gone, but he has not seen an oncologist for over three years. His health is fully restored and the Center has been running smoothly, working both to extend lives and to help the participants conserve resources.
Gammill is out on $10,000 bail and is scheduled to be arraigned on August 31st. Hopefully one of the things the public will learn at trial will be whether Gammill himself had cancer at all, and if he did, what course of treatment he actually received.
Police are looking for more victims of Gammill's bullshit treatments to come forward. If you or someone you know was a patient you can contact Ventura County Interagency Pharmaceutical Crimes Unit at 925-313-2600. You can also email detectives at pharm.tip@ventura.org.
Photo via the Natural Oncology Institute
[ABC News]