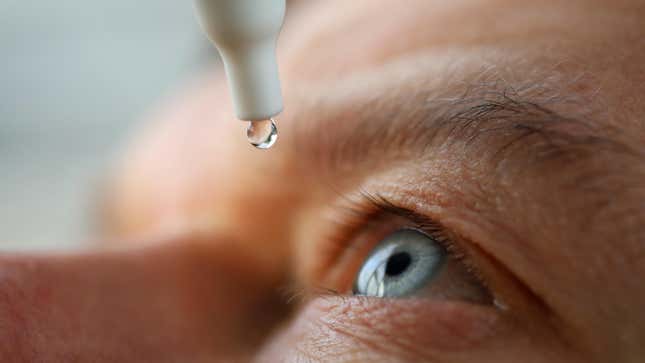 The Food and Drug Administration is warning several companies, including the retail chains CVS and Walgreens, to stop selling unapproved, potentially dangerous eye drop products. The agency claims that the companies have committed a number of violations in manufacturing or marketing these products. The FDA is also worried about the inclusion of silver compounds in some products, since silver can turn people's skin or eyes permanently blue with long-term use.
Meet Microsoft's New Surface Laptops
The FDA announced Tuesday that it was issuing warning letters to eight different companies regarding their eye drop products. These companies include CVS Health and Walgreens Boots Alliance, Inc, both of which own retail pharmacy chains that sell store-brand versions of popular over-the-counter drugs and healthcare products. Other flagged companies such as Similasan and Boiron produce products commonly sold in retail or online pharmacies.
The FDA alleges that the cited eye drop products sold by these companies are illegally marketed. The labeling of these products often includes language claiming that they can treat or cure conditions such as conjunctivitis (pink eye), cataracts, glaucoma, and others. As a general rule, however, anything sold in the U.S. that explicitly claims to fix a medical problem needs to have been cleared, authorized, or approved by the FDA beforehand, and the agency says that these products have not gone through that process.
Some of the eye drop brands have also allegedly been made at facilities that have recently failed to meet standard manufacturing guidelines for product safety and quality, including the eye drops sold by CVS and Walgreens. The FDA further says that these two eye drop brands in particular are labeled to contain silver, ostensibly used as a preservative. While silver can be used medicinally (often for its antimicrobial properties), the FDA is worried that its inclusion in eye drop products could be dangerous. Long-term consumption of silver as a drug is known to potentially cause a condition called argyria, which can turn our skin, internal organs, and soft tissues (including those of the eye) permanently blue.
"The FDA is particularly concerned that these illegally marketed, unapproved ophthalmic drug products pose a heightened risk of harm to users because drugs applied to the eyes bypass some of the body's natural defenses," the agency said in its announcement.
Many of the products mentioned by the FDA in these letters are additionally branded as homeopathic remedies. Homeopathy is a not-so-ancient form of alternative medicine that has no good evidence for its effectiveness in treating any medical problem. The agency notes that people using unapproved products such as these might delay or stop using products that have actually been proven to be safe and effective for their intended use.
The companies are expected to respond to the FDA within 15 days on how they will correct their alleged violations. Failing a response, the agency has the ability to take further steps, including legal action to seize or stop the manufacturing of these products. The FDA has also added some of the companies to a list of import alerts, which allows the FDA to detain products shipped from overseas without examination before they can enter the country.
"When we identify illegally marketed, unapproved drugs and lapses in drug quality that pose potential risks, the FDA works to notify the companies involved of the violations," said Jill Furman, director of the Office of Compliance for the FDA's Center for Drug Evaluation and Research, in a statement. "We will continue to investigate potentially harmful eye products and work to ensure violative products stay off store shelves so that consumers can continue taking the medicines they need without concern."