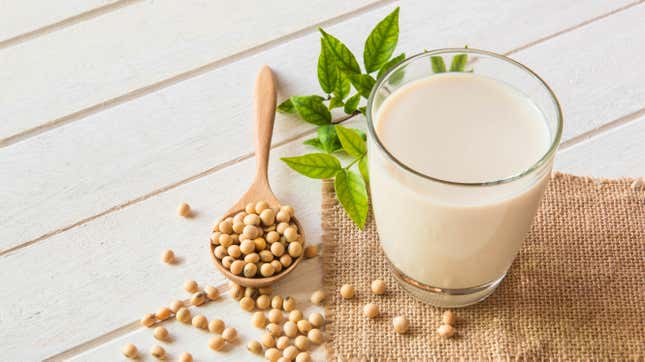 The milk wars may soon come to an end. In draft guidelines released this week, the U.S. Food and Drug Administration has said that soy and other plant-based milk substitutes can continue to be labeled milk. The agency found that customers in general aren't confused by the current nomenclature and could easily tell apart dairy and plant-based milks when shopping. But companies will still be asked to create voluntary labels outlining the nutritional differences between the two types of milk.

Believe it or not, there's been a fight over the definition of '"milk" raging on for quite some time. Dairy companies haven't taken too kindly to the burgeoning popularity of plant-based milk alternatives (the FDA's wording) over the years. According to the FDA, about a third of households were regularly buying these products by 2016, and in 2020, the industry as a whole made $2.4 billion in retail sales. In 2017, Democratic Wisconsin senator Tammy Baldwin introduced the DAIRY Pride act to force the FDA to declare these products mislabeled (one of Wisconsin's major exports is indeed dairy), though it went nowhere. The following year, then-FDA commissioner Scott Gottlieb announced that the agency would look into the issue.
At the time, it seemed likely that the FDA would come down hard on soy milk and its brethren. Gottlieb noted that the FDA's own decades-old definition of milk did not account for plant-based substitutes, and he provided a truly horrible visual by infamously remarking that "an almond doesn't lactate, I will confess."
But the agency now says it's received and conducted plenty of research in the years since. And whatever your personal feelings on milk, it seems that most people are cool with the way things are. Consumer survey research cited by the FDA has found that about three-quarters of people understand that plant milk does not contain dairy, while only 10% mistakenly believe it does (the rest said they didn't know). And the FDA's own focus group research has similarly shown that people aren't confused about the different kinds of milk and that they buy products like soy milk because they know they are dairy-free.
Having said that, the FDA did find that customers are less knowledgeable about the exact nutritional content of plant-based milks and how they differ from dairy products. These milks generally have a good blend of nutrients, but some products have much higher sugar content than dairy, such as rice milk, while others like coconut milk have much less protein. So the FDA guidance will also ask plant milk companies to produce clear labels detailing these differences, if they exist. Along with the release of the guidance, the FDA has also now created a page for the public that discusses the distinctions between plant and dairy milk.
These guidelines are recommendations, not binding regulations, and there is a chance that some of the language may change before it's finalized. But it seems unlikely that companies will willingly abandon using "milk" on their products now that they have the FDA's blessing. And while Baldwin has reintroduced the DAIRY Pride Act (including in 2021), any momentum for such a bill has probably been stopped cold.
So for those of you who love soy, almond, cashew, or oat beverages, rejoice! You can continue calling them milk with pride.