Facebook's new platform for original programming, Watch, is now available for everyone in the US. Is it going to have the likes of YouTube or Hulu shaking in its boots? As it stands, nope. Extremely nope.
Facebook's Watch platform is really just a tab on Facebook. It only features video content created exclusively for Facebook and offers the non-traditional media company and its partners a new space to rake in some fresh ad revenue. For now it's only available in the US—but Facebook says it will bring "the experience to more people in the future." For those who already have access to the experience, it's pretty easy to navigate but if you're looking for anything beyond viral trash and unremarkable scripted TV, you'll be left wanting more.
Inside the Watch tab, Shows are divided into sections such as "Popular Now," "What Friends Are Watching," and "Suggested For You." You can watch on mobile, desktop and in Facebook's TV apps—currently found on Apple TV, Amazon Fire TV, and Samsung smart TVs. You can save videos to your Watchlist as well as follow show pages to stay up to date when there are new episodes.
You can't search for genres outside of the breakout sections—there's no space dedicated to drama, comedy, sci-fi, reality TV, viral videos, and so on—and that's probably because the content is predominantly the latter two. Each section features a carousel of a handful of videos with the option to See All. To watch a video, click play. The video will open full screen, and you can react or comment on the content. It'll also load curated videos to watch next, automatically playing the next video unless you navigate away.
G/O Media may get a commission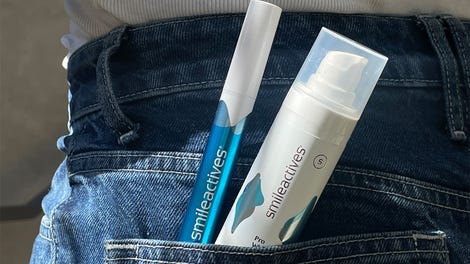 58% off
Whitening Powerhouse Pen & Gel Duo
When a video ended for me on mobile, Facebook prompted me to react to the show using one of its six emoji options. It's evident the company plans to use these reactions to help classify and organize videos (while also continuing to collect as much data about you and your interests as possible). There's currently a "What's Making People Laugh" section that includes shows that people marked with the Haha reaction.
Yet confining content to six basic emojis feels dumb. It assumes that I don't want or have the capacity to feel a range of emotions from the videos I'm consuming. What if Chomp Mom made me laugh but also contemplate the purpose of the human existence? Where's my emoji for that?
Most of the content I viewed left me feeling the sad face and rage face emojis. This stuff will not be generating any Emmy buzz—it's mostly viral junk and reality shows. One of the featured shows, I Want My Phone Back, is a reality show in which contestants can let the host attempt to lay waste to their digital life in return for money or ask for their phone back. Virtually Dating, meanwhile, is a reality show about two people on a blind date in the void of VR. They're briefly entertaining shows, but it's hard to stay enamored when I scroll down and see this.
Besides viral content that looks like those sketchy ad links you run across at the end of blog post, the Watch tab is also home to Facebook's venture into sports. The company has struck a number of sports streaming deals, including a partnership with Stadium, which grants the social networking service exclusive streaming rights to 15 whole live college football games. It also has landed partnerships with the MLB, CrossFit, the World Surf League, and a number of other major sports leagues for 2017. But this really only matters if you care about sports and don't already have access to that content—which you probably do because you care about sports.
There are a handful of shows that are attempting to be more than mindless drivel. There's Refinery29's Strangers, a scripted "coming-out-of-age-story" about a woman who rents out her extra bedroom while trying to find herself; Returning the Favor is a docu-series following host Mike Rowe (from Discovery's Dirty Jobs) as he looks for "remarkable people making a difference in their communities"; and there is a Humans of New York series. But nothing struck me as content you would purposefully seek out when you're looking for quality content to enjoy. More common videos, like "SHE HAS 20 CARS!" and "The Girl Who Lives In A Bowl," aren't going to win over users looking for their next mind-blowing binge—they are lures to keep Facebook's billions of users on the platform a little longer while making that sweet ad money.

In its current form, Facebook Watch doesn't seem to pose a genuine threat to existing potential rivals. It's certainly not in any state to rival Netflix, Hulu, or Amazon's Prime Video. Facebook would need to invest in longer-form, scripted television series—its own Stranger Things, Handmaid's Tale, or Transparent—that entice users to deliberately come back.
While the deluge of light-hearted, clickbait videos mirror that of YouTube, the platform is still missing a number of crucial elements to seriously take on the Google subsidiary. Facebook doesn't offer the option to search within the Watch tab. That sucks. You can follow pages to keep up with the latest episodes, but if you wanted to find a specific type of video, you just have to scroll through the sections. And that's probably because unlike YouTube, Facebook Watch doesn't have a seemingly endless rabbit hole of videos.

But Facebook doesn't necessarily need to expand beyond viral content and sports if it's just after ad revenue. The company just needs to keep pushing junk that people will watch when they're already killing time on the app. Facebook may not be trying to capitalize on the time you carve out to catch up on your beloved shows —your destination for prestige or high-brow content. No, maybe it just wants every other asinine, waking hour.