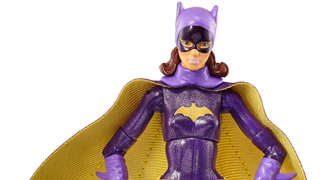 When Yvonne Craig made her debut as Batgirl for the third season of Batman, she dazzled the streets of Gotham in a ridiculously glitzy Batsuit. Now that we're finally getting merchandise based on the classic show, Batgirl is heading to the toyshelf at last—and she's as wonderfully glitter-laden as ever.
Revealed as part of an extensive blowout of Comic-Con 2015 exclusives from Toys R Us—who also announced a new collector-focused area for their stores to coincide with the push—that includes everything from a humongous Return of the Jedi Rancor pit playset to a black and gold diecast version of the Mighty Morphin Power Rangers' Megazord. But really, Batgirl is the coolest, because we all need a little more Batman '66 in our lives.
In scale with the rest of Mattel's 6-inch figures from Batman '66, Barbara doesn't feature much in the way of accessories other than a stand featuring interchangeable city skylines as backdrops. Added bonus? The stand just randomly has "Sock!" written on it, which is pretty damn great.
Batgirl will be available at SDCC next month for an as-yet-undisclosed price (but presumably in line with the $20-25 Mattel's other figures sell for). It's one of the few items listed in Toys R Us' list that they don't claim will appear in stores some time after the convention though, so if you're not attending, it might be a while before we see Batgirl get a wider release.
---
You're reading Toybox, io9's blog for all things pop culture. From merchandise to awesome fan creations, TV recaps and critical commentary on the hot topics of the day, you can find it all here!