Futurama's having its holiday spectacular and Venture Bros. has a one-hour season finale — and we've got clips! Plus meet Summer Glau's "little friend" on Chuck. Ben Edlund writes Supernatural, Fringe's Walternate makes his move and Walking Dead heats up!
Today:
There's a new Johnny Test at 7:30 PM on the Cartoon Network.
And then there's a new Chuck tonight, "Chuck Vs. The Fear Of Death" — featuring Summer Glau as Greta! Here's the blurb:
Fearful he's lost his spy mojo, Chuck tackles a dangerous mission with the help of a crazed CIA psy-ops agent. At Buy More, Jeff and Lester try to unravel the mystery of Greta. Rob Riggle, Summer Glau and Richard Chamberlain guest star.
And here are a couple of awesome sneak peeks:

At 8 PM, there's Adventure Time on Cartoon Network ("Slow Love"), followed by a new Regular Show at 8:15 ("Rigby's Body"), a new Mad at 8:30 PM, a new Robotomy at 8:45, and the season finale of Total Drama World Tour at 9:00 PM.
G/O Media may get a commission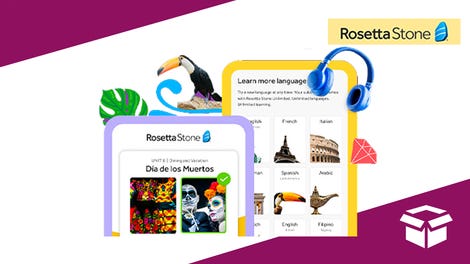 Extra 20% off
Rosetta Stone Lifetime Subscription - All Languages
And then there's another outing of The Event at 9 PM on NBC. Take it away, blurbometer:
"For The Good Of Our Country" Desperate times call for desperate measures. President Martinez demands answers.
Movie Picks:
Possibly the greatest body-switching movie ever made — for real — is on ABC Family at 7 PM: Freaky Friday with Jamie Lee Curtis and Lindsay Lohan. Meanwhile, Encore has Superman III at 5:30 PM, followed by Monsters Inc., which is sort of like sweating in a sauna and then jumping into a cool lake.
Tuesday:
At 8 PM in most markets, PBS has a new Nova, "Secrets of Stonehenge". Will they include the Pandoricum? Watch and find out:

At 8, there's a new episode of the best show you're not watching, Tower Prep, on the Cartoon Network, in which Ian and Gabe try to join an elite fraternity. Will there be hazing?

Also, there's a new No Ordinary Family on ABC at 8 PM, in which Jim tries to take down a mob boss. This one is actually written by producer Marc Guggenheim, who's also a comic-book writer, so fingers crossed!

And there's also a new Stargate Universe on Syfy at 9 PM, in which:
Simeon makes his escape from Destiny after killing Ginn/Amanda Perry, sending Nicholas Rush on a vengeful mission. But Young and Greer attempt to retrieve Simeon unharmed.
And here's a clip:

Movie Picks:
Ah, masturbation. Is there anything you can't do? Find out by watching Pleasantville, on FX at noon. Sky High is on Disney at 8 PM, and The Incredible Mr. Limpet is on TCM at 9 PM. At 1 AM, IFC is showing the Russian vampire classic Night Watch.
Wednesday:
Undercovers limps towards the end of its run, on NBC at 8 PM. Leo wakes up next to a dead woman, and it's up to the gang to clear his name.
Also at 8 PM, there's a new MythBusters: Buster's Cut on Discovery, followed by a new MythBusters at 9 PM, "Reverse Engineering":
In this episode, Jaime and Adam test the myth that a number of slick sports cars from the 70s were designed with style in mind and not mechanical excellence — so much so that it has been said that the cars are more aerodynamically sound driven in reverse. The guys hit up NASA to learn more about aerodynamics and acceleration, and then Adam hits the road in a classic sportscar turned 180 degrees at 100 miles an hour. Meanwhile, Kari, Tory and Grant hit the freeway for a little surf and turf. They're testing a scene from a classic 80s movie Lethal Weapon 2. During a particularly dramatic car chase, the bad guy meets his demise when a surfboard flies off the roof of a van and through his windshield. Can a surfboard serve as a lethal projectile? Surf's up!
There's also a new Avengers: Earth's Mightiest Heroes at 8:30 PM on Disney XD, "Panther's Quest."
At 10 PM, there's a new Psych on USA. ("In Plain Fright.") And at 10:30 PM there's the season finale of Comedy Central's Ugly Americans.
Movie Picks:
Aliens is on AMC at 8 PM — just in case you need to remind yourself how good a science fiction action movie can be. And now that you know the 1980 Flash Gordon was a major influence on Scott Pilgrim, it's time to watch it again — so go ahead and stay up until 3:30 AM and watch it on Encore. Go on, your boss will understand.
Thursday:
There's no new The Vampire Diaries, on The CW, because they're trying to make you feel like Katherine trapped in the tomb without a fresh blood supply.
However, there is a new The Big Bang Theory on CBS, so that's something. And it's called "The Boyfriend Complexity."
And at 9 PM on Fox, there's the episode of Fringe that we're so desperate to see, we're thinking of trying to break into the Fox offices so we can watch it early. Olivia finally decides to make a break for it, just after she realizes that Walternate no longer needs her — can she make good her escape before her former team-mates eliminate her? Here's the first sneak peek:

And then Burn Notice is on USA at 10 PM.
Movie Picks:
On The Beach is on TCM at 7 PM — check out an underrated post-apocalyptic landmark. Tim Burton's 2005 Charlie and the Chocolate Factory is on Disney at 8 PM. Want to watch a piece of your animated childhood die in whimpering horror? The 2001 Josie and the Pussycats movie is on USA at 2 AM.
Friday:
There's another new Batman: The Brave and the Bold at 7:00 pm, "The Knights of Tomorrow!" Here are a couple clips:

And that's followed by a new Ben 10: Ultimate Alien at 7:30 PM.
There's a new Smallville, on The CW at 8 PM. Oliver decides to volunteer for the Vigilante Registration Act, to see what happens — and sure enough, what happens is not good. Aquaman and his new wife volunteer to help rescue Ollie, but meanwhile Clark keeps brushing aside Lois' offers of help. Here's a sneak peek showing Saul Tigh's guest spot:

There's also a new Medium on CBS at 8 PM.
At 8 PM, we get another outing of Genndy Tartakovsky's Sym-Bionic Titan on the Cartoon Network, followed by a new Generator Rex at 8:30 PM. And then at 9, there's a new Star Wars: The Clone Wars, "Heroes on Both Sides."

At 9 PM, there's a new Supernatural on The CW — the long-awaited fairy episode written by Ben Edlund, creator of The Tick and writer of Firefly's "Jaynestown." Remember that guy? He has not lost his touch, trust us. Here's a sneak peek, from earlier in the episode where Dean still thinks the fairies are aliens:

At 10 PM, there's a new Sanctuary on Syfy, "Animus."

Also at 10 PM, there's another new Dean Of Invention on Planet Green. Let the inventor of the Segway explain how to solve all our problems. Why not?
Movie Picks:
AMC is showing Spaceballs at 10:30 AM, and then later Wild Wild West at 3:30 PM, in case you want to pass out in front of the television and need a suitably spoofy slate of science-fictional movies to lie catatonic in front of. AMC also has Tremors at 6 PM and Jeepers Creepers at 8 PM. Now that Entertainment Weekly has declared what we already knew — that Timecop is a seriously underrated, actually quite awesome movie — watch it with a fresh appreciation on Encore at 12:15 in the morning.
Saturday:
At 8 PM, Syfy is showing the cable TV premiere of Impact, the 2009 TV miniseries in which Natasha Henstridge has to stop the Moon from crashing into the Earth after a piece of brown matter hits it. We recapped it when it appeared on ABC, with the headline "ABC's Blast Of Brown Matter Is Hard To Clean Up."
Movie Picks:
Syfy is showing solar disaster movies all day long! Timecop is on Encore again, this time at 1 PM. Find out what's really in store for us by watching Idiocracy on Comedy Central at 3 PM. The Cartoon Network is showing the original Star Wars: The Clone Wars movie at 8 PM. Did you know Stephen King had lost some weight? In any case, Stephen King's Thinner is on Cinemax at 2:10 AM.
Sunday:
As usual, there's the Fox animation bloc from 8 to 10 PM, including The Simpsons and Family Guy.
But more importantly, at 10 PM, Comedy Central is showing Futurama: The Futurama Holiday Spectacular, the long-awaited Futurama holiday episode! Says the press release:
In this festive three-part episode, the Planet Express crew races to preserve the traditional practices of the classic holidays of Xmas, Robanukah and Kwanzaa. Along the way, they encounter the murderous Kringlebot, Al Gore's Head-In-A-Jar, mutated pine trees, droidls, fembot wrestling, albino humping worms, Kwanzaabot and giant space bees, all while learning the true meaning behind the holidays… with an occasional song thrown in for good measure.
And here are a couple of clips:
<td style='padding:2px 1px 0px 5px;' colspan='2'Preview - Santa's Coming
<td style='padding:2px 1px 0px 5px;' colspan='2'Preview - Oxygen-Producing Pine Trees
At 10 PM, there's another new episode of The Walking Dead on AMC, "Vatos." We've seen it, and it's quite possibly the best episode yet.

But the excitement doesn't end there! Then at 11:30 on Comedy Central's Adult Swim, there's the one-hour season finale of Venture Bros., "Operation P.R.O.M." You're going to have the best home-school prom that $500 can buy! Here's a clip:
Movie Picks:
After all that, you still need movies? Okay then. Fantastic Four is on FX at noon, followed by Jennifer Garner's age-jumping film 13 Going On 30. Syfy is trying to hurt your brain with movies like Leprechaun III and Wes Craven Presents Dracula III: Legacy. Sky Captain and the World of Tomorrow is on BBC America at 4:45 PM. From Dusk 'Til Dawn is on AMC at 8 PM. Relive the early days of Jon Favreau, with Elf on USA at 9 PM. And finally, Men In Black is on TBS at 1:45 AM.