There's a spirit of imagination that we all have as children. At a certain point, it can fade. But those dreams and aspirations never become less crucial to innovation, and that's why, last night, we brought together some of the greatest minds in science and technology in New York City to collectively remind ourselves how important it is to keep dreaming.
Amid actual meteorites and imagined exoplanets on display at the American Museum of Natural History's Rose Center, a string quartet kicked off the night by playing a classical interpretations of familiar sci-fi songs, like the soundtrack to Battlestar Gallactica. The brain trust of our age—scientists, artists, writers, technologists, astronomer, and thinkers—mixed with one another, before embarking on a journey in the Hayden Planetarium—the place of middle school field trip fantasies. Museum president Ellen Futter introduced the evening, followed by comments from deputy mayor Bob Steel. Then there was a chat from NASA director Dr. Charles Bolden, who promised that one day, we will go to Mars. [Thunderous applause]
Then we all headed out into space for a half hour. Dr. Carter Emmart, the Rose Center's director of astrovisualization took the troupe off into the stars, past the International Space Station, where we saw images of the Earth based on data NASA satellites had collected just the day before.
G/O Media may get a commission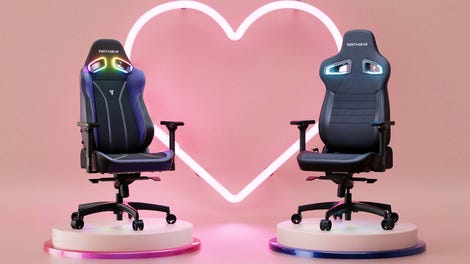 Up to $150 off
Vertagear Gaming Chairs
Then to the moon, where craters were inspected and explained. Eventually the journey trekked to the outer limits of the universe, where we saw glimpses of far-off satellites, solar systems, and stars. But the little jaunt away from reality, unlike the universe was finite, and after its conclusion, the group was ushered downstairs to the Cullman Hall of the Universe where astronomer Neil deGrasse Tyson was waiting to chat about the future.
Dr. Tyson sat down with io9's Annalee Newitz where he talked about what it was that inspired him to study the universe. And coincidentally enough, it was the planetarium—the venue we had just come from—that prodded him to study the solar system. He rapped about what he hoped aliens might see when they landed here in the future, as well as what might become of this planet, and where our solar system is headed.
When Dr. Tyson was done, we hung out on the amazing Scales of the Universe balcony with the brightest stars of New York's tech scene: Foursquare's Dennis Crowley, 4chan's Chris Poole, and more. Matt Stone of South Park was there too. All while Framestore's planetscape paintings projected onto the exterior of the planetarium. Dr. Boland talked with astronaut Leland Melvin, and Reddit's Alexis Ohanian kicked back with engineers from Microsoft and Facebook. Wool Author Hugh Howey dropped some hints about his forthcoming book, and Dr. Tyson held court. The party continued an hour further than planned, though it could have gone much longer. But while the heavens may be infinite, the party had to end. Though the good news—and of course the reason for celebration—is that imagination persists forever.
There are tons more photos on Facebook