Jon Favreau posted a Cowboys And Aliens glimpse. Neil Patrick Harris was spotted in Smurfland! Will Harry Potter's two-part finale make major changes to the book? Plus Doctor Who, Lost, Skyline, Twilight, Transformers, Fringe, No Ordinary Family and True Blood.

Cowboys And Aliens:
Director Jon Favreau tweeted your first image from this science fiction Western, from "camera tests"... and it looks like a sillhouette of a guy in a cowboy costume. Oh well. [Twitter via Ace Showbiz]


The Avengers:
This is more speculation than an actual spoiler — but Joshua Hill over at Comic Book Movie predicts that despite Nick Fury saying he wants Iron Man, but not Tony Stark, in the Avengers, we'll see Tony suit up in this movie. Tony's been built up too much not to be included. Possibly, Tony will swoop in and save the day just when things get hairy (or Hulk-y.) [Comic Book Movie]
G/O Media may get a commission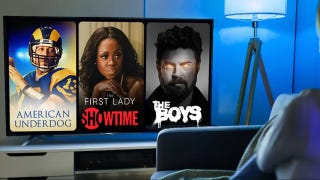 UNDER $1
99¢ Prime Video Channels
Oh, and a bunch of sites seem to be picking up a report that likely director Joss Whedon says he has "no skill" as a director. He said this on a conference call for Glee the other day — I was on that call, and he said it in a very off-hand, jokey way. It wasn't a great soul-baring announcement, and he didn't say it in reference to The Avengers.
Captain America:
This film, as you may have heard, is shooting in London, and much of the action takes place in Europe. There will be scenes in Piccadilly Circus and other London landmarks. [L.A. Times]
Harry Potter:
According to Britain's Sun newspaper, a crew member working on the Deathly Hallows two-part film accidentally left his copy of the script in the pub when the crew were out drinking after filming. And apparently the script includes "a number of dramatic changes" from the original book. But the Sun won't say what these changes are — plus it's the Sun, so grain of salt is required as usual. But anyway, here's a hint that the final movies may deviate from the original book significantly, possibly in some way that allows them to be split into two films. [The Sun]
Skyline:
Remember this project from the writers/directors of Aliens Vs. Predator: Requiem? It's been picked up for distribution at Cannes, by Relativity Media. X-Men: The Last Stand director Brett Ratner brought Skyline to Relativity, and Ratner will be one of the producers. And there's a new synopsis:
It takes place in a high-rise in downtown L.A., where a couple of friends return from a night of hard partying and slowly realize they are among a small group of survivors after most of humanity was wiped out by a deadly unknown force. The film has an extraterrestrial twist, and fits the template of recent modest budget thrillers like Paranormal Activity, Cloverfield and JJ Abrams' next directing vehicle, Super 8.
[Deadline]
Transformers 3:
Shia LaBeouf reported to the set in L.A. today, but meanwhile second unit filming was already happening in April in Gary, IN. And here's a stunt that observers believe is from the film, involving a car being flipped over. Video by Mauricio. [TLAMB]

The Smurfs:
Here's a pic of Neil Patrick Harris on the set of this New York-set movie. [Yahoo! Movies via CinemaBlend]

The Twilight Saga: Eclipse:
A new TV spot packs a lot of angst into 30 seconds. [SpoilerTV-Movies]

Doctor Who:
Someone over at Gallifrey Base got a hold of a ton of promo pics for the two-part season finale, which reveal a slew of returning monsters, including three multi-colored Daleks, Cybermen, Weevils, Sycorax, a Hoix, a Blowfish from Torchwood, a monster that looks like General Kudlak from the Sarah Jane Adventures, Judoon, a few Silurians, and some Roman soldiers. Possibly there but not pictured: the Autons. The Weevils help to drag the Doctor to a chair, and he's strapped down while the Daleks and other monsters watch.
Speculation: This could be a nightmare scenario where the monsters are taken from the Doctor's mind via the Pandorica. Or the monsters could all team up to trap the Doctor in the Pandorica, so that he's erased from time and then it's like he never existed. Unfortunately, given how many times the Doctor has saved the whole universe, there'll be nothing left without him. And the "future Doctors" we've glimpsed could be the trapped Doctor traveling backwards along his own timeline and escaping briefly through the cracks.
Also in the as-yet-unposted finale pics: Young Amelia, who may figure in the big cliffhanger. And Rory is there dressed as a Roman soldier. And grown-up Amy is looking much the worse for wear. In one picture, Rory is holding Amy and screaming. There's also a weird-looking picture of a Dalek looking like a stone statue. [Gallifrey Base via Blue Hinter]
The penultimate episode of the season is called "The Pandorica Opens." [Gallifrey News Base]
Here are some scans from the new issue of Doctor Who Adventures, including a better look at the Silurians from "The Hungry Earth." [Blogtor Who]


And even more "Hungry Earth" pics, this time without the amusing scribbles on them. [Den Of Geek]


Meera Syal says that some of the Silurians are quite nice, and they're not all evil. They're an interesting, multilayered race, who are quite advanced in their own way. The humans behave quite badly in the story, as well. And you'll think you know where the story is going after episode one — but then it'll take you by surprise. [Digital Spy]
Fringe:
Apparently the final moment of the season finale will make your jaw drop. [Fancast]
No Ordinary Family:
Now that you've seen the trailer for this new ABC series about a superpowered family, here are some more videos I found. First of all, a couple of actors posted their audition videos when they tried out for roles in the pilot, and it seems like they're reading actual dialog from the pilot script.
Yvonne Perry tries out for the role of Stephanie, the mom:

Cody Hanford tries out for the role of J.J., the son:

And then here's a very, very enthusiastic stunt woman posting a video from the set, during the shooting of a scene where she places a cop who tangles with a meth-head:

Heroes:
Show creator Tim Kring put out a message thanking fans and NBC for "a rare opportunity to put a message of hope, interconnectivity and global consciousness into the world." And he said they're looking into various ways of keeping the show's universe alive for its fans. [TV Guide]
Chuck:
Here's a new promo for the season finale, and if you freeze-frame it at 23 seconds, you see a message saying "Thanks Chuck Fans!" [ChuckTV]
Click to view

True Blood:
There's a new press release for season three, with a ton of new details:
With Bon Temps still reeling from the Maenads' reign of terror, Sookie Stackhouse begins her desperate quest for the whereabouts of Bill Compton, while her fellow townspeople face new threats that make their previous problems seem tame by comparison...

Joining the cast in season three are: Denis O'Hare as Russell Edgington, the Vampire King of Mississippi; Joe Manganiello as Alcide, a benevolent werewolf assigned to help Sookie; Brit Morgan as Debbie Pelt, Alcide's werewolf ex-girlfriend; Theo Alexander as Russell Edgington's royal consort Talbot; Grant Bowler as Coot, a werewolf; Lauren Bowles as Holly, a new Merlotte's waitress; Marshall Allman as Sam's long-lost brother Tommy Mickens; J. Smith Cameron as Sam's mother Melinda Mickens; Cooper Huckabee as Sam's father Joe Lee Mickens; Alfre Woodard as Ruby Jean Reynolds, Lafayette's mom; James Frain as Franklin Mott, a vampire with a hidden agenda; Kevin Alejandro as Jesus Velasquez, an orderly who connects with Lafayette; and Lindsay Pulsipher as Crystal Norris, a mysterious girl from out of town who shares an instant connection with Jason. Returning this season is Evan Rachel Wood as Sophie-Anne, the Vampire Queen of Louisiana.

Episode #25: "Pack of Wolves" SUNDAY, JUNE 13 (9:00-10:00 p.m. ET/PT)

Sookie (Anna Paquin) turns to Eric (Alexander Skarsgård) for help in finding Bill (Stephen Moyer); Andy (Chris Bauer) urges Jason (Ryan Kwanten) to stay the course; Sam (Sam Trammell) reconnects with his past; Tara (Rutina Wesley) seeks refuge from her grief.

Episode #26: "Beautifully Broken" SUNDAY, JUNE 20 (9:00-10:00 p.m.)

Russell Edgington (Denis O'Hare), the Vampire King of Mississippi, concocts a plan to consolidate his power; Eric remembers his past; Sam tests the strength of his family bonds; Tara finds an ally in shady vampire Franklin Mott (James Frain).
Written by Raelle Tucker; directed by Scott Winant.

Episode #27: "It Hurts Me Too" SUNDAY, JUNE 27 (9:00-10:00 p.m.)

In search of Bill, Sookie heads to Jackson, Miss. in the company of Alcide (Joe Manganiello), a werewolf bodyguard assigned by Eric to protect her. Jason is distracted from his police exams; Bud (William Sanderson) reaches the end of his rope; Arlene (Carrie Preston) copes with unexpected news; Franklin charms Tara, and gets Jessica (Deborah Ann Woll) out of a jam; Eric bequeaths a gift to Lafayette (Nelsan Ellis). Haunted by visions from his past, Bill (Stephen Moyer) makes a surprising pledge of allegiance.
In the first 20 minutes of the season, you'll see three male series regulars naked — and two of them will be in the same scene together. [TV Guide]
FlashForward:
Now that the season finale is actually a series finale, are you going to be left wondering forever what was going to happen? Actor Christine Woods says the finale will leave true fans satisfied. [Fancast]
Ashes To Ashes:
Here's the trailer for the final ever episode. [Den Of Geek]

Lost:
As you may have gathered from the script pages we covered a while back, Rose and Bernard are in the finale, and their chosen solitude gets disrupted rather badly. [Fancast]
The cast says goodbye. [Lyly Ford]

Titus Welliver, aka the original Man In Black says it's all going to culminate in a satisfying way for the fans. And there are no alternate endings. [TMZ]
Despite what the entire past season may have led you to believe, this show isn't about Jacob and the Man In Black, insists Damon Lindelof:
It would be miscategorizing to think this is the epitome of what Lost is. Obviously the island was there before these babies were born, and lots of things were going on before they came there. What those stories are isn't relevant to the story we told, which is the crash of Oceanic 815 and what the ultimate fates of the survivors are.
[TV Guide]
Additional reporting by Mary Ratliff.